Of Music and Medicine
November 2, 2015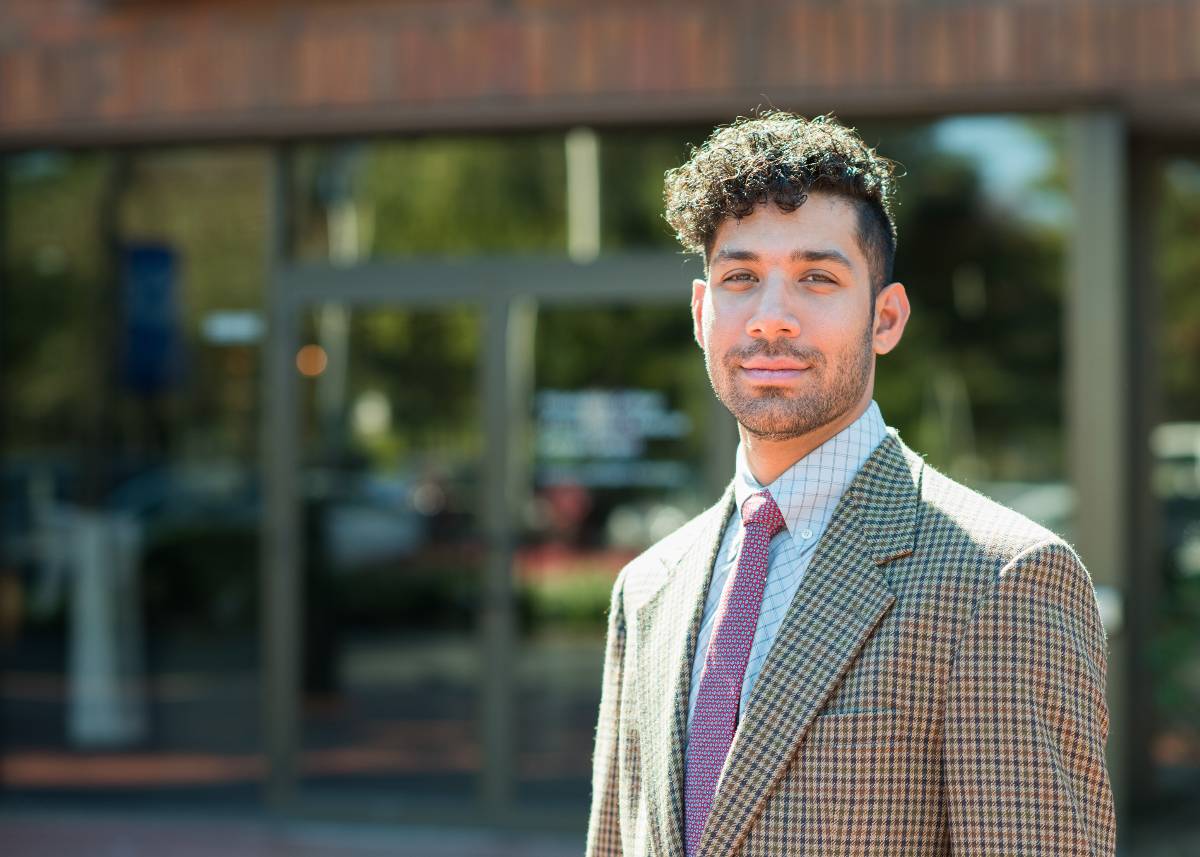 Nima Yazdanpanah
What do you do with an impressive amount of vocal, piano and drum training, combined with performance experience?
You go to medical school, of course.
While that answer might not seem obvious, it typifies the life of one Georgia Campus – Philadelphia College of Osteopathic Medicine (GA-PCOM) student. Nima Yazdanpanah, a second-year osteopathic medical student, is proof that musical and medical propensities are not mutually exclusive.
Yazdanpanah explained that his father encouraged him to practice music at a young age. He began vocal training in Persian traditional music before transitioning to classical music. He studied piano, taking classes in musical theory and composition, and continued to train with multiple vocal instructors. Moving from Iran to Turkey at 17 years old, he began and conducted a choral group and a band in the city of Kayseri, leading him to perform at festivals and on a local TV channel. When he moved to the United States, Yazdanpanah began singing in churches around metro Atlanta and in 2009, he joined The Atlanta Opera Company as part of the chorus. He has participated in concerts, festivals, classical recitals and has trained and taught lessons in tonbak and daf, which are types of traditional Persian drums.
Yazdanpanah's interest in a medical career also began when he was young, when one of his close family members battled cancer for more than six years – "This triggered my interest in medicine and I've worked towards this goal since that difficult time," he said. While the student doctor would also like to pursue performing, he realizes that practicing medicine will limit those options. Nevertheless, he aspires to continue a singing career once he completes his medical training.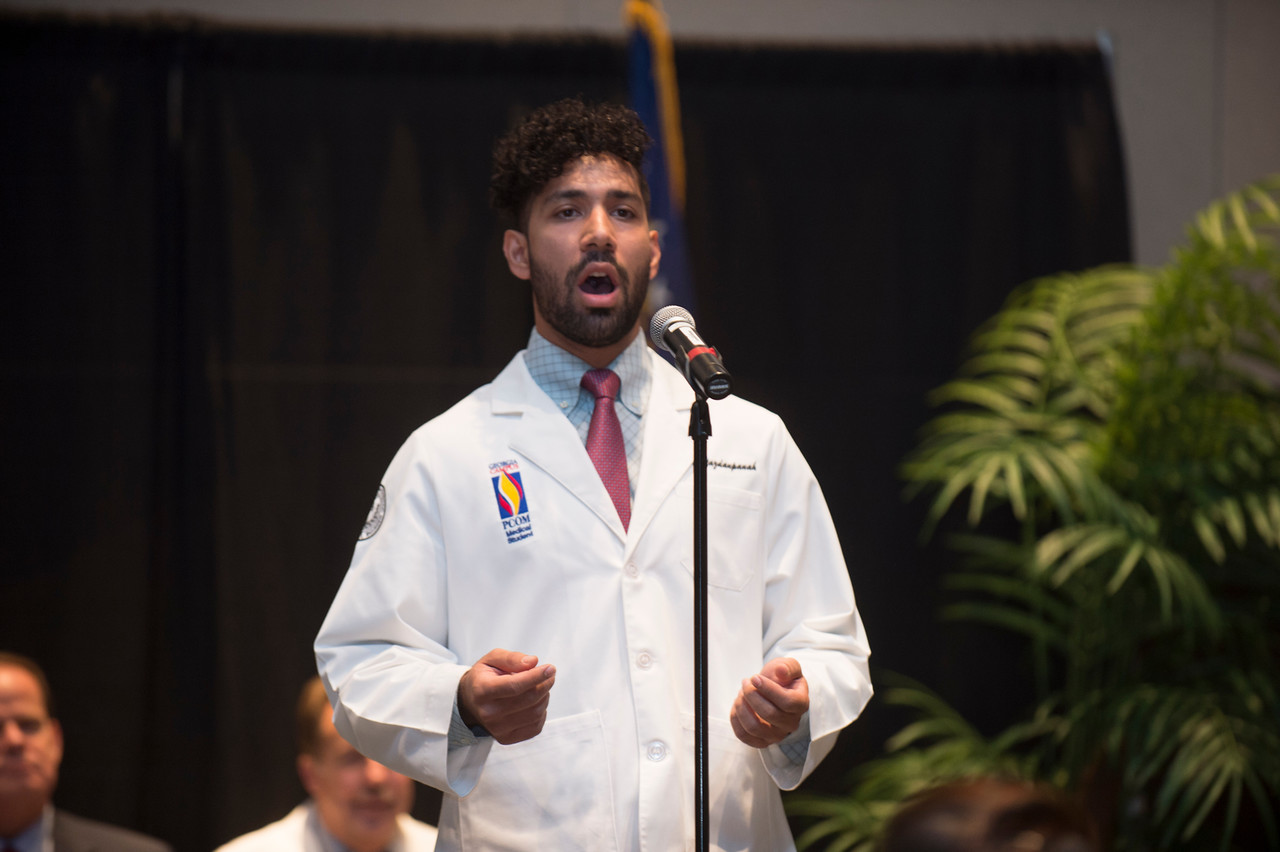 Most recently, Yazdanpanah combined his passions for music and medicine to perform at GA-PCOM's White Coat Ceremonies, held at the Infinite Energy Center on October 16. During these two programs, first year students from the College's osteopathic medicine and pharmacy programs received white coats, considered by many to be a rite of passage on the journey toward a healthcare career. "When I was asked to perform for the White Coat Ceremonies, I felt very excited, because the day I received my own white coat was one of the most important days in my life," Yazdanpanah said, "I was honored to be a part of such a pivotal day amongst my colleagues and I hoped that my performance impacted them in some way."
Yazdanpanah, in fact, sees many connections between music and his experiences in medical school. Music is healing and a source of comfort, he noted. "It can treat pain, have calming effects and reduce stress… Furthermore, some studies have even shown that certain musical vibrations can affect human cells on a molecular level." For Yazdanpanah, music and singing have been a source of inspiration and provided a way for him to meditate throughout his life, even helping his productivity in his other studies.
"Music provides a balance between my passion for medicine and my spiritual connection."
About PCOM Georgia
Established in 2005, PCOM Georgia is a private, not-for-profit, accredited institute of higher education dedicated to the healthcare professions. The Suwanee, Georgia, campus is affiliated with Philadelphia College of Osteopathic Medicine which has a storied history as a premier osteopathic medical school. PCOM Georgia offers the doctor of osteopathic medicine degree, the doctor of pharmacy degree, the doctor of physical therapy degree, as well as graduate degrees in biomedical sciences and physician assistant studies. Emphasizing "a whole person approach to care," PCOM Georgia focuses on educational excellence, interprofessional education and service to the wider community. The campus is also home to the Georgia Osteopathic Care Center, an osteopathic manipulative medicine clinic, which is open to the public by appointment. For more information, visit pcom.edu or call 678-225-7500.
For more information, contact:
Barbara Myers
Public Relations Manager
Email: BarbaraMy@pcom.edu
Office: 678-225-7532 | Cell: 770-309-0613
Connect with PCOM Georgia