Students Hone Presentation Skills During 'Turbo Weekend'
January 20, 2016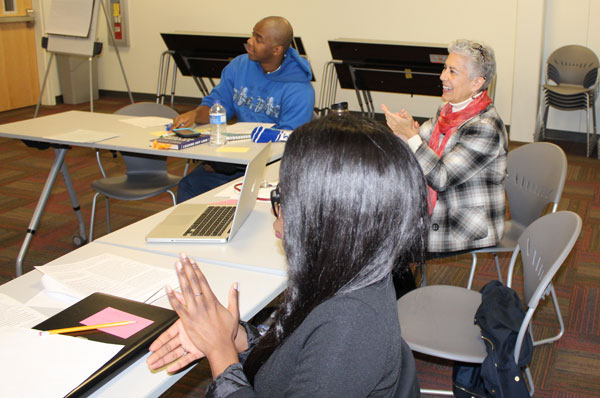 Faculty member Elizabeth Levine (center) and fellow students offer suggestions on how to improve a student's presentation style.
---
There's a lot of learning that goes on within the walls of Georgia Campus – Philadelphia College of Osteopathic Medicine, even on the weekends!
A presentation skills "turbo weekend" was held recently and biomedical sciences students who are on the organizational development and leadership (ODL) track brushed up on their public speaking skills. The students learned time management, how to manage an audience and ways to feel more comfortable making oral presentations, all videotaped for future reference.
"Own the space," advised faculty member Elizabeth Levine, while students offered feedback, American Idol-style. "Slow down," "pay close attention to the opening and finish strong," others suggested.
The ODL track requires 21 credits for biomedical sciences students, while pharmacy and DO students can take four additional classes to receive a certificate. The weekend concluded with hands-on activities about crisis communications, including leveraging social media.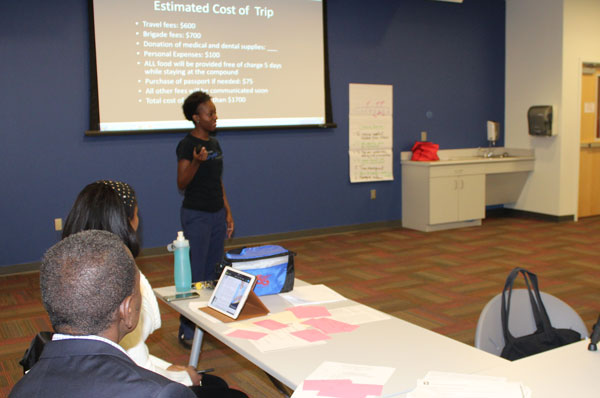 Biomedical Sciences student Andrielle Scott practices her presentation skills during a recent turbo weekend exercise.
About PCOM Georgia
Established in 2005, PCOM Georgia is a private, not-for-profit, accredited institute of higher education dedicated to the healthcare professions. The Suwanee, Georgia, campus is affiliated with Philadelphia College of Osteopathic Medicine which has a storied history as a premier osteopathic medical school. PCOM Georgia offers the doctor of osteopathic medicine degree, the doctor of pharmacy degree, the doctor of physical therapy degree, as well as graduate degrees in biomedical sciences and physician assistant studies. Emphasizing "a whole person approach to care," PCOM Georgia focuses on educational excellence, interprofessional education and service to the wider community. The campus is also home to the Georgia Osteopathic Care Center, an osteopathic manipulative medicine clinic, which is open to the public by appointment. For more information, visit pcom.edu or call 678-225-7500.
For more information, contact:
Barbara Myers
Public Relations Manager
Email: BarbaraMy@pcom.edu
Office: 678-225-7532 | Cell: 770-309-0613
Connect with PCOM Georgia