Medical Students Represent GA-PCOM in Atlanta
March 6, 2017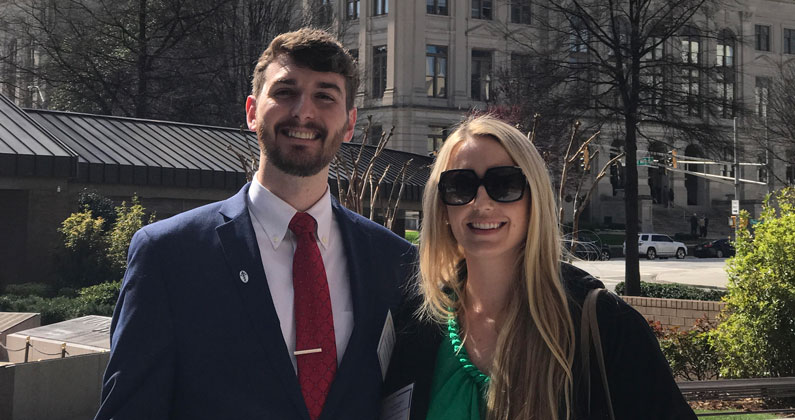 Jesse Thompson (DO '19) and Farrah Rink (DO '19 ), both second-year students at GA-PCOM, joined faculty members and other physicians for Physicians Day at the Capitol.
---
Two second-year Georgia Campus – Philadelphia College of Osteopathic Medicine (GA-PCOM) osteopathic medical students recently joined faculty members and other physicians at an advocacy event—Physicians' Day at the Capitol—sponsored by the Georgia Primary Care Physicians Council.
Council members include: the Georgia Osteopathic Medical Association; the Georgia Academy of Family Physicians; the Georgia Chapter – American Academy of Pediatrics and the Georgia Chapter – American College of Physicians.
GA-PCOM students Jesse Thompson (DO '19), council president, and Farrah Rink (DO '19), SOSA Surgery Club, national liaison, described their day under the dome.
"Physicians' Day at the Capitol was an amazing opportunity to see a different side of patient care," said Thompson. "As a future physician and leader, I want to take care of my patients both inside of the clinic and out. Today, more than ever, that requires being a political advocate and voice for positive healthcare change. I'd like to thank the Georgia Osteopathic Medical Association (GOMA) for giving students the opportunity to learn about legislative lobbying and advocacy. I will continue to use the skills and lessons I learned at the Capitol throughout my medical career for the benefit of my future patients and the healthcare industry alike."
"The future of health care is in the hands of our generation," said Rink. "With the tools provided by opportunities like today, we as student leaders can learn to become effective advocates for change for our fellow students, physicians, patients and nation. There is great value in learning how to engage and communicate with our policy makers in the most effective way possible; there is no better avenue than putting a face with a name or Twitter feed."
Rink said it was an honor to meet the Governor, House members and various other politically active and appointed physicians and that the experience made her realize the importance of fighting for change in our healthcare system and the impact even a medical student can have if we work together to promote a common cause.
"I can't think of a better cause than the future of our profession or the health care of our patients," she said. "Being asked to speak as a first time attendee and medical student in front of politically influential attendees was an amazing, yet surreal experience—one that would not have been possible without the encouragement of GOMA and my Georgia Campus – Philadelphia College of Osteopathic Medicine (GA-PCOM ) professors."
Rink thanked GA-PCOM and GOMA for their continued support and promotion of young leaders in the osteopathic profession.
"You have made a difference in my life and I plan to pay it forward by continuing political advocacy throughout my career," she added.
Among the issues Rink said she would like to address and why they are important to her include:
Opioid penalty regulation: The rampant opioid abuse destroying homes and taking lives across the country is an issue that is dear to me (both in Georgia and in my home state of Pennsylvania), and I would like to be involved in advocating for change and improving the current prescription drug monitoring program;
Proposed Preceptor Tax Credit: This program is important for the future of GA-PCOM students' clinical education and provides credit to practicing physicians who become preceptors;
Lowering interest rate caps for graduate and professional students: Loan caps are currently at 9.5 percent for Federal Stafford Loans and 10.5 percent for Grad PLUS Loans. These programs are projected to reach those limits in seven to eight years which will significantly increase the amount of money students have to pay back on their loans. It is important to advocate on behalf of graduate and professional students. Congress is currently negotiating changes to the Higher Education Act which would impact the federal financial aid and loan repayment programs that medical and other graduate and professional students rely on to finance their education;
Investing in federal aid programs: There is discussion about limiting the total lifetime amount students can borrow (Federal Direct Graduate PLUS and Federal Perkins Loans) which would cripple the ability of professional students who rely on these programs for living expenses to attend school. This would create disincentives for advancement of education;
Addressing regulatory burdens impacting osteopathic medical schools: This includes state authorization requirements for out-of-state clinical rotation sites and how Congress can help address these regulatory hurdles.
Rink and Thompson were joined in Atlanta by GA-PCOM chief campus officer Bryan Ginn, GOMA executive director Holly A. Huddleston; GA-PCOM clinical coordinator and associate professor Michael Sampson, DO; GOMA President Karen Turner, DO; Richard Chase, DO and GA-PCOM associate professor Murray R. Berkowitz, DO. The group was also able to meet with Governor Nathan Deal during the event.
You May Also Like:


About PCOM Georgia
Established in 2005, PCOM Georgia is a private, not-for-profit, accredited institute of higher education dedicated to the healthcare professions. The Suwanee, Georgia, campus is affiliated with Philadelphia College of Osteopathic Medicine which has a storied history as a premier osteopathic medical school. PCOM Georgia offers the doctor of osteopathic medicine degree, the doctor of pharmacy degree, the doctor of physical therapy degree, as well as graduate degrees in biomedical sciences and physician assistant studies. Emphasizing "a whole person approach to care," PCOM Georgia focuses on educational excellence, interprofessional education and service to the wider community. The campus is also home to the Georgia Osteopathic Care Center, an osteopathic manipulative medicine clinic, which is open to the public by appointment. For more information, visit pcom.edu or call 678-225-7500.
For more information, contact:
Barbara Myers
Public Relations Manager
Email: BarbaraMy@pcom.edu
Office: 678-225-7532 | Cell: 770-309-0613
Connect with PCOM Georgia