GA-PCOM Founders' Day Celebration Recognizes Teaching Fellow for Outstanding Achievements
January 21, 2015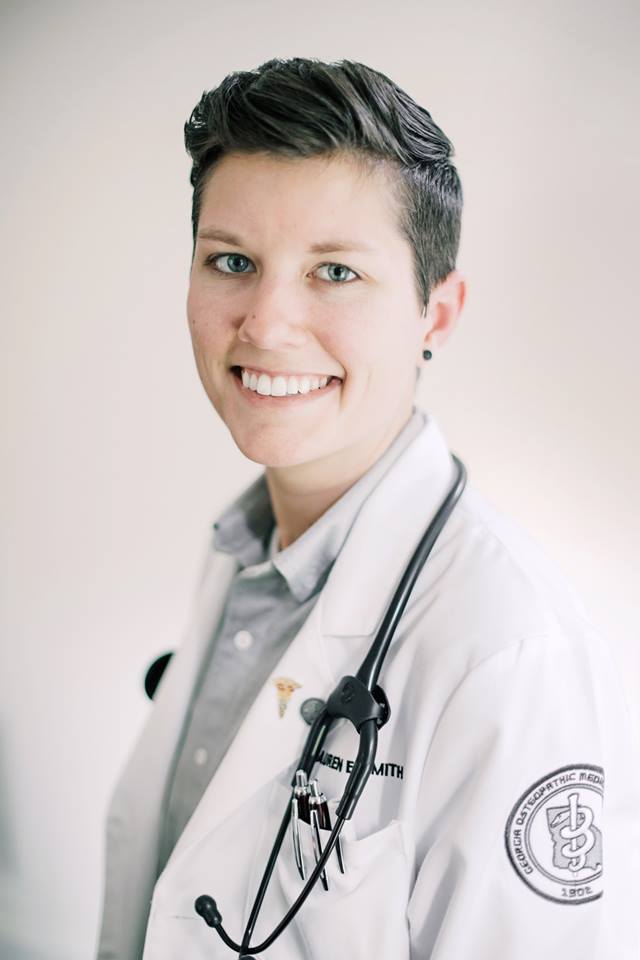 The Georgia Campus – Philadelphia College of Osteopathic Medicine (GA-PCOM) will recognize osteopathic medicine student and Atlanta native Lauren E. Smith (DO'16) with the Mason W. Pressly Memorial Medal for her outstanding achievement and service to the College, the community and the osteopathic profession.
The presentation will take place this Friday, January 23, 2015 from 11 a.m. to 1 p.m. in celebration of the College's Founders' Day. GA-PCOM students, faculty and staff will assemble in the Suwanee campus Atrium to attend a live video-broadcast of the ceremony as it takes place at the College's campus in Philadelphia, PA Recipients are selected by representatives of the overall College community. Smith is joined in this honor by Valerie Moore (DO '15), Philadelphia campus.
Though she began her undergraduate career as a biology major at Agnes Scott College, Smith was quickly drawn to anthropology, leading her to switch majors and conduct research abroad. She spent a summer working as an intern with the Ministry of Health in Belize while also volunteering regularly at a rural hospital during a severe outbreak of dengue fever. Seeing how the outbreak was addressed from both public health and clinical standpoints, and spotting the lack of communication between the two sectors, Smith worked with both to create a more effective prevention/treatment plan against dengue fever. Here, she found a passion in understanding and assisting underserved communities.
Smith later returned to Belize for her own anthropological-based study to better understand the cultural conceptions of dengue fever. Her findings emphasized the importance of involving and educating the community in public health interventions and provided data for improving future prevention and control strategies. Following her undergraduate studies, Smith joined the Mycotic Disease Branch at the Centers for Disease Control and Prevention (CDC) where she served as a lead researcher focusing on the molecular epidemiology of various fungal diseases. Seeing the impact that medicine can have on a community, Smith was inspired to pursue medicine as a career, and after learning about osteopathic medicine, it seemed like a natural fit. After three years at the CDC, she enrolled at GA-PCOM in 2011.
"Wellness encompasses the physical, mental and spiritual realms of a person," Smith explains, and because anthropology examines the physical, social and cultural aspects of humanity, it coincides with the holistic approach to healthcare that osteopathic medicine offers.
Her enthusiasm for osteopathic medicine and for helping others led Smith to extend her education an additional year to become an Osteopathic Manipulative Medicine (OMM) Teaching Fellow at the Georgia Campus. This position allows Smith to provide didactic and hands-on instruction for other medical students, to conduct research, and to hone her manipulative medicine skills. She has become a source of knowledge and encouragement to her students. Natasha Arora (DO '17) observes, "Lauren has gone out of her way to help each student by holding sessions to review techniques before our practicals, offering personal one-on-one tutoring sessions and giving us helpful study guides."
Smith plans to pursue a residency and career in general surgery and to continue her passion for helping and educating those around her. "I see a strong need for OMM to be incorporated into the field of surgery," she emphasizes. "In terms of pre-op and post-op care, I think it could really improve outcomes."
Smith promotes confidence in her students and undoubtedly sets an example for her peers at GAPCOM. Her selection for the Mason W. Pressly Memorial Medal certainly acknowledges her success.
About PCOM Georgia
Established in 2005, PCOM Georgia is a private, not-for-profit, accredited institute of higher education dedicated to the healthcare professions. The Suwanee, Georgia, campus is affiliated with Philadelphia College of Osteopathic Medicine which has a storied history as a premier osteopathic medical school. PCOM Georgia offers the doctor of osteopathic medicine degree, the doctor of pharmacy degree, the doctor of physical therapy degree, as well as graduate degrees in biomedical sciences and physician assistant studies. Emphasizing "a whole person approach to care," PCOM Georgia focuses on educational excellence, interprofessional education and service to the wider community. The campus is also home to the Georgia Osteopathic Care Center, an osteopathic manipulative medicine clinic, which is open to the public by appointment. For more information, visit pcom.edu or call 678-225-7500.
For more information, contact:
Barbara Myers
Public Relations Manager
Email: BarbaraMy@pcom.edu
Office: 678-225-7532 | Cell: 770-309-0613
Connect with PCOM Georgia