Gwinnett Grads Return as GA-PCOM Faculty Members
March 28, 2016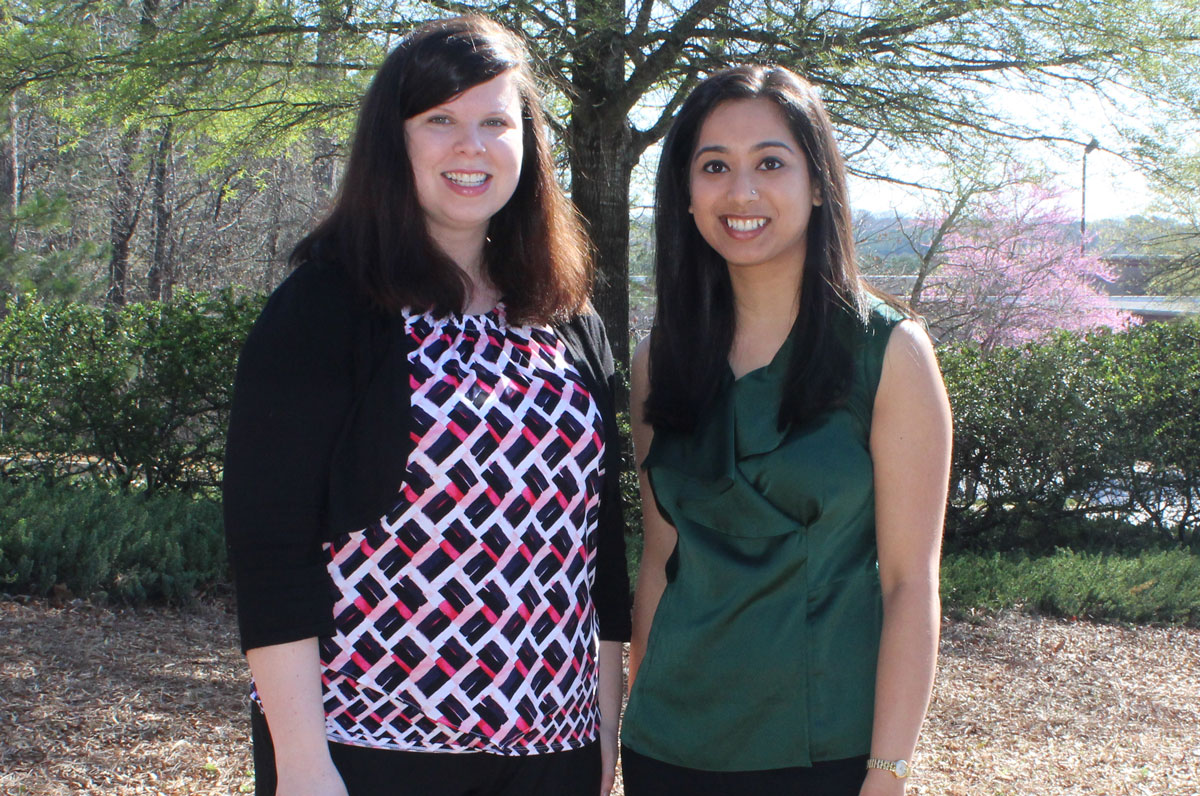 Both Carrie (Smith) Nold, MPA, PA-C, and Deepa Patel, PharmD, BCPS, BCCCP, attended Gwinnett County Public Schools from elementary through high school.
---
The "Gwinnett is Great" water towers spanned the sky when two of our current faculty members were high schoolers. For a time, Gwinnett County was known as the fastest growing county in the nation. Now the second most populated county in Georgia, Gwinnett continues its growth spurt. In fact, last year, the Atlanta Business Chronicle reported that in a 12 month period, the county experienced the largest single-year growth in the region with 15,700 new residents added. However, it's still a small world for two Gwinnettians who grew up in the area, left to pursue degrees – one now a Tiger and the other a Bulldog, and returned as faculty members to Georgia Campus – Philadelphia College of Osteopathic Medicine (GA-PCOM) in Suwanee, Georgia.
Both Carrie (Smith) Nold, MPA, PA-C, and Deepa Patel, PharmD, BCPS, BCCCP, attended Gwinnett County Public Schools from elementary through high school. The two remember having a few classes together during their time at Creekland Middle School and Collins Hill High School, especially one advanced placement math class. Nold is now an Assistant Professor and full-time faculty member at GA-PCOM's Physician Assistant (PA) Studies Program, while Dr. Patel is an Assistant Professor in the Department of Pharmacy Practice at the PCOM School of Pharmacy.
Nold earned her undergraduate degree at Clemson University before receiving a Master of Physician Assistant Studies degree at the Medical College of Georgia in Augusta. Prior to working at GA-PCOM, Nold worked clinically as a PA in the Neuroscience Department at the Medical University of South Carolina in Charleston. She delivered neurology lectures to the PA students and then completed a one-year Academic Fellowship with the PA Program there in June 2015.
Coming to GA-PCOM allowed Nold to combine her love for teaching and medicine; "After completing my fellowship, I wanted to pursue a full time teaching position with a Physician Assistant program. When I found out GA-PCOM was starting a distant campus for the PA program, I felt it would be a great opportunity to work as a faculty member," she said, adding that " My parents still live in the area so it was also nice to be closer to them."
Dr. Patel attended the University of Georgia before earning her Doctor of Pharmacy degree at Mercer University College of Pharmacy. After graduating from pharmacy school, she pursued a PGY1 Pharmacy Practice Residency at St. Joseph's/Candler Health System in Savannah, Georgia, followed by a PGY2 specialty residency in Critical Care Pharmacy at Buffalo General Medical Center in Buffalo, New York.
Searching for a career opportunity that would bring her south, Dr. Patel said, "The position for a pharmacy practice faculty member at PCOM School of Pharmacy was a perfect fit, giving me the chance to return to Gwinnett and to share my experience and expertise with the next generation of pharmacists."
Both professors agree that Gwinnett County has changed a lot since their growing up years. Dr. Patel, for instance, noted the significant increase in population and said, "There is a lot more diversity and opportunities, both culturally and educationally."
Nold mentioned that every time she returned from Charleston, she was amazed at what was changing, "Just more of everything... more restaurants and housing, new schools." She added, "I am pleased to be working in the same county where I received my own education which prepared me to be successful in my undergraduate and graduate studies." She added, "I appreciate being a part of PCOM in giving back to the community I call home - whether it is with the Gwinnett Medical Center Medical Explorers program or the Gwinnett Science Fair."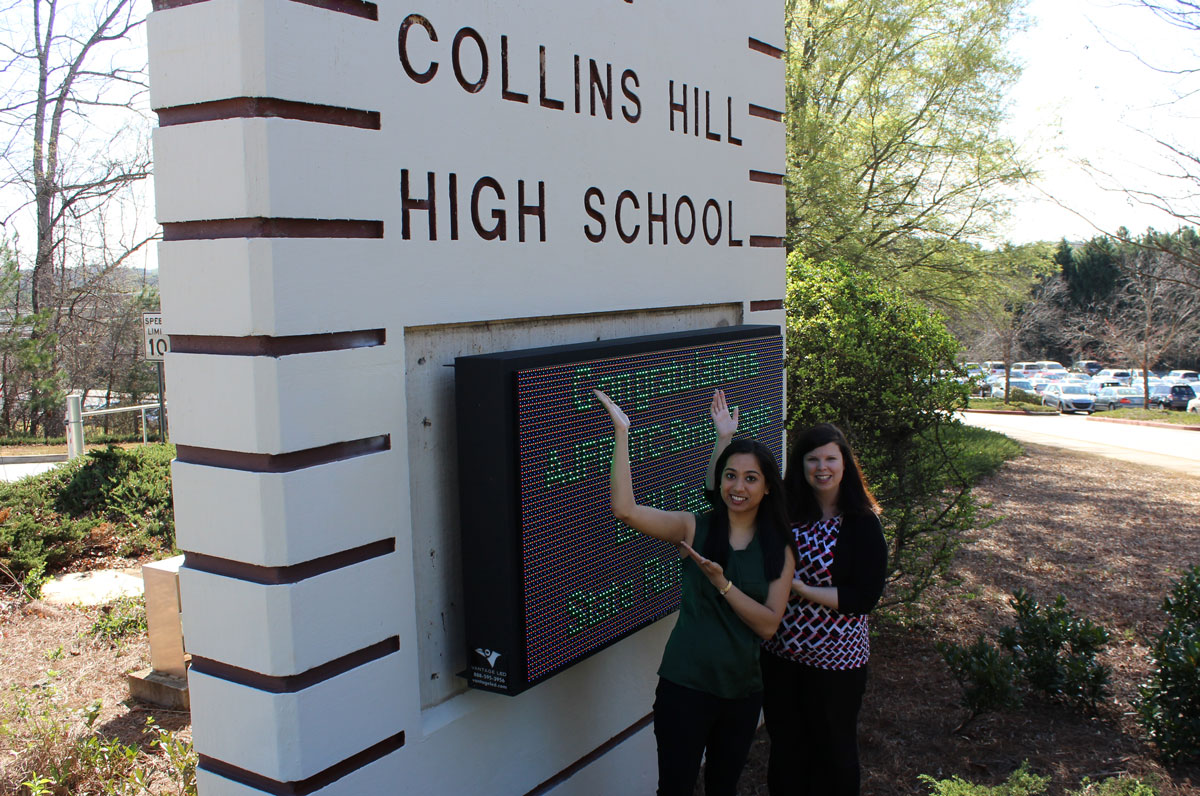 About PCOM Georgia
Established in 2005, PCOM Georgia is a private, not-for-profit, accredited institute of higher education dedicated to the healthcare professions. The Suwanee, Georgia, campus is affiliated with Philadelphia College of Osteopathic Medicine which has a storied history as a premier osteopathic medical school. PCOM Georgia offers the doctor of osteopathic medicine degree, the doctor of pharmacy degree, the doctor of physical therapy degree, as well as graduate degrees in biomedical sciences and physician assistant studies. Emphasizing "a whole person approach to care," PCOM Georgia focuses on educational excellence, interprofessional education and service to the wider community. The campus is also home to the Georgia Osteopathic Care Center, an osteopathic manipulative medicine clinic, which is open to the public by appointment. For more information, visit pcom.edu or call 678-225-7500.
For more information, contact:
Barbara Myers
Public Relations Manager
Email: BarbaraMy@pcom.edu
Office: 678-225-7532 | Cell: 770-309-0613
Connect with PCOM Georgia