GGC, PCOM Georgia Reach Agreement
October 3, 2019
Aspiring pharmacists who are students at Georgia Gwinnett College (GGC) in Lawrenceville will be eligible to earn doctoral degrees a year early based on an agreement recently signed by GGC and PCOM Georgia, located in Suwanee.
"We have seen a steady pipeline of students who major in biology or chemistry with the intent to pursue a career in pharmacy or pharmacological research," said Dr. Joseph Sloop, interim dean of the GGC School of Science and Technology. "This agreement with PCOM Georgia will enable them to achieve their career goals more quickly and with less cost."
According to Shawn Spencer, PhD, RPh, dean of the PCOM School of Pharmacy, the agreement will allow eligible students at GGC to enter the school of pharmacy after completing their junior year of college. Students who meet the pharmacy school's requirements may enter the program before graduating from GGC, he said, and will have the opportunity to earn a combined bachelor's and doctorate (PharmD) degree while at PCOM Georgia.
Following their second year of pharmacy school, Dr. Spencer said, these students will be eligible to receive their bachelor's degree from GGC having earned the required credits during their first two years of pharmacy school allowing them to begin their careers early while saving money.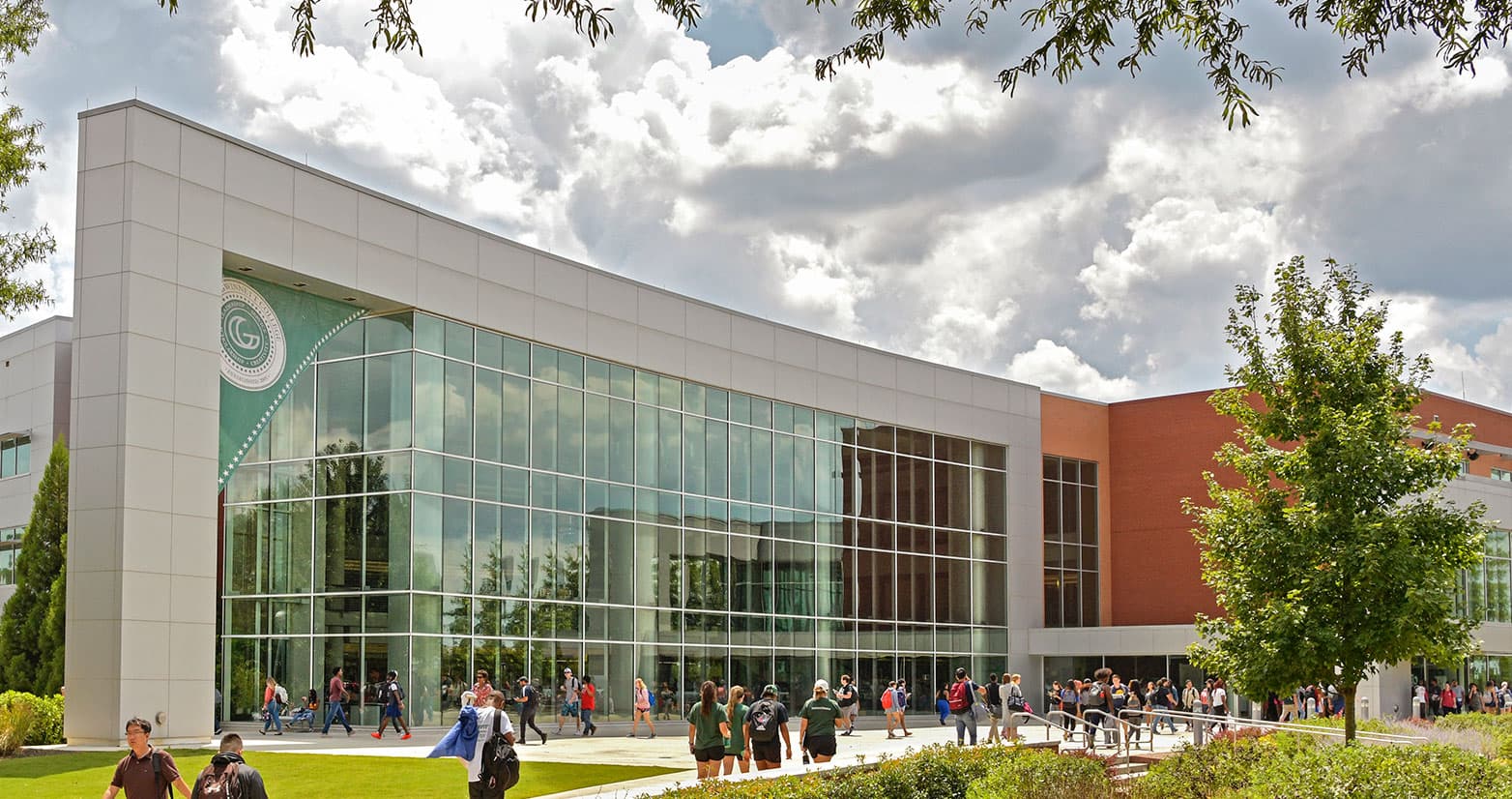 Georgia Gwinnett College students in Lawrenceville will be eligible to earn PharmD degrees a year early based on an agreement with PCOM Georgia.
---
"Our agreement with Georgia Gwinnett College exemplifies how the PCOM School of Pharmacy is working hard to help our students achieve their goal of becoming pharmacists. We applaud GGC for partnering with us as we support Georgia students who are entering the healthcare workforce," Dr. Spencer said.
An articulation agreement similar to the agreement with GGC also is in effect at Abraham Baldwin Agricultural College in Tifton, Middle Georgia State University in Macon, and Valdosta State University in Valdosta.
Students enrolled in the doctoral program at PCOM Georgia have the option to enhance their credentials by pursuing concentrations in the pharmacy practice areas of acute, ambulatory and managed care. In addition, PharmD students have the opportunity to pursue one of three graduate business programs offered in partnership with Saint Joseph's University in Philadelphia, Pennsylvania.
"This is an important development as we look to opportunities that provide expanded career opportunities for GGC students," said GGC President Jann L. Joseph. "We are delighted to partner with PCOM Georgia to offer a program that benefits our students, aligns with GGC's mission and vision, and meets the healthcare needs of Gwinnett and beyond."
You May Also Like
About Georgia Gwinnett College
Georgia Gwinnett College is a four-year, accredited liberal arts college that provides access to targeted baccalaureate and associate level degrees that meet the economic development needs of the growing and diverse population of Gwinnett County and the northeast Atlanta metropolitan region. GGC opened its doors in August 2006 as the nation's first four-year public college founded in the 21st century, and the first four-year public college founded in Georgia in more than 100 years. Georgia Gwinnett produces contributing citizens and future leaders for Georgia and the nation. Its graduates are inspired to contribute to their local, state, national and international communities and are prepared to anticipate and respond effectively to an uncertain and changing world. Visit Georgia Gwinnett College's Web site at www.ggc.edu. For news, go to www.ggc.edu/news.
About PCOM Georgia
Established in 2005, PCOM Georgia is a private, not-for-profit, accredited institute of higher education dedicated to the healthcare professions. The Suwanee, Georgia, campus is affiliated with Philadelphia College of Osteopathic Medicine which has a storied history as a premier osteopathic medical school. PCOM Georgia offers doctoral degrees in osteopathic medicine, pharmacy, and physical therapy and graduate degrees in biomedical sciences and physician assistant studies. Emphasizing "a whole person approach to care," PCOM Georgia focuses on educational excellence, interprofessional education and service to the wider community. The campus is also home to the Georgia Osteopathic Care Center, an osteopathic manipulative medicine clinic, which is open to the public by appointment. For more information, visit pcom.edu or call 678-225-7500.
For more information, contact:
Barbara Myers
Public Relations Manager
Email: BarbaraMy@pcom.edu
Office: 678-225-7532 | Cell: 770-309-0613
Connect with PCOM Georgia