GA-PCOM Supports Gwinnett Regional Science and Engineering Fair
March 5, 2015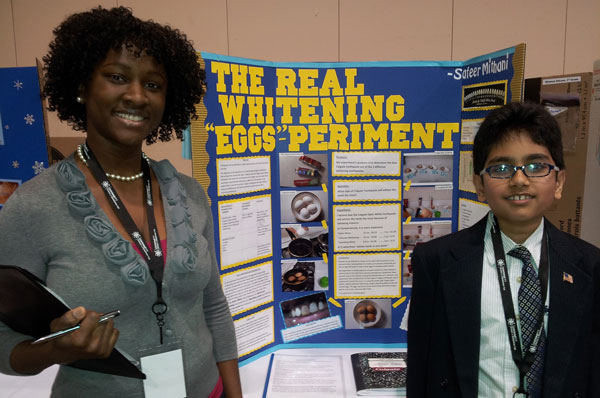 Science fair judge and GA-PCOM student Urania Davis poses with a fifth grade student in front of his science fair project.
"One Day, One Community, One Vision" was the theme of this year's Gwinnett Regional Science and Engineering Fair which showcased the work of more than 800 school winners at the Gwinnett Center in Duluth. Faculty, students and staff members supported the county-wide event through speaking, judging and exhibiting.
With a 35 year history, the fair's mission is to motivate the next generation of science and engineering leaders from classroom to career. The full day event included a career expo, breakout sessions, lunch in the grand ballroom, judge interviews, and a public open house, followed by an awards ceremony. During breakout sessions, Dean of Medicine and Chief Academic Officer H. William Craver III, DO, spoke on "Why Choose Osteopathic Medicine." Dean of the PCOM School of Pharmacy and Chief Academic Officer Mark Okamoto, PharmD, spoke to students about "Opportunities in the Pharmacy Profession," while Course Director and Professor Brian Matayoshi, PhD covered the topic "How to Get What you Want through Great Careers."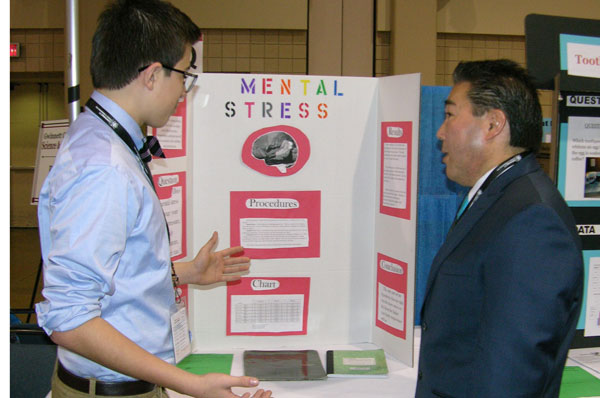 Dr. Mark Okamoto speaks with a science fair participant.
Science fair judges included Shu Zhu, MD, PhD, Jennifer Gooch, PhD, Abby Hielscher, PhD, Adwoa Aduonum, PhD, Dr. Craver and Dr. Matayoshi. Students participating as judges were Ayesha Patel, Nicole Hardeman, and Urania Davis.
The fair gives students the opportunity to share their projects and compete for awards – first place winners from the Gwinnett Fair are entered into the Georgia State Science & Engineering Fair held at the University of Georgia in Athens. Three projects from the state fair advance to the Intel International Science Fair in Los Angeles, California.
About PCOM Georgia
Established in 2005, PCOM Georgia is a private, not-for-profit, accredited institute of higher education dedicated to the healthcare professions. The Suwanee, Georgia, campus is affiliated with Philadelphia College of Osteopathic Medicine which has a storied history as a premier osteopathic medical school. PCOM Georgia offers the doctor of osteopathic medicine degree, the doctor of pharmacy degree, the doctor of physical therapy degree, as well as graduate degrees in biomedical sciences and physician assistant studies. Emphasizing "a whole person approach to care," PCOM Georgia focuses on educational excellence, interprofessional education and service to the wider community. The campus is also home to the Georgia Osteopathic Care Center, an osteopathic manipulative medicine clinic, which is open to the public by appointment. For more information, visit pcom.edu or call 678-225-7500.
For more information, contact:
Barbara Myers
Public Relations Manager
Email: BarbaraMy@pcom.edu
Office: 678-225-7532 | Cell: 770-309-0613
Connect with PCOM Georgia