GA-PCOM Commencement to Celebrate Nearly 300 Graduates
May 26, 2016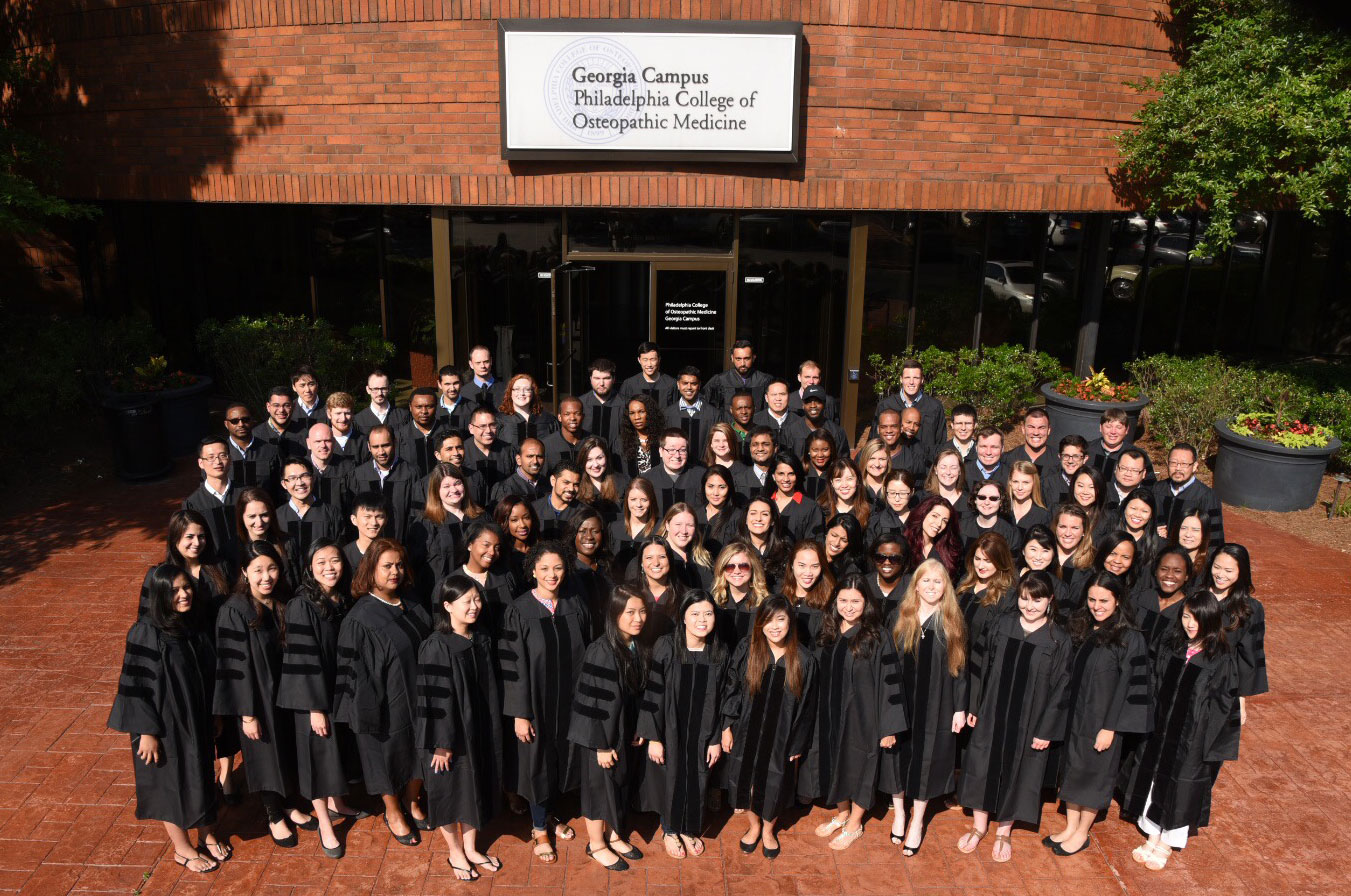 School of Pharmacy Class of 2016
---

Georgia Campus—Philadelphia College of Osteopathic Medicine (GA-PCOM) will hold the College's eighth annual commencement ceremonies on Friday, May 27 in the Tommy P. Hughes Grand Ballroom at the Infinite Energy Center in Duluth.
At 11 a.m., about 58 candidates will receive Master of Science in Biomedical Sciences degrees, and around 100 students will be awarded Doctor of Pharmacy degrees from Philadelphia College of Osteopathic Medicine (PCOM) School of Pharmacy. The Class of 2016 is the third graduating class for PCOM School of Pharmacy which is located on the Georgia Campus. During a second ceremony at 3:30 p.m., about 128 students will be awarded Doctor of Osteopathic Medicine (DO) degrees.
The commencement ceremonies will each feature a distinguished speaker. United States Representative Earl L. "Buddy" Carter will address the graduates at the 11 a.m. ceremony. The only pharmacist currently in Congress, Carter is serving his first term in the United States House of Representatives and is a member of the Education and the Workforce Committee, as well as the committees on Homeland Security and Oversight and Government Reform.
John R. Potts III, MD, will speak at the 3:30 p.m. ceremony. A Fellow of the American College of Surgeons, the Southern Surgical Association, the American Surgical Association and the Southeastern Surgical Congress, Dr. Potts became the Senior Vice President for Surgical Accreditation at the Accreditation Council for Graduate Medical Education in 2012.
In honor of the graduating students, the College hosted a Commencement Dinner Dance at the Infinite Energy Center on May 24. Other pre-commencement activities have included honors brunches, graduation rehearsals, and class photographs followed by a barbecue.
About PCOM Georgia
PCOM Georgia is a private, not-for-profit branch campus of the fully accredited Philadelphia College of Osteopathic Medicine, a multi-program institution of educational excellence founded in 1899. PCOM Georgia offers the doctor of osteopathic medicine degree, the doctor of pharmacy degree, the doctor of physical therapy degree, as well as graduate degrees in biomedical sciences and physician assistant studies. The campus, located in Suwanee, Georgia, is also home to the Georgia Osteopathic Care Center, an osteopathic manipulative medicine clinic, which is open to the public by appointment. For more information, visit www.pcom.edu or call 678-225-7500.
For more information, contact:
Barbara Myers
Public Relations Manager
Email: BarbaraMy@pcom.edu
Office: 678-225-7532 | Cell: 770-309-0613
Connect with PCOM Georgia