DO Student Inspired By Fiancée's Medical Situation
September 5, 2018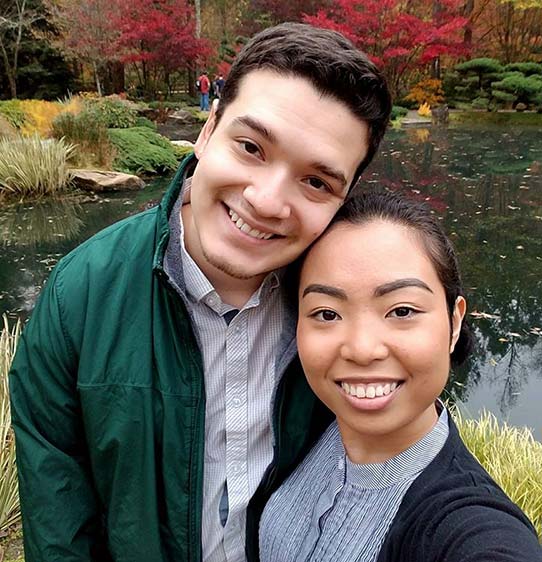 One soon-to-be physician, Kevin Guzman (DO '19), a fourth year medical student at Georgia Campus – Philadelphia College of Osteopathic Medicine (GA-PCOM) in Suwanee, has learned first-hand what it's like to be the loved one of a patient at the same time he's undergone the didactic and clinical training required of medical school.
Guzman and his fiancée, Alyssa Ouano, both 25, met in 2009 when they were a freshman and sophomore in high school and they've been a couple ever since. They graduated from the University of South Florida in Tampa, Florida, Guzman with a bachelor's degree in cellular and molecular biology and Ouano with a health sciences degree. It was Ouano who encouraged Guzman to apply to medical school.
"Alyssa pushed me to become a doctor, "Guzman said. "I wanted to be a paramedic. Alyssa thought I had what it takes to be a doctor."
Between the time Guzman graduated from college and started medical school, Ouano was diagnosed with IgA Nephropathy, a kidney disease that occurs when an antibody called immunoglobulin A (IgA) lodges in the kidneys. Local inflammation can occur which may hamper the kidneys' ability to filter wastes from the bloodstream.
The decision was made for Ouano to receive a donated kidney from her father "before her kidney function declined to the point of failure," Guzman said. However, a week before the transplant, doctors found a mass in his kidney. "She saved her father's life because of the work-up required to donate." Her dad was diagnosed with stage one renal cell carcinoma and is now cancer free.
"I wasn't compatible," Guzman said, "so Alyssa started dialysis the same week I attended orientation at GA-PCOM." The complications soon began. Guzman recalled, "We tried to make things easier for her to do dialysis at home, but unfortunately because of the surgery to put a catheter in her belly, she ended up with a blood clot in her lungs and then her heart failed." That meant Ouano was taken off the transplant list.
"Alyssa's heart was at 20 percent which meant she was ineligible to receive a kidney because her heart wasn't able to withstand any kind of surgery. We had to wait for her heart function to go back up to 35 percent," he explained. "This occurred during my first year, second semester of medical school."
The two were living together and Ouano's dad also moved in to help take care of his daughter. She continued on dialysis for two years until she became eligible for a transplant. In the meantime, Guzman had been learning about the paired kidney exchange program.
"Since we're not compatible, they put my blood type and her blood type in a nationwide database, so every week they run the program and find the best match possible," Guzman explained. In March 2017, a match from Michigan was found. "In exchange I would donate on her behalf to a separate family in Michigan. They would exchange to another family in California. At least ten families were matched down the chain."
The transplant surgery was planned for April of 2017. Guzman would donate in the morning. Ouano would receive a kidney in the afternoon, but the person receiving Guzman's kidney became ill so his surgery took place in June of 2017.
Guzman reports that both he and Ouano are healthy. "She has her kidney. It's fully functional. We've done a year of follow-up."
The health crisis unfolded during a time that is often described by most medical students as very stressful. "I honestly don't know how I did it," Guzman said. "Ultimately it was me saying I can't let her down. Just get through it."
He recalls the time when he had an exam the day after a blood clot was found in Ouano's lungs and they spent the night in the emergency department. "I took an exam without sleeping and still managed to pass it," he said.
"That moment sums up the torment I felt the first two years while she was on dialysis and I didn't know what to expect."
There's been some fun along the way as well.
Guzman proposed to his fiancée in September of 2015, during his first year of medical school. Their wedding will take place in 2020 "when I'm getting paid and not paying tuition," he said.
The director of marketing at Piedmont Atlanta Hospital heard their story as Ouano's transplant surgery took place there. She knew the producer of the TV reality show "Say Yes to the Dress" and arranged for the couple's story to be told. Guzman and the show surprised his finance with a donated wedding dress and a visit from Ouano's best friend from high school who flew in for the filming.
With graduation planned for May of 2019, Guzman said, "I always have Alyssa in the back of my mind when treating patients. How would Alyssa feel if I neglected to ask them a question? I don't take things that patients tell me for granted."
With plans to specialize in internal medicine, Guzman said, "Ultimately, I feel that this experience will make me a better doctor. I'd go through the torment again if I knew I was supposed to experience this to help more people."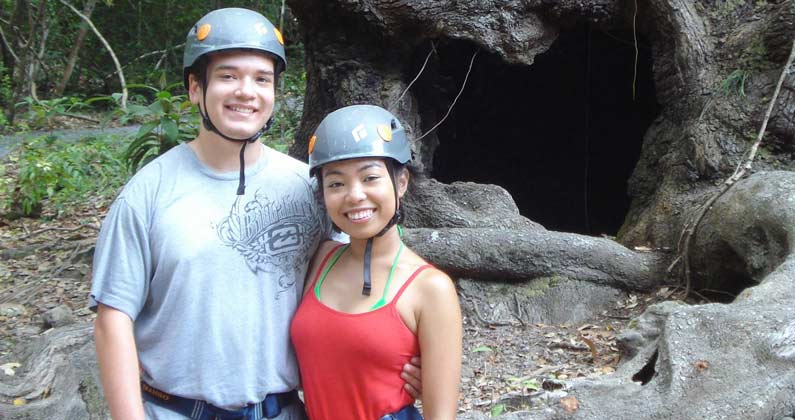 You May Also Like:
About PCOM Georgia
Established in 2005, PCOM Georgia is a private, not-for-profit, accredited institute of higher education dedicated to the healthcare professions. The Suwanee, Georgia, campus is affiliated with Philadelphia College of Osteopathic Medicine which has a storied history as a premier osteopathic medical school. PCOM Georgia offers the doctor of osteopathic medicine degree, the doctor of pharmacy degree, the doctor of physical therapy degree, as well as graduate degrees in biomedical sciences and physician assistant studies. Emphasizing "a whole person approach to care," PCOM Georgia focuses on educational excellence, interprofessional education and service to the wider community. The campus is also home to the Georgia Osteopathic Care Center, an osteopathic manipulative medicine clinic, which is open to the public by appointment. For more information, visit pcom.edu or call 678-225-7500.
For more information, contact:
Barbara Myers
Public Relations Manager
Email: BarbaraMy@pcom.edu
Office: 678-225-7532 | Cell: 770-309-0613
Connect with PCOM Georgia