Coleman Encourages Students to Live Beyond Barriers
February 1, 2018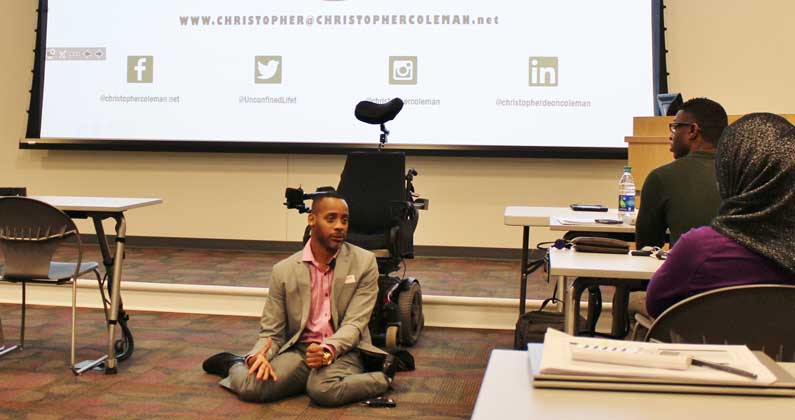 Christopher Coleman visited Georgia Campus - Philadelphia College of Osteopathic Medicine on Jan. 31 as part of the Dr. Martin Luther King, Jr. Lecture Series.
---
Despite having cerebral palsy, a motor disorder that limits his ability to walk and speak, 44-year-old Christopher Coleman provided insights into living an "unconfined life."
On January 31, the Office of Diversity and Community Relations hosted Coleman, a life coach and the founder and CEO of the Unconfined Life Institute, who spoke to students as part of the Dr. Martin Luther King, Jr. Lecture Series.
Coleman believes his life has been one breakthrough after another. Brought back to life at birth, he said doctors thought he would never talk, but today he encourages many despite broken speech. Overcoming barriers, he completed a college degree, moved alone to a major city, became a homeowner and travels the country despite his inability to walk.
"To rise above expectations, we must embrace who we are … that has to be enough," he said.
Seated in a wheelchair throughout most of his talk, Coleman asked the audience "what wheelchair is holding you back?" He climbed out of the chair and addressed the students directly, "You'll never be a great doctor until you're able to get out of your own wheelchair."
According to Coleman, an unconfined life "is achieved by gaining confidence, identifying your life purpose, maximizing your potential, and breaking away from your comfort zone to move from captivity to freedom. A person capable of and committed to analyzing their past, embracing their present, and visualizing their future is on the path to living an unconfined life."


You May Also Like:


About PCOM Georgia
Established in 2005, PCOM Georgia is a private, not-for-profit, accredited institute of higher education dedicated to the healthcare professions. The Suwanee, Georgia, campus is affiliated with Philadelphia College of Osteopathic Medicine which has a storied history as a premier osteopathic medical school. PCOM Georgia offers the doctor of osteopathic medicine degree, the doctor of pharmacy degree, the doctor of physical therapy degree, as well as graduate degrees in biomedical sciences and physician assistant studies. Emphasizing "a whole person approach to care," PCOM Georgia focuses on educational excellence, interprofessional education and service to the wider community. The campus is also home to the Georgia Osteopathic Care Center, an osteopathic manipulative medicine clinic, which is open to the public by appointment. For more information, visit pcom.edu or call 678-225-7500.
For more information, contact:
Barbara Myers
Public Relations Manager
Email: BarbaraMy@pcom.edu
Office: 678-225-7532 | Cell: 770-309-0613
Connect with PCOM Georgia