Several Honored at 'Champions of Healthcare' Event
October 27, 2015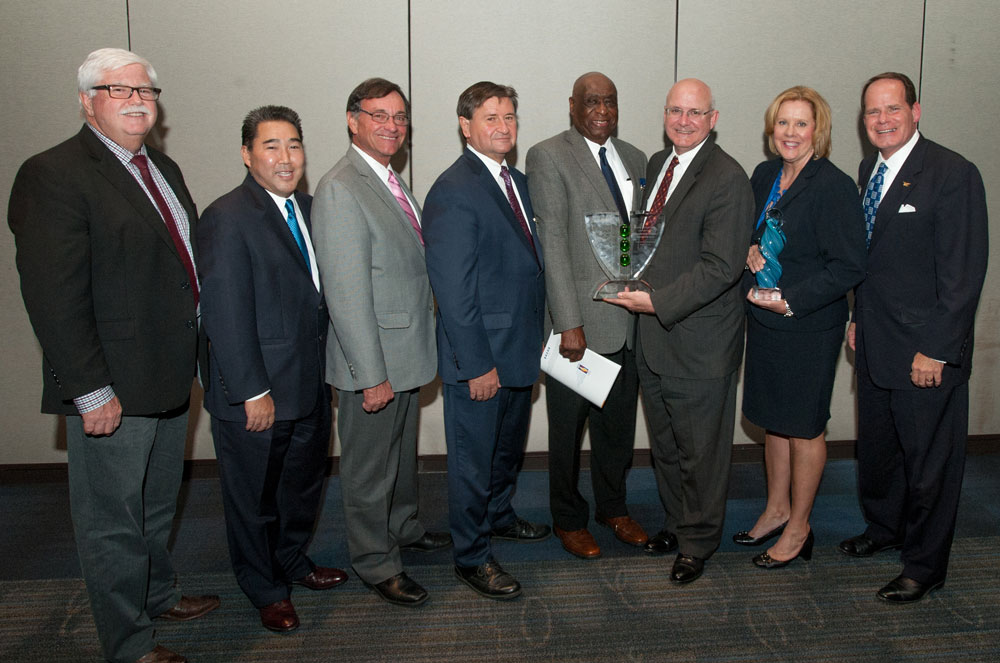 Healthcare champions were recognized at the Champions of Healthcare event held recently at the Infinite Energy Center in Duluth. Pictured are Dean H. William Craver III, DO; Dean Mark Okamoto, PharmD; Suwanee Mayor Jimmy Burnette, Jr.; Tom Shepherd, President of Gwinnett Medical Center, L.C. Johnson, Gwinnett Health System Board Member and J. Michael Levengood, Gwinnett Health System Board Chair with Gwinnett Medical Center's Champion of PCOM award; Senator Renee Unterman with the Distinguished Friend of PCOM award; and Chief Campus Officer Bryan Ginn.
Gwinnett Medical Center, a 553-bed not-for-profit healthcare network with hospitals in Lawrenceville and Duluth, was named the "Champion of PCOM" at the second annual "Champions of Healthcare" awards celebration held at the Infinite Energy Center in Duluth on Friday, October 23. In addition, Senator Renee Unterman of District 45, a strong advocate for a healthy population, was named a "Distinguished Friend of PCOM."
The "Champion of Healthcare" honor is given yearly to an institution or individual that has demonstrated a commitment to partnering with Georgia Campus – Philadelphia College of Osteopathic Medicine (GA-PCOM) in reaching the college's educational goals to train caring, competent and proactive future doctors, pharmacists, physician assistants and biomedical scientists.
The "Distinguished Friend of PCOM" award pays tribute to an individual who has given of their time, talent and influence in support of GA-PCOM in carrying out its mission. Senator Unterman is the Chairman of the Health and Human Services Committee and Vice Chairman of the Appropriations Committee of the Georgia Senate.
Emceed by CBS46 reporter Karyn Greer and with keynote remarks by Barbara Ross-Lee, DO, the Vice President for Health Sciences and Medical Affairs at New York Institute of Technology, the event which was the culmination of the college's "10 Years of Impact" celebration, attracted about 300 community members, physician and pharmacy preceptors, faculty, staff and students. Proceeds from the event help support the GA-PCOM Student Award Fund which provides support for a student planning to practice in an underserved area of Georgia. Hannah Southerland, a first year pharmacy student at PCOM School of Pharmacy, was the recipient of the first Student Award Fund. She plans to return to her hometown of Alma, Georgia, to serve the community as a pharmacist.
Other award recipients included:
Clinician of Excellence - Mark Darrow, MD, Director of Graduate Medical Education at Gwinnett Medical Center, and Nathan Polite, DO, Trauma Surgeon/Surgical Intensivist, Kennestone Regional Medical Center, Wellstar Health System;
Frontline Champion – Colleen Heer, Administrative Assistant, Department of Pharmaceutical Sciences, PCOM School of Pharmacy, and Jeffrey Seiple, MBA, Anatomical Coordinator;
Educator of Excellence – Srujana Rayalam, PhD, Assistant Professor, Pharmaceutical Sciences, and Shu Zhu, MD, PhD, Assistant Professor, Biomedical Sciences;
Innovation/Research – Jennifer Gooch, PhD, Associate Professor, Pharmaceutical Sciences;
Students of Merit – Brittany Melvin (MSBiomed '16), Biomedical Sciences, Carly Duncan (PharmD'16), Pharmacy and Thuy Le (DO '17) Osteopathic Medicine.
Earlier in the day, Dr. Ross-Lee addressed students about getting involved in health policy so that they can make necessary changes to the system to get their patients the care they need. She described osteopathic medicine as "a profession with moxie ... I'm very proud of this profession," she said.
Dr. Ross-Lee outlined a method for problem-solving. First you have to be aware that a problem exists. Then you have to be able to relate to the problem, and finally you need to come up with a solution that others can relate to. She said, "We tend to complain and moan about what's going on at the bottom. We need to document the problem with data and then take it to the top" for a resolution. She added, "Frustrated people don't solve problems, they just vent."
In her early years, Dr. Ross-Lee, the mother of five children, opened a practice in the inner city of Detroit, Michigan. "If I didn't deliver their care, they didn't receive the care," she recalls. "And part of the delivery of care is educating the patient . . . that has to be the responsibility of anyone who calls him or herself a healthcare professional and that's my personal opinion," she said.
With a mantra of "success is a measure of hard work" and "take advantage of the opportunities," Ross-Lee described her life as the oldest of six children with legendary singer Diana Ross just behind her. "If it wasn't for me, she never would have been successful; I had to take her everywhere I went," she recalled laughing. "I kept her on the straight and narrow."
About PCOM Georgia
Established in 2005, PCOM Georgia is a private, not-for-profit, accredited institute of higher education dedicated to the healthcare professions. The Suwanee, Georgia, campus is affiliated with Philadelphia College of Osteopathic Medicine which has a storied history as a premier osteopathic medical school. PCOM Georgia offers the doctor of osteopathic medicine degree, the doctor of pharmacy degree, the doctor of physical therapy degree, as well as graduate degrees in biomedical sciences and physician assistant studies. Emphasizing "a whole person approach to care," PCOM Georgia focuses on educational excellence, interprofessional education and service to the wider community. The campus is also home to the Georgia Osteopathic Care Center, an osteopathic manipulative medicine clinic, which is open to the public by appointment. For more information, visit pcom.edu or call 678-225-7500.
For more information, contact:
Barbara Myers
Public Relations Manager
Email: BarbaraMy@pcom.edu
Office: 678-225-7532 | Cell: 770-309-0613
Connect with PCOM Georgia