Health Fair to Focus on Breast Cancer
May 4, 2016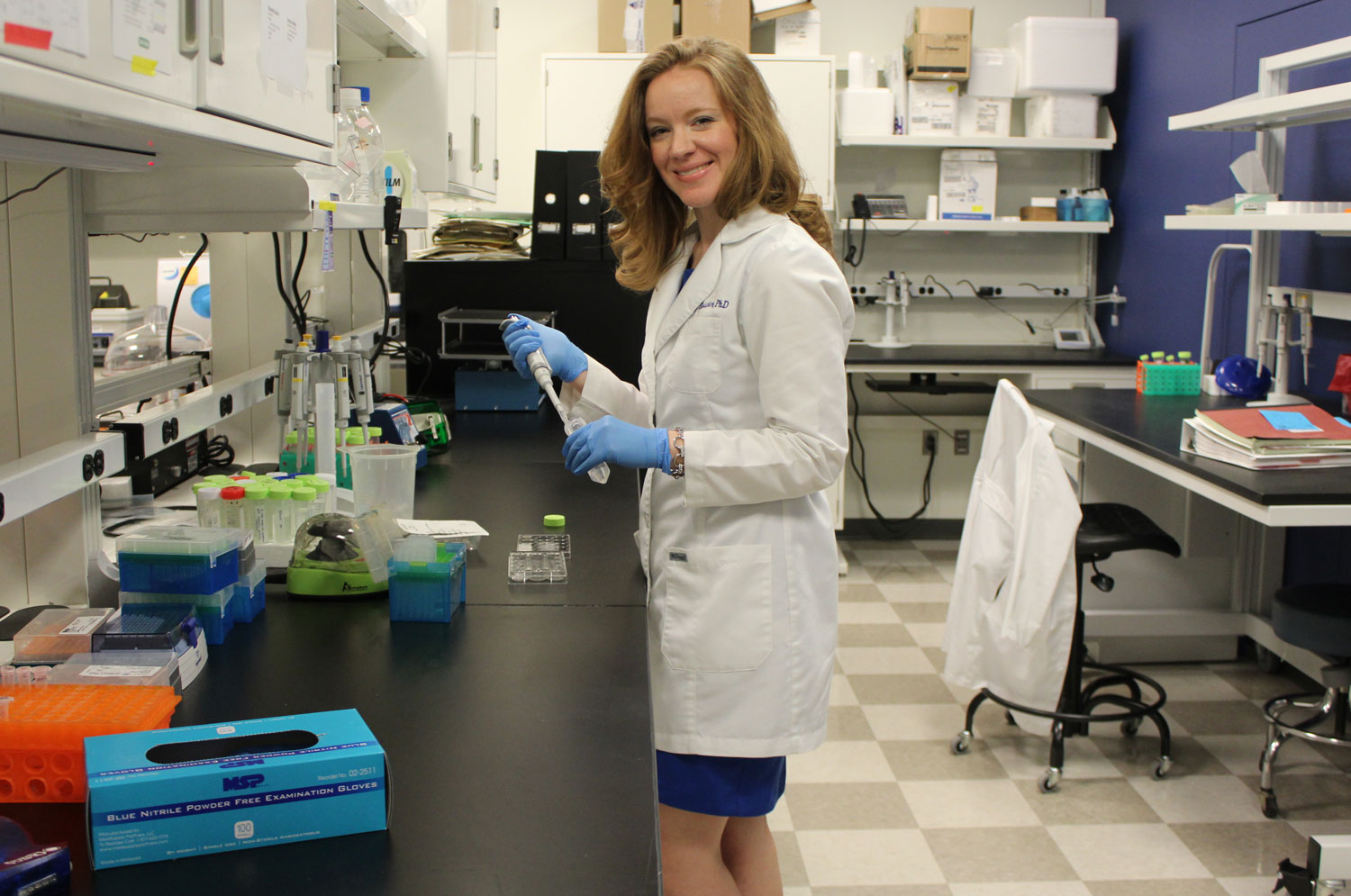 Organizer Dr. Abigail Hielsher hopes participants will learn new information to share with friends and family at the May 11 event.
---

Fighters, survivors, family, friends and anyone interested in learning more about breast cancer are invited to a free Breast Cancer Health Fair at Georgia Campus – Philadelphia College of Osteopathic Medicine (GA-PCOM). The event will take place on the Suwanee campus on Wednesday, May 11 from 5:30 - 8:30 p.m. Attendees may RSVP to healthfair@pcom.edu as space is limited to the first 100 who respond.
Organized by Assistant Professor of Anatomy Dr. Abigail Hielsher, the health fair aims to provide information about the importance of nutrition and health during and after breast cancer diagnosis, the link between breast density and cancer, and the benefits of exercise.
The fair will also offer a look at breast cancer research currently underway at GA-PCOM. "My lab is interested in determining how the environment in which a tumor cell resides promotes breast cancer," Dr. Hielscher said. She explained, "The best way to think about this is to imagine the tumor cell as a weed and the environment as the surrounding soil. We're trying to determine how the soil (environment) promotes growth of the weed (tumor)."
Dr. Hielscher decided to organize the health fair because she has known several people who have gone through a breast cancer diagnosis. "Given my connection with the disease and scientific interest in it, I wanted to provide a fun and engaging event where participants have the opportunity to learn more about the disease," she said. "It's my goal that participants will learn something new and not only apply this knowledge to their personal health, but take this information to their friends and family."
At GA-PCOM, Dr. Hielscher participates in lecture and lab dissections for Structural Principles of Osteopathic Medicine (SPOM), as well as Basic and Clinical Neuroanatomy (BCN) within the DO program. She lectures about anatomy, microanatomy and neuroanatomy for the biomedical sciences program.
Several organizations including Gwinnett Medical Center, other community-based groups, and student led clubs will participate in providing educational resources on health and well-being at the health fair. Raffles, door prizes and light refreshments will be offered, in addition to a breakout yoga session.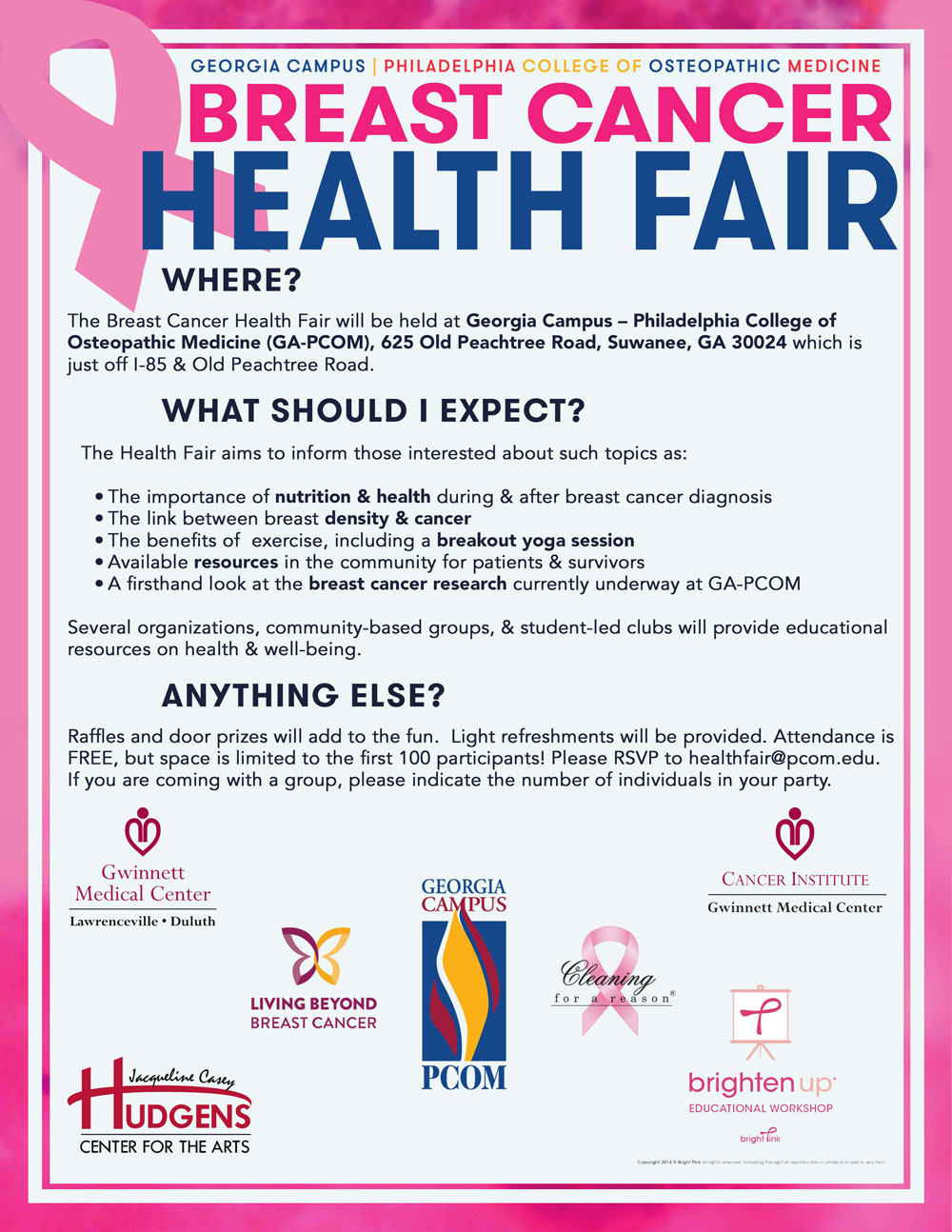 About PCOM Georgia
PCOM Georgia is a private, not-for-profit branch campus of the fully accredited Philadelphia College of Osteopathic Medicine, a multi-program institution of educational excellence founded in 1899. PCOM Georgia offers the doctor of osteopathic medicine degree, the doctor of pharmacy degree, the doctor of physical therapy degree, as well as graduate degrees in biomedical sciences and physician assistant studies. The campus, located in Suwanee, Georgia, is also home to the Georgia Osteopathic Care Center, an osteopathic manipulative medicine clinic, which is open to the public by appointment. For more information, visit www.pcom.edu or call 678-225-7500.
For more information, contact:
Barbara Myers
Public Relations Manager
Email: BarbaraMy@pcom.edu
Office: 678-225-7532 | Cell: 770-309-0613
Connect with PCOM Georgia