AOA President Updates GA-PCOM Students
December 10, 2015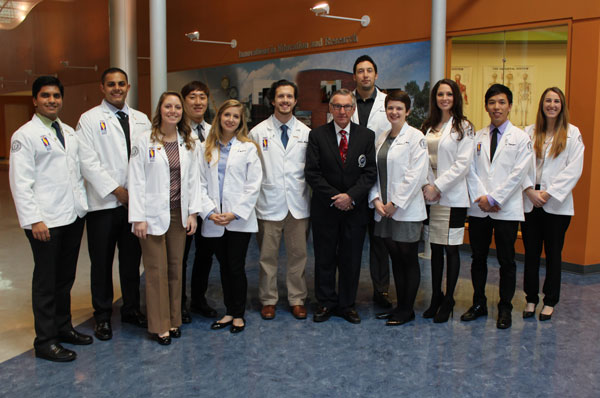 American Osteopathic Association (AOA) President John Becher, DO, visited GA-PCOM recently to discuss the initiatives of the AOA.
John Becher, DO, the president of the American Osteopathic Association (AOA) and chairman of the emergency medicine department at PCOM, visited Georgia Campus – Philadelphia College of Osteopathic Medicine recently to update students on the American Osteopathic Association's initiatives, including the single accreditation pathway. "It's going better than we ever imagined," he said.
He reported that the Association is also focusing on advocacy for student debt reduction, the upcoming DO Day on Capitol Hill, and the branding efforts underway to educate the public about osteopathic medicine, among many other strategic efforts. The AOA is in Phase 2 of the strategic planning process. "It's about what we can do to make the future brighter for you," he said.
Dr. Becher met with student leaders for breakfast and a discussion, and then addressed medical school students at a town hall meeting. He noted that the application for achieving Accreditation Council for Graduate Medical Education (ACGME) accreditation is "arduous" and needs to be streamlined, but announced that five current ACGME programs have applied for osteopathic focus accreditation to date. In two to three years, he predicted, "More than 50 percent of the AOA programs will have completed the application process."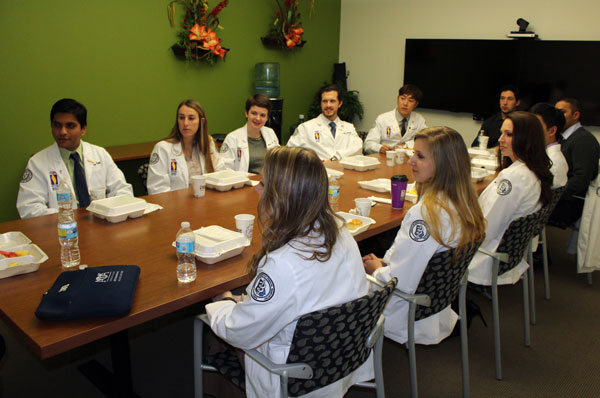 Becher held a breakfast discussion with student leaders during his visit.
He told students that the AOA wants to work with students to reduce debt. In addition, he announced that DO Day on Capitol Hill is set for April 13 in 2016 – in the middle of the Cherry Blossom Festival – and is a great way for students to get to know their legislators.
"We don't treat symptoms, we treat patients" and "the patient is not just a chart, it's a person" are two of the messages being relayed by the AOA branding campaign currently underway. Dr. Becher explained that the campaign is multi-year and features the hashtag #DoctorsthatDO.
"The majority of people attracted to the osteopathic profession are younger people who care about their lifestyle," he said, noting that "osteopathic medicine sets up the opportunity for relationships to develop."
"Our time is now," he said. "It's time to step up and be a proud DO." He added, "The glass is more than half full. The future is yours."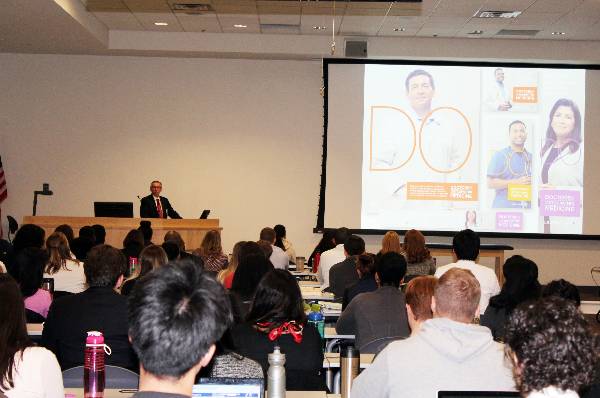 During a town hall meeting, Dr. Becher provided updates on DO Day on Capitol Hill, the AOA's branding efforts and the single accreditation pathway.
About PCOM Georgia
Established in 2005, PCOM Georgia is a private, not-for-profit, accredited institute of higher education dedicated to the healthcare professions. The Suwanee, Georgia, campus is affiliated with Philadelphia College of Osteopathic Medicine which has a storied history as a premier osteopathic medical school. PCOM Georgia offers the doctor of osteopathic medicine degree, the doctor of pharmacy degree, the doctor of physical therapy degree, as well as graduate degrees in biomedical sciences and physician assistant studies. Emphasizing "a whole person approach to care," PCOM Georgia focuses on educational excellence, interprofessional education and service to the wider community. The campus is also home to the Georgia Osteopathic Care Center, an osteopathic manipulative medicine clinic, which is open to the public by appointment. For more information, visit pcom.edu or call 678-225-7500.
For more information, contact:
Barbara Myers
Public Relations Manager
Email: BarbaraMy@pcom.edu
Office: 678-225-7532 | Cell: 770-309-0613
Connect with PCOM Georgia