Aviation Tragedy Leads to Changes
August 15, 2016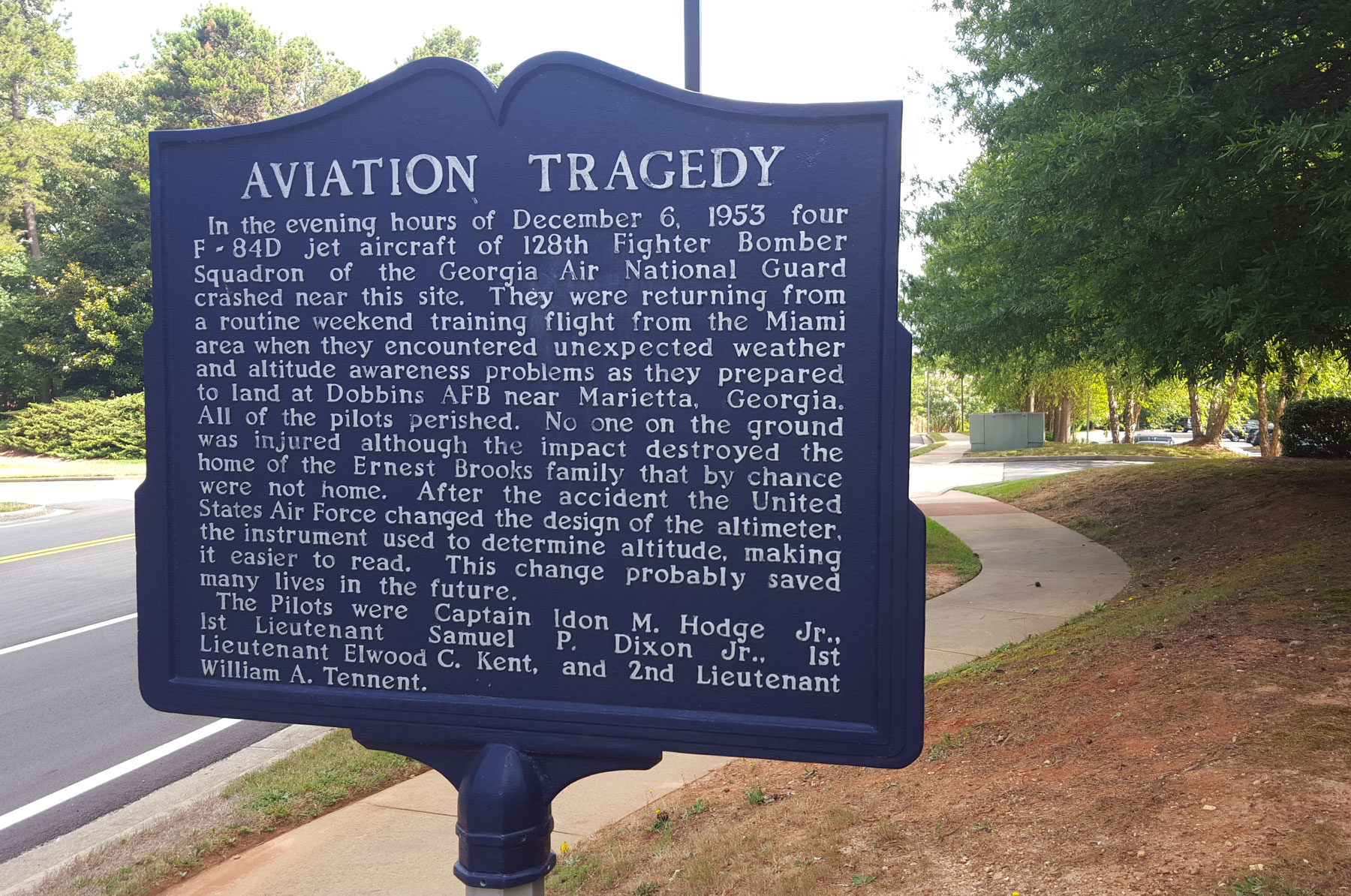 The crash, which involved four fighter jets, occurred near GA-PCOM in 1953.
---
When traveling east on Old Peachtree Road, students, faculty, staff and visitors to Georgia Campus – Philadelphia College of Osteopathic Medicine (GA-PCOM) will spot a rectangular sign at the intersection of Old Peachtree and Northlake Drive. Capitalized letters headline the sign with two words: Aviation Tragedy.
A Gwinnett County Historical Marker, the sign identifies the spot where four F-84D jet aircrafts from the 128th Fighter Bomber Squadron of the Georgia Air National Guard crashed on December 6, 1953. The story goes like this. Based at Dobbins Air Force Reserve Base in Marietta, Georgia, Captain Idon M. Hodge, Jr., First Lieutenant Samuel P. Dixon Jr., First Lieutenant Elwood C. Kent, and Second Lieutenant William A. Tennent, had left that morning to participate in training maneuvers while flying to Miami. While they would usually stay overnight before returning to Georgia, the four experienced pilots decided to fly back and use nightfall to do another training maneuver. Though there was a storm moving in, the planes planned to fly in tight formation to be able to see each other's lights and avoid getting separated in the dark.
Still, the flight ended in disaster with the planes flying straight into the ground. It was determined that the crash was a result of problems reading the planes' altimeters, which are instruments for determining altitude attained in aircrafts. Recovered after the crash, the altimeters appeared to read 11,000 feet when the planes were actually only 1,110 feet above mean sea level at the time the pilots flew in a steep descent. All four pilots died when the planes crashed in Suwanee, with one plane destroying the home of resident Ernest "Buck" Brooks. Fortunately for the Brooks family, no one was home at the time of the crash.
Ultimately the cause of the crash would change the design of altimeters in aircrafts to prevent this kind of disaster from occurring again. After the accident, the United States Air Force changed the altimeter to make it easier to read, likely saving many lives thereafter.
About PCOM Georgia
Established in 2005, PCOM Georgia is a private, not-for-profit, accredited institute of higher education dedicated to the healthcare professions. The Suwanee, Georgia, campus is affiliated with Philadelphia College of Osteopathic Medicine which has a storied history as a premier osteopathic medical school. PCOM Georgia offers the doctor of osteopathic medicine degree, the doctor of pharmacy degree, the doctor of physical therapy degree, as well as graduate degrees in biomedical sciences and physician assistant studies. Emphasizing "a whole person approach to care," PCOM Georgia focuses on educational excellence, interprofessional education and service to the wider community. The campus is also home to the Georgia Osteopathic Care Center, an osteopathic manipulative medicine clinic, which is open to the public by appointment. For more information, visit pcom.edu or call 678-225-7500.
For more information, contact:
Barbara Myers
Public Relations Manager
Email: BarbaraMy@pcom.edu
Office: 678-225-7532 | Cell: 770-309-0613
Connect with PCOM Georgia