The Art of Healing
December 29, 2015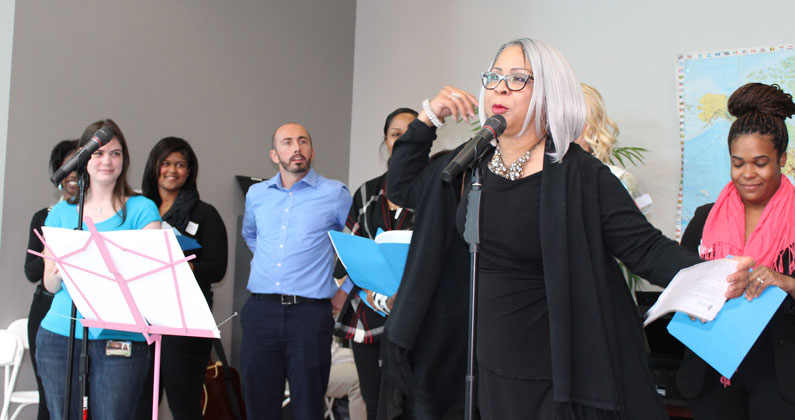 With the help of students, visionary Linda Williams brought the Art of Healing to campus.
---
When considering the study of medicine, pharmacy and biomedical sciences, it's easy to picture microscopes, anatomy charts, chemical formulas and all things mathematical or scientific. We imagine healthcare students hunched over physiology textbooks and not, for instance, painting works of art or singing opera.
But even students whose future careers might be steeped in math and science often need to express themselves through creative outlets. As such, the Art of Healing envisioned by Biomedical Sciences Administrative Assistant Linda Williams has sprung up on the campus of Georgia Campus – Philadelphia College of Osteopathic Medicine (GA-PCOM) that provides a platform for students to participate in the arts and promotes a healthy balance during their time as students.
"I had a vision of how to bring a community feeling to the campus through the arts … and how wonderful it would be for the students to have an opportunity to interact with faculty and administration on a different level," said Williams. "The arts are universal and speak to every nationality, age and gender all at the same time," she believes. "They are the most connecting universal language."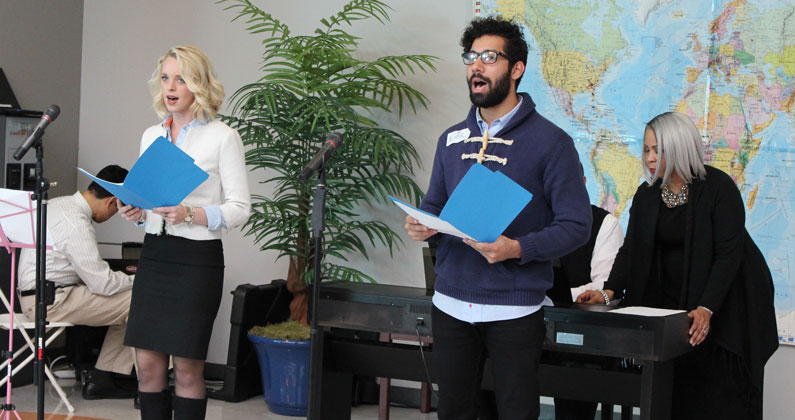 The Art of Healing's Brigitte Myers (Biomed '16) and Nima Yazdanpanah (DO '18) sing "Do You Hear What I Hear" accompanied on the piano by Dr. Richard White with assistance from Linda Williams at the campus Holiday Luncheon.
---
Williams, who has an extensive background in music, established the organization with the help of like-minded students. "The arts give me three things - psychological, physical and spiritual health," she explained, and, through the help of student volunteers, she is passionate about providing students with these same life-giving facets, along with a time for camaraderie and expression.
"The vision is to create a place where the students can experience the art form that they enjoy during their breaks, lunch hours and even after school. They will then be able to get to know each other better despite their varying years and programs, which will bring even more of a sense of community and belonging to our student body and faculty."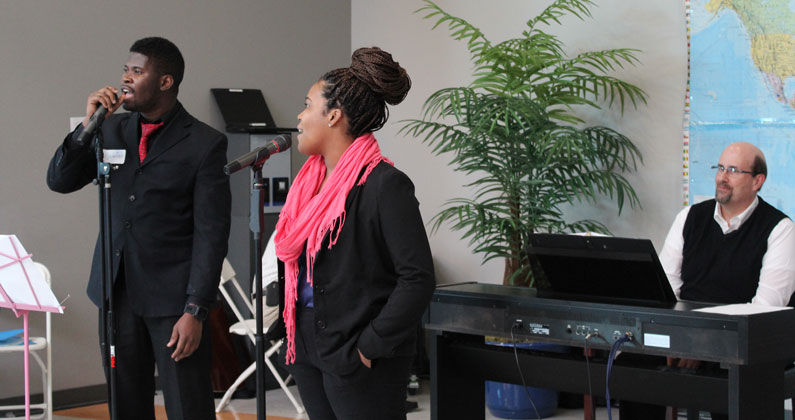 Galandou Ikpeme (PharmD '17) and Tenicia Johnson (PharmD '17) performed a duet accompanied by Dr. Richard White.
---
With about 30 committed group members so far, the Art of Healing consists of singers, musicians, artists and dancers. Brigitte Meyers and Nima Yazdanpanah, both opera singers, pianist Daniel Kim, publicist Corey Slacks, administrator Hana Parks, dancer Aleksandra Ignatowicz, and artist Rebecca Nowacki are some of the key students who helped Williams get the organization off the ground. Yazdanpanah, who is versed in piano, musical theory, composition, playing traditional Persian drums, as well as being a trained and experienced vocalist, performed at GA-PCOM's White Coat Ceremonies in October.
Along with Student Affairs, the organization helped design an "Art Therapy Day" which allowed students to de-stress from the rigors of studying through arts and crafts. The Art of Healing also provided musical and dance entertainment for the College's annual Holiday Luncheon. "The luncheon brought them all together. They've made new friends," Williams said. "They're asking me – what are we doing next?"
She explained that the long term vision for the organization is to take the talents of our students to the community in the hope of lifting spirits. She added, "This is such an awesome opportunity to allow healthcare professionals to incorporate their artistic talents into the gift of healing."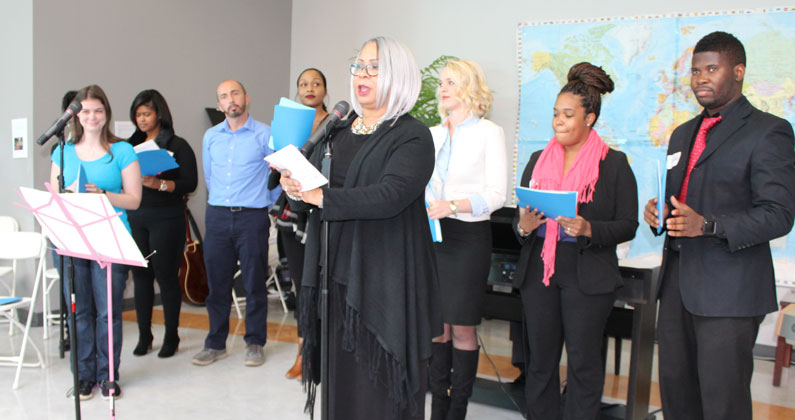 Williams (center) has an extensive background in music.
---
About PCOM Georgia
Established in 2005, PCOM Georgia is a private, not-for-profit, accredited institute of higher education dedicated to the healthcare professions. The Suwanee, Georgia, campus is affiliated with Philadelphia College of Osteopathic Medicine which has a storied history as a premier osteopathic medical school. PCOM Georgia offers the doctor of osteopathic medicine degree, the doctor of pharmacy degree, the doctor of physical therapy degree, as well as graduate degrees in biomedical sciences and physician assistant studies. Emphasizing "a whole person approach to care," PCOM Georgia focuses on educational excellence, interprofessional education and service to the wider community. The campus is also home to the Georgia Osteopathic Care Center, an osteopathic manipulative medicine clinic, which is open to the public by appointment. For more information, visit pcom.edu or call 678-225-7500.
For more information, contact:
Barbara Myers
Public Relations Manager
Email: BarbaraMy@pcom.edu
Office: 678-225-7532 | Cell: 770-309-0613
Connect with PCOM Georgia