Trained for Trauma Care
January 12, 2016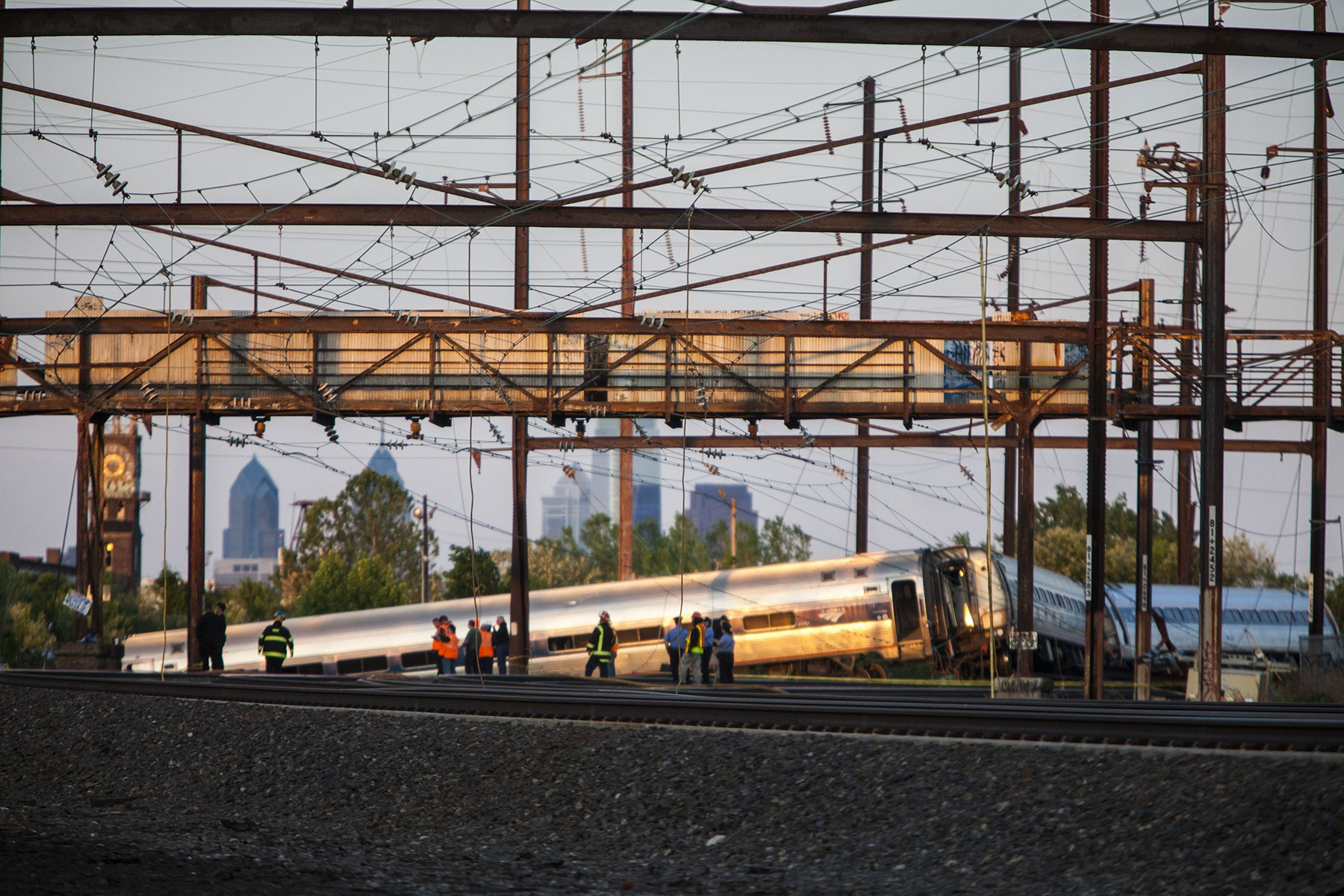 PCOM alumni at Aria Health were well prepared to treat the mass casualties of May's Amtrak derailment.
---
by Janice Fisher
"Not much was going on when my pager went off. The operator said, 'You're part of the response team for the derailment.' I asked her to repeat what she'd said. 'Go down to the ER and you'll get instructions,' she told me."
—Lindsey Perea, DO '13, general surgery resident

"I'll never forget my patient: He was covered from head to toe in soot, even his eyelashes. I was trying to get his clothes off and choking on soot. He was barely conscious ... Today, when I smell dirt, I think of him."
—Julia Todd, DO '13, combined emergency medicine and family practice resident

"The first woman patient had a hole in her lower abdomen. She was covered in dirt. Her rib cage on the left side looked like it was inside out ... She had so many injuries. She was the sickest person I ever saw who lived."
—Jonathan M. Schwadron, DO '08, attending physician, emergency medicine

"The patients had such traumatic, devastating injuries. Yet they complained about nothing—they were shell-shocked, in such fear."
—Lindsey Roach, DO '10, general surgery resident
Amtrak's Northeast Regional train no. 188 from Washington, D.C., to New York—the busiest stretch of rail in North America—derailed and crashed in Philadelphia on May 12, 2015, at 9:23 p.m., about 15 minutes after it had departed from 30th Street Station. More than 200 of the train's passengers were treated at seven area hospitals. Eleven sustained critical injuries; eight would not survive.
The hospital closest to the crash site, about a mile and a half away, was the 115-bed Aria Health–Frankford Campus—not a trauma center, and so under normal circumstances not a location that would receive such patients, and certainly not in such a short time frame and in such numbers. Aria–Frankford treated 36 injured passengers in a few brief hours that night. Among the doctors providing care were several Philadelphia College of Osteopathic Medicine residents, a PCOM-trained attending physician, a PCOM alumna, and a PCOM faculty member.
Some were in the midst of their shifts at Aria–Frankford when the accident occurred and were astonished to find themselves, with virtually no notice, in the midst of a mass casualty at a community hospital. Several had begun the evening not at work, but celebrating a colleague's birthday at a bowling alley. Among the latter group was Rob Danoff, DO, PCOM clinical professor of family medicine and program director of Aria Health's combined family medicine/emergency medicine residency. When Dr. Danoff learned about the derailment, he called Gerald Wydro, MD, the chairman of emergency medicine for Aria Health, and confirmed that Aria needed assistance. He asked the residents who were with him, "Who here can help?" Everyone, he says, raised their hands. Some went to the Aria–Torresdale facility, about eight miles from Aria–Frankford; Torresdale is a designated Level 2 Regional Resource Trauma Center. Others, including Dr. Danoff, went to Aria–Frankford.
---
Julia Todd, DO '13
Julia Todd, DO '13, working in Aria–Frankford's intensive care unit that night, had been treating a critically ill patient. So when "someone came in with a look on his face, I thought something had happened to my patient." Moments later, she was shocked to hear "Code Yellow" over the hospital's public address system. Since she is a combined emergency medicine/family medicine resident, she went downstairs to the ER, along with an ICU nurse, because she knew the ER would be lightly staffed.
In the ER, Dr. Todd joined four residents and two attending physicians. "The nurse manager was getting the scoop from the field about who would be coming to us, but information was limited. Attendings were clearing out the ER as best as possible, dealing with patients who were ambulatory. Then we heard the sirens."
The residents asked each other, "What should we be doing?" They decided to stand where the ambulances would pull up, and to take patients in order of arrival. "We did triage, stabilized them, and got in line again. This all happened fast—within 10 or 15 minutes after the sirens." Dr. Todd recalls waiting with her colleagues in the emergency bay, "heart pounding, not knowing what to expect. We're near Interstate 95, so we get some high-acuity trauma. But Frankford isn't a trauma hospital, and the volume was overwhelming."
The patient who had arrived coated in soot was barely conscious. "A nurse and I took care of him, getting him settled and onto pain meds so that we could leave him and he could be scanned for injuries," says Dr. Todd. The scans revealed multiple rib fractures, and fractures of the cervical spine, as well as lacerations, abrasions, and bruises. Most notably, he had a scalp "degloving" injury: his scalp was coming off. "Two surgery residents [Lindsey Perea, DO '13, and Lindsey Roach, DO '10] and I cleaned out his scalp and pulled it back together." Along with Dr. Todd's next patient, who also had multiple injuries, the stabilized victim was transferred to Aria–Torresdale.
As Dr. Todd worked, she became aware that "the phones were ringing nonstop, with doctors on the other end. Doctors poured in, and nurses, residents, people not on the work schedule, even SPD units [Sterile Processing Departments] offering supplies." After the severely injured patients came "the walking wounded, who were piled into paddy wagons," followed by "a lot of people who were banged up."
Around midnight, recalls Dr. Todd, accident victims stopped arriving. She went back to the ICU to finish her shift.
"Part of our emergency training is for disaster, and it's on our boards every year," says Dr. Todd. "But I never thought I'd see it in my life, especially so early in my career.
"I was comfortable that our faculty in ER is strong and our resident training is strong. It all worked seamlessly. We all deal with trauma, so we applied what we know on a bigger scale."
---
Jonathan M. Schwadron, DO '08
Jonathan M. Schwadron, DO '08, was the attending physician in Aria–Frankford's emergency room on the evening of May 12. He recalls seeing "a few police officers around 9 or 9:30. They said there had been a big crash, and I thought, 'This isn't a trauma center.' I figured we'd get a few folks. But within 15 or 20 minutes we started getting patients."
Dr. Schwadron would spend most of the next few hours at bed 26, with the severely injured female crash victim who had arrived first in the ER bay. "She wasn't unconscious; her GCS [Glasgow Coma Scale] was 7. She was moaning and in discomfort, with low blood pressure. So the first thing we did was intubate the patient." Along with two residents, Dr. Schwadron also inserted a chest tube and central line, and administered blood products. He talked with the Aria–Torresdale trauma unit about transferring the patient there. But when X-rays showed pelvic and back fractures, she was transferred to Penn Presbyterian Medical Center.
The patient would prove to have seven rib fractures, a flail chest, a diaphragm rupture, serosal injury of the bowel, multiple pelvic fractures, and a lumbar spine fracture. "We only knew about some of these injuries," he notes; "the rest were discovered later in surgery."
Dr. Schwadron subsequently learned that his patient had been discharged. "It was nice to hear that it went well," he says. "We don't often see the outcome."
During the time that Dr. Schwadron worked on the woman in bed 26, he "stepped out of the room a few times to make sure the rest of the ER wasn't falling apart. But no one freaked out or lost their cool. You knew that you had to hold it together. And there were countless volunteers—an ICU resident, two senior surgical people, nurses, therapists, technicians, respiratory therapists, doctors—so many people to help."
---
Lindsey Roach, DO '10
Lindsey Roach, DO '10, now a fellow in surgical critical care at Christiana Care Health System, in Newark, Delaware, was in her last year of a general surgery residency at Aria–Torresdale on the evening of May 12. She was one of the residents who had been out bowling to celebrate a birthday.
She knew that Aria–Frankford would have only one general surgical resident in house at night, so Dr. Roach drove there first. Her first impression was that the crash victims "were scared to death. Some were on vacation in a foreign country and had been separated from their family; they needed consolation. It felt good that we could help out and that the hospitals where we work could come together."
Dr. Roach treated five patients during the roughly 90 minutes she spent at Aria–Frankford, primarily helping to repair lacerations. When she arrived later at Aria–Torresdale, she says, "they had things under control. Everyone came in; it was amazing.
"I think it was a great night all around," she says, "a tremendous learning experience. How do you even begin to organize who to help first?" The learning goes beyond logistics, however. "So many doctors were called in—and so many went in to help who weren't called in," notes Dr. Roach. "These people are in the field for the right reasons."
---
Lindsey Perea, DO '13
Lindsey Perea, DO '13, a surgical resident on staff that night at Aria–Frankford, remembers a "very surreal" situation, "especially for the first forty minutes when people kept coming. The 'walking wounded' were missing shoes but wearing suits, and covered in dirt.
"Two ER residents and I went over Dr. Schwadron's patient with him. She was a Jane Doe when she arrived, and that was scary—she was so sick." Dr. Perea also worked with Dr. Roach to help Dr. Todd clean out the degloving injury of the man with the complex scalp laceration. "Seventy percent of his scalp was hanging off. You can die from scalp bleeding. He had gravel and dirt between his skull and the wound.
"The PCOM program is heavy on trauma," Dr. Perea notes. "I did six months last year alone. And so I had a good comfort level. We are all ATLS [Advanced Trauma Life Support] trained.
"Once Dr. Fusco [Cynthia Fusco, DO '91, director of the trauma program at Aria Health] arrived from Aria–Torresdale, we took her around to the patients who needed to be transferred. It was a relief. She was working the phone, walking around and orchestrating where people would go and how to get them there."
Even though Aria–Frankford lacks the resources of a trauma center, "I don't think it limited us," says Dr. Perea. "We were still able to provide adequate care. When people needed more care, we could get them to that facility in a timely fashion. We knew that we did a great job and had the support of Aria–Torresdale's Level 2 Trauma Center."
---
Emily Hatke, DO '13
Emily Hatke, DO '13, a second-year emergency medicine resident at Aria–Frankford, was working a 3 p.m. to midnight shift. She was suturing a patient when a nurse's husband—a police officer—came by and said there had been a train accident. "Even so," she recalls thinking, "victims won't be coming here. Then I heard it was an Amtrak train, so I knew that a lot more people were involved. And then I heard that it had happened at the Frankford railroad junction—and I knew that was close by." When the "Code Yellow" was called, Dr. Hatke had never heard it before.
"We started clearing out all our noncritical patients from the ER. We called Julia [Todd] and Lindsey [Perea] to ask them to come down to help. We started getting supplies, and we all lined up at the door to wait."
Dr. Hatke took the third patient to enter the ER bay. "He was covered from head to toe in soot or dirt—I wasn't sure which, because I didn't know more about the crash. He told us he had pain all over, especially in his legs. We took him back and did a quick rundown: ABCs [airway, breathing, circulation], figuring out the major problems, stabilizing him." While Dr. Hatke was suturing the patient, she recounts, "he asked, 'What city are we in?' He had no idea where he was. Patients were in shock and confused, or sleeping. They couldn't tell us their history."
Dr. Hatke's next patient had an open leg fracture, as well as a concussion and lacerations. He was soon transferred to Penn Presbyterian Medical Center. Such patients would normally be sent to Aria–Torresdale, "but they were treating other crash victims," Dr. Hatke explains.
When Dr. Fusco arrived at Aria–Frankford, says Dr. Hatke, "a lot of patients had been stabilized. But she helped us identify who needed to be admitted and where they should go. She was on the phones with surgeons at other sites. My patient needed an immediate operation on his leg; Dr. Fusco lined up a surgeon and an available emergency room. She was there most of the night, as long as I was there."
Wherever she looked, notes Dr. Hatke, "people were doing exactly what they were supposed to do. And everything seemed very efficient. Nurses and technicians and everyone did an amazing job. Every patient who came to Frankford survived."
After taking care of three patients, all of whom needed suturing after their CT scans had been reviewed, Dr. Hatke sat down to write up what she had been doing over the past few hours. Now that the patients were settled, she was able to obtain more detailed histories.
Reflecting on her experience, Dr. Hatke says, "This is what we're trained to do in emergency medicine. Having kept my calm and taken care of my patients and worked as a team—I feel I have a level of preparation that a lot of other residents and attendings don't have. I feel that I'm able to handle anything in the future."
---
Rob Danoff, DO
Rob Danoff, DO, clinical professor of family medicine, PCOM, and program director of Aria Health's combined family medicine/emergency medicine residency, found Aria–Frankford "eerily quiet" when he arrived, but it was also calm. People were in emotional shock.
"I remember so many people with dirt on them. I talked to a guy who had been in the second Amtrak car who was hurting all over the place. He remembered that he had been talking to someone on the train, and then next thing he remembered was a loud noise and suddenly he was on his side, spitting up dirt in the dark. A woman remembered hearing that same loud noise and then seeing a man fly by her—and she remembered nothing else until she was walking along the tracks with an emergency responder."
The staff, says Dr. Danoff, was amazing. "The nurses, the front desk, security, the respiratory therapists, people in the lab, X-ray, scribes—everyone worked together. We do drills, but this was the real thing." He also praises Philadelphia's first responders: "The paramedics, firefighters, police were wonderful. The patients told me how caring and kind they were."
While the emergency medical and surgical staff were handling the most acute and critical cases, Dr. Danoff and others dealt with "fractures, open wounds, concussions, cleaning faces and flushing eyes: we all went where we could help best. And we all worked in teams. In some rooms there were five doctors and several nurses."
Dr. Danoff recalls the pride he felt as he watched Dr. Todd at work on a patient with Dr. Schwadron. "Julia did a terrific job. And Jon was highly professional and very organized. He led the team and set the tone. Residents reflect the attitude of the attendings.
"I've been a program director for about 20 years," says Dr. Danoff. "I was so proud of the residents and other staff. It was a horrible tragedy, but there are bright lights. I walked by each room and watched them. I saw what they were doing and how well, and how much they cared."
Dr. Danoff concludes that if the experience at Aria–Frankford that night had a theme, it was teamwork. "Everyone was working together with the same purpose: to help those in need and their families to navigate through that horrific event."