Requiem for a President
August 12, 2019
Leonard H. Finkelstein, DO '59, MSc '63, FACOS
Chancellor, Past President and Professor Emeritus
by Jennifer Schaffer Leone
An esteemed educator and committed and courageous visionary, Leonard H. Finkelstein, DO '59, MSc '63, FACOS, passed away in June at age 85.
He had presided over a decade of transitional and transformative progress at PCOM, ensuring the efficacy of the College's clinical teaching mission and restoring financial stability to the institution. But perhaps the part of his legacy that is hardest to quantify is the decency and dignity he brought to the office and to his alma mater...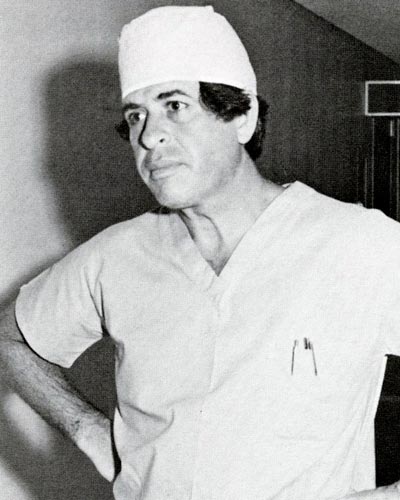 Dr. Finkelstein joined the PCOM faculty in 1963; in 1973, he was named chairman of the Division of Urology. In these capacities—as well as program director and course director—he advanced the College's urology specialty and its American Osteopathic Association (AOA)–approved urology residency program.
From 1990 to 2000, Dr. Finkelstein served as the College's sixth president and chief executive officer. His efforts enhanced the College's curriculum, expanded the graduate medical education program, and fulfilled a master facilities plan for the institution and its campus.
During his tenure, Dr. Finkelstein was responsible for the purchase of Parkview Hospital, and the ultimate sale of both Parkview and Barth Pavilion. Through these transactions, he orchestrated a financial turnaround for the College. In the first year of his presidency, the College's financial status moved from a $6 million deficit to a $4 million surplus. Within a decade, the PCOM Foundation grew from $6 million to over $90 million.
In addition to serving as a leader, Dr. Finkelstein was a renowned researcher in the field of urology, lecturing and publishing extensively. In 1984, he became the first osteopathic urologist to publish in Surgical Clinics of North America, and he was the first osteopathic physician not affiliated with an allopathic institution to publish in the American Journal of Surgery.
He held professional memberships in the American Association of Colleges of Osteopathic Medicine (past chairman), the American College of Osteopathic Surgeons, the AOA, the American Osteopathic Foundation Board of Directors (past president), the American Urologic Association, and the Pennsylvania Osteopathic Medical Association (past president and editor-in-chief of the POMA journal).
Dr. Finkelstein's honors included the Christian R. and Mary F. Lindback Award for Distinguished Teaching (1970), the Student Osteopathic Medical Association George W. Northrup, DO Distinguished Service Award (1990), the Distinguished Osteopathic Surgeon Award (1992), and the Mentor Award from PCOM's Student National Medical Association (1997). In 1999, Dr. Finkelstein received a Presidential Citation from the AOA for his commitment to unity within the osteopathic profession. He was also a 1999 recipient of the Dale Dodson, DO Award from the American Association of Colleges of Osteopathic Medicine. That same year, he was awarded the PCOM Alumni Association Certificate of Honor, and in 2000, he was awarded PCOM's O. J. Snyder Memorial Medal.
Dr. Finkelstein retired from his position as professor of urologic surgery and chairman of the Division of Urology in 2014 (he was named professor emeritus in 2015). He remained the College's chancellor, a post he held since 2006, until his death.
Of all the titles Dr. Finkelstein held, father, grandfather, and friend were his most cherished. He is survived by his beloved wife, Marylyn; his three children: Larry N. Finkelstein, DO '87, Lisa J. Finkelstein, DO '87, and Robert P. Finkelstein, DO '90, and their spouses; and his six grandchildren.
---
In a 1996 interview for PCOM's Oral History Project, Dr. Finkelstein described how he came to pursue a career in osteopathy:
"I had an athletic injury resulting in a dislocated meniscus in my knee. My family doctor at the time was an MD. He was unable to do anything other than tell me to put hot packs on. He sent me to another doctor, who told me to put ice on it. In the meantime, my knee was in a locked position for about three or four days. I had a cousin at the time who was a fourth-year student at what was then PCO, at 48th and Spruce. ... Hartley Steinsnyder [DO, FACOS], who happened to become a urologist. He was one of my trainers and became my first associate when I went in to practice.
I went to see him. He was a fourth-year student in the clinic at 48th and Spruce, in the basement of the building at the time. And he, as a fourth-year student, manipulated my knee, and the meniscus went back into normal position. I walked home, having had to get there on a crutch because I could not straighten my leg. That was my first realization that osteopathic physicians possibly were even better or could do more than their MD counterparts.
I also, because of growing up in the [family] drug store, became involved with prescription filling early on. I would count the pills and work with my father in the back. I would see prescriptions coming from osteopathic physicians, and knew that part of the practice was very similar. I became aware that it was a complete form of medicine probably when I was in high school."
Then in year six of his presidency, Dr. Finkelstein was asked to assess his strengths and weaknesses as a leader:
"Well, I guess my strength would be that I am about as focused as anybody can be. I have had a vision and a mission, and I've just stayed with it. And I think that if I had not done anything [else], I've established myself as credible, and when I say something, that is the way it is. And that whether people like me or don't like me, I hope that I'm looked at as being fair. I have tried to do what was in the best interest of the College, the people that work for the College ... and those that have gone through the College. ... My weaknesses—I guess, as my Chairman says, I tend to shoot from the hip. The surgeon in me does not have a lot of patience at times. ... I think one of my strengths is that I have no problem talking about my weaknesses, and try to correct them if I'm aware of them."
---
From the Finkelstein Children
Larry N. Finkelstein, DO '87; Lisa J. Finkelstein, DO'87; and Robert P. Finkelstein, DO '90
"Dad loved 'the College,' and he devoted his life to the osteopathic profession.
Even as young children, we knew the benefits of OMT. There was a treatment table in our house that was always available. Dad was able to make us feel better with his hands and osteopathic skills—whether we had a cough, tight muscles, or a rib out of place. He would treat the neighbors, too, and eventually his grandchildren. It became a common activity to ask Pop Pop Len for a treatment whenever needed. And it always helped.
Dad was the quintessential educator. He excelled at teaching and mentoring hundreds, maybe thousands of PCOM medical students and urology residents. He modeled all the attributes that make a good doctor. He taught the importance of treating patients with respect and dignity throughout all stages of life and illness. Dad's was an extraordinary kind of compassion.
He engrained his passion for medicine in us. And it must have been in our genetics as well for all three of us to become physicians, graduates of PCOM. It gave our Dad great pride to be able to hood us at our graduating ceremonies. We followed in his footsteps and always looked up to him. We asked him for advice and guidance when we had interesting cases; such discussions often led to very lively dinner conversations!
Larry, the oldest, knew he wanted to be a physician since he was a young boy. He joined the PCOM clinical faculty in 1993, bringing a love and dedication to teaching medical students. This desire was a result of observing Dad's dedication to the education of his students and upholding and imparting osteopathic principles.
Lisa, the middle child, went to PCOM after a conversation with Dad during college. He said, 'Lisa, do you want to be an indian or do you want to be the chief?' The light bulb went off in her head. Lisa followed in her father's footsteps as a urologic surgeon, and recently completed her term as president of the Wyoming Medical Society.
Robert, the youngest, was inspired by watching Dad interact with patients and students. He could see that he was kindhearted while at the same time demanding the best in his students. Robert also loves teaching and now has a successful dermatology practice in Florida."
---
From the Provost
Kenneth J. Veit, DO '76, MBA, provost, senior vice president for academic affairs, and dean
"When Len became president, he took a very big gamble and chance on a new and very young dean, allowing me the opportunity of a lifetime and forever changing my professional pathway. ... It was during this time I got to know Len better and on a much more personal level. When the PCOM environment was at its darkest, Len used his intrinsic optimism, confidence and bravado to will our College back to health. It was more than just the selling of a few hospitals; he gave PCOM back its core confidence in order to succeed. He prodded and poked life back into an institution that was then on critical life support. ... But what I remember most from our interactions were discussions about his family and how proud he was of each of his children. He reveled in their professional and personal successes. This love extended to their spouses and to his beloved grandchildren. He would tell me about the many trips and adventures—even skydiving! His love of his family was absolute and transparent in his being. The conversation always followed by asking about my own family. ... Another family he never stopped talking about was his PCOM family, the many students and residents he trained. He loved guiding students and his residents to even greater accomplishments. His family was indeed a very large family."
READ THE FULL ISSUE OF DIGEST