Hanging up His Stethoscope for Roads Not Taken
September 13, 2016
By David McKay Wilson
On the final day of his cross-country bike tour, James Quigley, DO '75, rode a leisurely 17 miles from Burlington, Massachusetts, to the Atlantic Ocean at Revere Beach, where he touched his front wheel into the Atlantic Ocean. The water contact came just 50 days after Dr. Quigley's group of 21 cyclists left the shores of the Pacific on Manhattan Beach near Los Angeles and embarked on an epic journey of 3,400 miles on two wheels.
The bike tour was a personal challenge for the lanky 6'3" Dr. Quigley, who found his rhythm pedaling through the desert, across mountain peaks, and through the Great Plains, blessed with steady westerly winds, and rain on just two days. It was also a time for Dr. Quigley to raise research funds for amyotrophic lateral sclerosis (ALS), a rapidly progressive, invariably fatal motor neuron disorder.
Dr. Quigley and Kevin McCauley, a biking friend and former patient from Dr. Quigley's San Diego-area family practice, set a goal to raise $40,000 for ALS research when they departed on May 8. Three weeks later, they reached McPherson, Kansas, and had raised almost $10,000. By the time they reached the Atlantic, they'd raised $22,000 and were still intent on reaching their goal of $40,000.
James Quigley, DO '75, defied age in a cross-country retirement ride that raised funds for ALS.
---
Among his fellow Philadelphia College of Osteopathic Medicine alumni supporting the drive were Gary Agia, DO '75; Eugene Andruczyk, DO '75; Michael L. Mansi, DO '75; Anthony Niescier, DO '75; Richard A. Pascucci, DO '75; and William A. Wilson, DO '76. "It was amazing to check our fundraising progress each week," says Dr. Quigley. "Who knows? Maybe we'll find our mystery donor to match what we've already raised."
Mr. McCauley recalls dreaming up the expedition many years ago in Dr. Quigley's examining room. They hatched the idea for real in 2014 while hiking eight days in the Andes Mountains to reach the 15th-century Inca citadel Machu Picchu. By then, Dr. Quigley had retired from North Coast Family Medical Group, where he had practiced for 30 years (in 2015, he retired from his clinical research practice).
Their fundraising efforts were inspired by the vision of Michael J. Ramirez, a San Diego-area businessman and athlete who, after being diagnosed with ALS in 2009, set up Team Godfather Charitable Foundation to raise funds for ALS research. He died in 2012.
Near the end of the ride, the 67-year-old Dr. Quigley stopped in Vermont to visit Andrew LeClaire, a bedridden ALS patient who had connected with them through Mr. McCauley's daily blog. He had a hereditary form of the disease that had felled 30 of his relatives, including a brother, a sister and a niece.
"Andrew has a great awareness of his plight and a great sense of humor about it," says Dr. Quigley. "Words don't do justice to what it feels like to be in the presence of someone who sees the end is coming, accepts it, and is still engaged. He was present with us—and is so with his family, his community and his church."
Riding across the United States in 50 days is not for the faint of heart. But doing so on a tour organized by Crossroads Cycling made it a whole lot easier. The route—from southwestern California to the Northeast of New England—went through 15 states, had riders averaging about 85 miles a day and staying at hotels along the way. A team of eight, and three vehicles, supported the 21 riders. On six days, the international group, which included five riders from the United Kingdom, and five women, rode more than 100 miles.
"We entered deep into the pain cave a couple of times, but most of the time we were laughing," recalls Mr. McCauley. "My cyclist pal, Jim, was ever talkative, enthusiastic and always positive."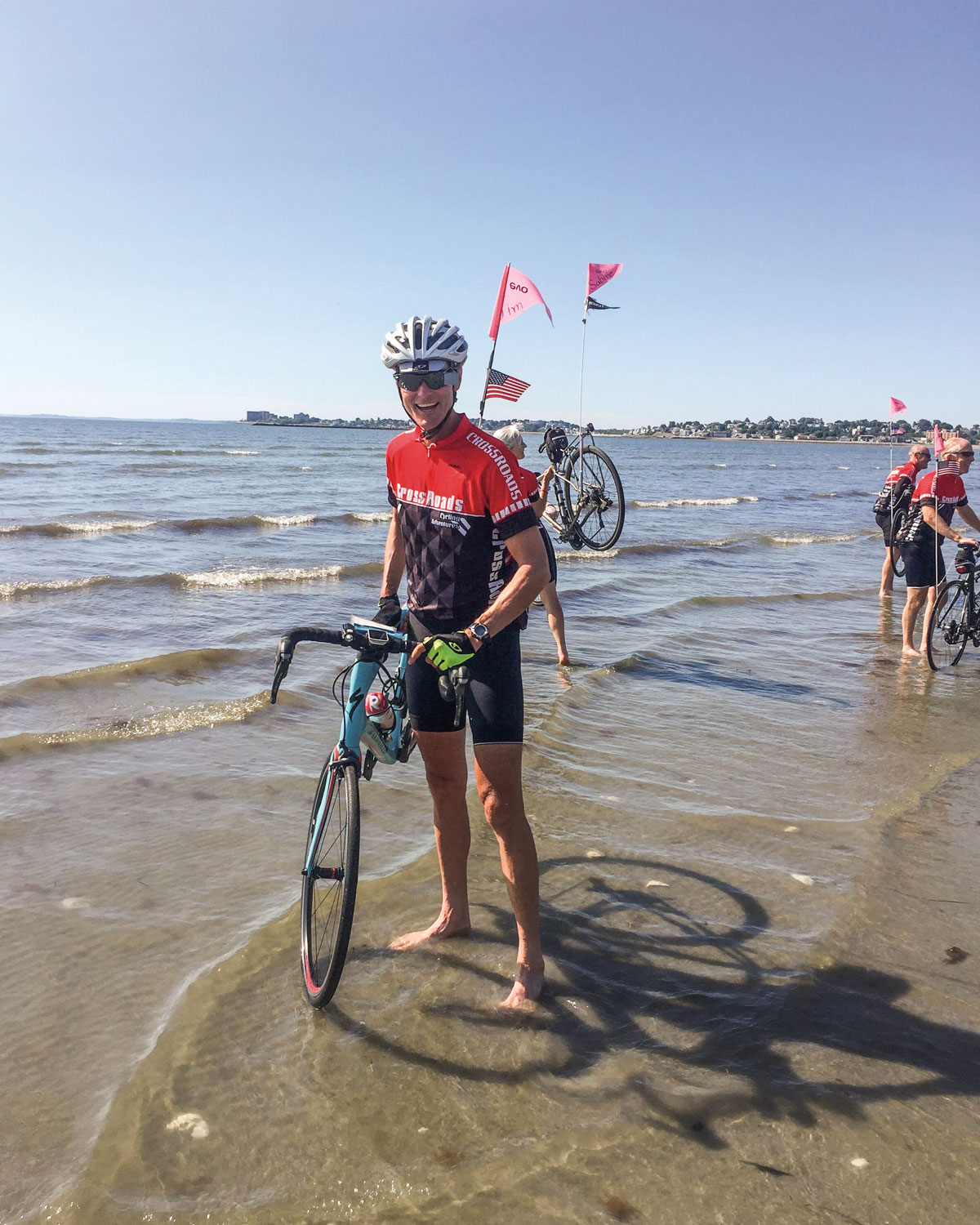 Each morning, three groups would head out at 15-minute intervals. Dr. Quigley would ride his carbon-fiber Specialized Roubaix with 28-inch tires, with between three and eight other riders. They'd fall into formation in what cyclists call a pace line, in which one cyclist takes the lead on a rotating basis, and others follow behind, single file, a foot or two apart, to cruise in the aerodynamic slipstream in the leader's wake.
"I'll never be in as good shape as I am now, for the rest of my life," says Dr. Quigley.
The tour's worst day came early, when their group had 24 flat tires on a 116-mile stretch through the southern California desert, and the temperature hit 109 degrees on a road shared by tractor-trailers. One cyclist got scraped up and broke his clavicle when he went down after a motorist's side-view mirror struck him as he negotiated a railroad crossing.
Dr. Quigley, who was a competitive college tennis player, ran half-marathons not long after graduating from PCOM. But a sore right knee led him to cycling in 1980 because the exercise has little impact on the joints. "It turned out to be the perfect sport for me," he says. "You go out for a couple of hours and blow off all your worries. You need to keep focused when you are on the road; the exercise helped me keep in shape and remove myself from the stress of medicine."
Before he began the tour, Dr. Quigley wondered how his mid-60s body would respond to the challenge of a ride that would last over seven weeks. He exceeded his expectations by closely monitoring his carbohydrate, protein, electrolyte and fluid intake. His 3,000 miles in the saddle during his six-month training regimen before heading east on May 8 had him well prepared for what was to unfold.
"This age thing is a bugaboo," says Dr. Quigley. "I kept thinking I was going to slow down, but my body really responded."
"There is a lesson I learned from my adventure that I believe can apply to all of us," reflects Dr. Quigley. "Ultimately it is this: nothing is impossible. The size of the undertaking doesn't have to be as big as my cycling adventure, but I encourage anyone to take on a new challenge. With time and persistent training, you can achieve surprising results. Go for it!"
Read more about Dr. Quigley's tour on his website, JQsBigAdventure.com.