Mourning in Medical School
June 20, 2016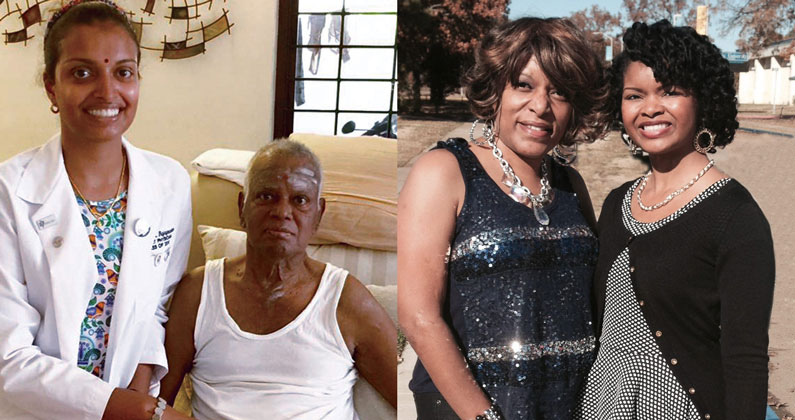 They are taught to save lives, but what happens when medical school students have to confront mortality in the midst of their training?
---
Grieving Chandru Thatha
by Aishwarya Rajagopalan (DO '18)
On October 11, I woke up a normal second-year medical student. I was behind in studying for my exam—and rushing to catch up because my family had planned a brunch to celebrate my engagement. Family was coming into town from New York; friends were arriving from across the country. "Just remain calm and enjoy this special moment," my sister suggested.
When brunch was over, I packed my bags and returned to my apartment. I spent the evening as I always did, replying to emails and studying. I realized that in all the chaos, I had not had a chance to Skype with my Chandru Thatha that morning. I reminded myself that next weekend I would have all the more to discuss with him: the election news cycle was beginning to ramp up, I was already having an existential crisis about my career path, and I needed his help to plan my formal engagement ceremony in Chennai the next month. My mind buzzed with thoughts, but around 10:30, I pulled the blankets over my head and drifted off to sleep.
A little over an hour later, I was stirred by vibrations from my Fitbit and sounds from my cell phone. Chandru Thatha had passed away from complications of diabetes—and it felt that my world was collapsing in around me, too.
Nearly 25 years ago, my dad was working to complete his fellowship, my mom was working multiple jobs, and my Chandru Thatha and Annees Patti had come from India to make sure that their first grandchild would be spoiled beyond measure. Over the years, they made countless trips to the States to witness piano recitals, dance performances and graduations; to teach Tamil to my siblings and me; and to provide us with the same extended family experience our cousins in India had growing up. In the summers, we visited them in Chennai. I used to count the days to each trip starting the moment we left them, and waited with bated breath to arrive at my grandparents' house. It was obvious they were excited to see us, too, putting together two king-size beds to occupy an entire room so that every grandchild could fit, and we could pester our grandparents through each and every night and drift off to sleep as Chandru Thatha regaled us with tales of growing up in pre-Independence India.
That night, as I lay in my bed, I realized that my Chandru Thatha would not be there for my medical school graduation or for my wedding—or even for the engagement ceremony. I felt shattered.
In the days that followed, I did the best I could to care for my family and for myself. At the same time, I faced a tough decision: should I go to India for the formal two-week mourning period, or should I stay at PCOM and complete the trimester? I had already contemplated this scenario; before medical school had even begun, my Type A personality drew me to measure virtually every dreadful scenario I could imagine. If faced with a death in my family, I had decided that I would take time off and attend to the mourning. But because Chandru Thatha had passed in the middle of October, the end of the trimester was rapidly approaching, and it was highly unlikely that I would be able to go to India, return and fulfill all of the requirements for first trimester by the end of the term.
Should I stay, or should I go? How could I live with myself if I missed mourning this profound death with my family? How bad would it be to take a leave of absence from medical school? If I remained at home, would I be able to study?
At last, my dad reminded me that what my Chandru Thatha would have wanted was incredibly clear. A staunch advocate and devotee of learning, he always stressed the importance of pushing on with our education—regardless of the circumstance.
With my heart torn in a million pieces and directions, I chose to stay.
It certainly has not been easy. There are days where I feel crushed under the weight of the guilt I carry for choosing to complete the trimester and progress in second year. I wonder if the reason I have not yet found a place of healing is because I never had the chance to properly grieve, or if that is simply how everyone feels when they lose a loved one—that as humans, we do not know how to properly grieve.
Constant reminders of the sequelae of diabetes in virtually every course continue to test my emotional fortitude. I recall, especially, that parts of the neuroscience block were simply painful to endure—learning about Broca's aphasia and about what science still does not understand about neurodegeneration. There were (and still are) days when I would go home from class and wrap myself up in my blankets and cry for hours, wondering how my Chandru Thatha could suffer so much, but still smile every time we saw each other; how he could always laugh on the phone even when he struggled to find words; and how from what felt like a million miles away, I could still feel his love.
Yet what has made an otherwise unbearable experience prove to be meaningful is the community I found here at PCOM. From the time I told my classmates about my Chandru Thatha's passing, they have sprung into action, offering messages of support in person and via social media and through gentle smiles in the hallway. They have taken me to lunches and dinners "just because." Administrators helped me set up a realistic plan to complete the requirements for the trimester and beyond. Interestingly enough, my grades have improved significantly, despite my suffering sleepless nights and deep sadness. I attribute this to human kindness.
When I published a piece about grief during medical school on a blog, I was surprised to receive so many messages from peers. Their shared stories have empowered me to continue to find balance in my loss. I am slowly reaching a place where, though I know I can never fill the void of my Chandru Thatha, I possess an empathy I never had before. I believe this empathy is a gift—one that will allow me to compassionately communicate with my patients and their families. Because of my experience, I will be more attentive to their private moments and personal rituals—be they filled with hope, fear, love, loss. I will facilitate these moments and recognize the importance that they hold in the process of healing.
This essay is dedicated to KS Chandrasekaran, my maternal grandfather, and one of the most incredible souls I will ever know.
---
Coping With Loss at the End of a Cancer Journey
by Jennifer Schaffer Leone
Hippocrates once offered, "Cure sometimes, treat often, comfort always."
Comforting courage was perhaps all the Georgia Campus – Philadelphia College of Osteopathic Medicine community could provide as students and faculty donned shades of pink in early February—and together raised $1,000 for the Breast Cancer Research Foundation. They did so in honor of Minister Sarah Edwards, the mother of Denaya Edwards (DO '18), who passed away the previous month. Moreover, they did so to support Ms. Edwards.
For four years, Ms. Edwards witnessed her mother's laborious struggle with breast cancer: a double mastectomy, radiation, rounds of chemotherapy and the disabling side effects of medications. Ultimately, the disease progressed from stage 1 to stage 4, and she died of metastatic disease.
"As a daughter, I often felt anguished. As a future physician, I felt helpless," Ms. Edwards recounts. Her mother's cancer journey was Ms. Edwards' first foray into authentic clinical medicine. And she saw the good, the bad, the ugly.
"I learned—in real practice—the importance of being thorough and detailed in obtaining and assessing a patient's history. I grasped the significance of patient autonomy and how much honest communication from physicians and other medical staff, paired with compassion, means to patients and to their families. And I understood that patients deserve to be respected as human beings even at their most vulnerable moments, and not as diseases. For each is someone's parent, a sibling, a child, a spouse.
"My mom was the most selfless woman; she was gentle, warm and kind. She was a devoted wife, mother, sister, minister and friend. She never hesitated to help or to pray for anyone in need. Her sacrifices were endless. As a result of her personal journey, I met so many heartbroken, rejected and isolated people who my mom 'spoke life into.' They were part of her ministry. As a result, these individuals called her a blessing to their lives. They are a part of her legacy."
While Ms. Edwards has not fully resolved her feelings of loss, she realizes that her mother's death gives her fresh courage and a sense of commitment. "Ever since I was a little girl, my mom would remind me that I could achieve anything I put my mind to. She was always supportive about my desire to become a physician. My mom's death has only strengthened my choice of anesthesia as a medical specialty. I will think of my mom, especially, as I manage my future patients' acute, chronic and cancer-related pain."
At the same time, Ms. Edwards remains encouraged by her classmates and the larger GA–PCOM community. "My mom urged me not to take any time away from my studies," says Ms. Edwards. "She wanted me to remain focused." By working closely with Student Affairs and individual faculty, Ms. Edwards was able to remain on track with her coursework. Her peers offered personal support as well.
"The 'Pink Out' in honor of my mom—and in support of families whose lives have been affected by breast cancer—is but one example of the care shown to me. I am so appreciative—and forever grateful—to be a part of a College that values the emotional health of its students."