Bird by Bird
January 31, 2017
by David McKay Wilson
Since his retirement 15 years ago, Bernard F. Master, DO '66, is still making rounds—but not at the health network he built into a powerhouse in Columbus, Ohio.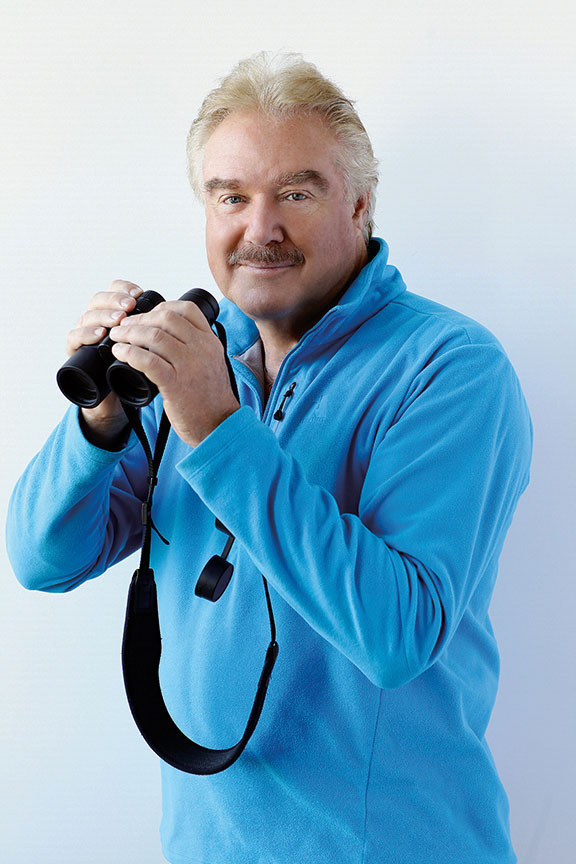 Instead, Dr. Master, known as a "world birder" for his list of 7,825 species that he has seen, regularly makes his rounds with Niger thistle seed and hulled sunflower seeds to fill the birdfeeders at his five-acre homestead in Columbus' northern suburbs. He also makes the rounds of far-flung habitats around the world, where he spots rare species to add to his growing list.
In early November, he's studying up for a sojourn to Brazil, where 70 species he has yet to see are known to frequent his destination. He's studying their plumage, their distinctive songs, and what they look like in flight. He's developing a picture in his mind of each of the birds so that when he's out in the wilderness, peering through his Zeiss Victory 10x42 binoculars, he'll be able to call it out. If it's especially rare, he'll snap a photograph, and later add it to his list.
After you've been peering up for hours, the bird you've looked for all day can flash before you in an instant. A birder has an average of three seconds to identify a bird in flight. Preparation is the key.
"When you finally see it, there's exultation for a job well done," he says.
Topping his Brazilian wish list is a bird called Stresemann's Bristlefront, one of the world's rarest birds, which is near extinction with only two left in the world. The long-tailed songbird's last remaining habitat is in the Atlantic Forest, a terrestrial biome on Brazil's northeast coast. Permissions were secured for Dr. Master's expedition to enter into private lands in search of the species.
After a long, arduous hike up through a Brazilian forest, Dr. Master heard the bird, and spotted the male lurking in the darkest part of the forest. A female was calling nearby.

"Success!" he exclaimed in an email message from Brazil. "There's only one pair left in the world, so therefore it's the rarest bird in the world. Only about 150 people have seen it since its rediscovery in 2002, after a 100-year absence."

The Life List
Dr. Master's expedition to Brazil marks his latest excursion in his quest to build what's called his "life list"—the cumulative record of species seen in the wilds over a lifetime. Since his retirement from medicine in 2001, and the sale of his remaining MEDCenter facilities in 2005, Dr. Master has dedicated his life to birding, wildlife conservation and sponsorships of local events, such as the Bernard Master Tennis Classic, now in its 38th year.
Birding dates back to his childhood in the Overbrook section of West Philadelphia. When Dr. Master was four years old, his father, Gilbert Master, DPM, an avid birder, had him start his list. On February 28, 1946, he recorded 10 birds, including a Downy Woodpecker, Tufted Titmouse, and Song Sparrow. The Master family would also travel each year to the birder's paradise of Cape May, New Jersey, where migratory birds stop for respite on their long-distance travels in fall and spring.
By 2016, Dr. Master laid claim to being the first American to have seen species from all 237 families of the world's birds. His list includes birds from six continents, 107 countries, and his Ohio homestead, which is bisected by Tucker Creek, and is inviting to a broad spectrum of birds.
Every morning, Dr. Master walks his land to see what birds have come to visit. Only 437 bird species have ever been seen in Ohio. He has spotted 184 of them on his land.
"My patch has woods, streams and gardens," he says. "I keep my feeders filled year round, and I leave my hummingbird feeder out until December. There's always a chance I might get a rare hummingbird from the West."
The details of Dr. Master's birding life can be found in his 2015 memoir, No Finish Line: Discovering the World's Secrets One Bird at a Time (Little White Dog Press). Readers discover that birding at the highest levels can be a heady life. There's the sighting of the Raggiana Bird of Paradise in Papua New Guinea, his search for the Ivory-billed Woodpecker in an Arkansas mangrove forest, and the sightings of the radiant Souimanga Sunbird on a tiny atoll in the Indian Ocean.
Dr. Master birded one year with Queen Noor of Jordan (Noor Al-Hussein) in his search for Sinai Rose Finch and was honored at a grand ceremony in the Netherlands for his support of wildlife conservation.
But he was also part of a group detained in an extortion ploy in Brazil. On another trip to South Asia, his group's transport was attacked by a gang in Papua New Guinea. "I was anxious for the safety of my wife," he recalls. "I was angry."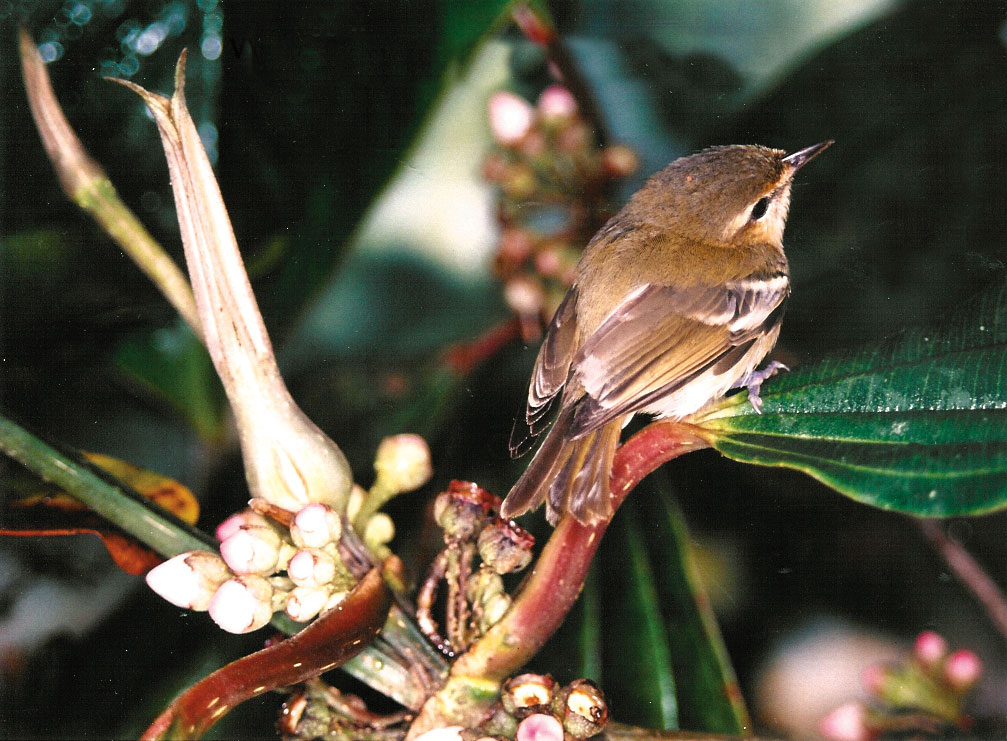 Vireo masteri, meaning "of Master." This bird, native to Colombia, is named for Dr. Master. [Photo courtesy of Paul Salaman]
---

A Spiritual Connection to the Natural World
It's the birds—and that connection to the natural world instilled by his father—that remain at the center of Dr. Master's life.
"Birding provides a connection to family and to my father," he says. "There's such an adrenalin rush when you see the bird; it's a delight that stays with me forever. The memory lingers, and I can recall these sightings in years to come."
Over the years, Dr. Master has taken many birders on walks to teach them the rudiments of identifying birds and learning their songs. Among them is fellow Philadelphia College of Osteopathic Medicine alumnus Robert Weisberg, DO '66, a senior partner at the Mainline Medical Group, Narberth, Pennsylvania. Dr. Weisberg still has the copy of a field guide to birds of North America that Dr. Master gave him many years ago.
"I have that book to this day," says Dr. Weisberg. "I've traveled all over the world, and when I see some weird bird, like I did in the jungles of Peru four years ago, I'll take a picture of it, send it to Bernie, and ask him, 'What do you think?' "
Throughout Dr. Master's medical career, birding provided a welcome respite from the pressures of running healthcare networks that began serving Columbus' inner-city neighborhoods, and then spread out into the metropolitan region. "It was my release, my balm," he says. "I'd go out to look at birds. It cleared my mind. And in would come fresh ideas. I used birding to help my business."

A Medical Business Takes Flight
Dr. Master's business began in the late 1960s. Fresh out of PCOM, Dr. Master worked in family medicine in a small Columbus practice. Then he was drafted and sent to Vietnam with a wave of 120 DOs. He served on the front lines with an infantry unit that saw bloody action near Khe Sanh. He spotted birds there too—24 of which were added to his life list, including a Jack Snipe and Yellow-bellied Wren Warbler.
Back home, his practice in Columbus' Linden neighborhood prospered. He expanded his healthcare company, which served the community during the heyday of health maintenance organizations, with his health centers providing comprehensive services under one roof. Dr. Master took the company public, with its stock sold on the NASDAQ stock exchange. Then he sold his interest in the company in 2000, giving himself time to devote to birding, and philanthropy.
"Bernie built a monster business," says Norman Ruttenberg, DO '66, of Newtown Square, Pennsylvania, who retired from his radiology practice in 2016, and served in Vietnam with Dr. Master. "He has great instincts for issues, situations and his patients. And those qualities have helped him tremendously in life."
Dr. Master's medical practice was devoted to serving low-income patients whose health insurance came through the federal Medicaid and Medicare programs. His business instincts dovetailed with a commitment to provide health care to the city's predominantly minority neighborhoods.
"My practice grew rapidly because other doctors wouldn't see this group of patients," he says.
That spirit has inspired Dr. Master's philanthropy as well. In 1995, he endowed a scholarship fund at PCOM for minority medical students, called the Bernard Master DO Scholarship. He also endowed scholarship funds at Heritage College of Osteopathic Medicine at Ohio University, Ohio State University and Temple University.
"My PCOM scholarship goes to minority students, underscoring my personal philosophy that raising everybody up in America is a patriotic act," he says. "We can't advance as a nation unless everybody is moving together."

A Bird Named for Bernie
His international philanthropy led to one of the high points of Dr. Master's birding career.
In the early 1990s, an ornithologist discovered a new bird species high up in the forest canopy of a Colombian forest. At the time, the bird's habitat was under threat, so the scientist who discovered the new species auctioned off the naming rights to raise money to preserve the land.
Dr. Master stepped up, contributing the auction price of $125,000 to create the preserve. The scientific name of the bird, known as the Choco Vireo, is Vireo masteri, with his family surname Latinized to the possessive, to mean "of Master." He saw the bird on his fourth trip to Colombia on New Year's Day 2010, after three previous attempts to enter the nesting grounds were aborted because of rebel activity in the region.


"I saw a tiny figure moving through the leaves, then I saw it clearly, a small olive sprite with two wing bars and a white eye line," he wrote. "After 15 years, I was watching three Choco Vireos singing and playing up in the canopy mist. I watched them for two hours. I could not pull myself away."


Practical Birding Tips From No Finish Line: Discovering the World's Secrets One Bird at a Time:


After puberty it's very difficult—but not impossible—to learn bird songs.
You have an average of three seconds to identify a bird.
Look at every bird you see through your binoculars, especially birds in flight. Practice makes perfect.
In a group, don't contradict a person who makes a bird sighting that seems unlikely. He or she may hate you forever.
Wear a harness strap on your binoculars to distribute the weight across your shoulders and reduce the weight on your cervical spine.