Academic Coordinator Presents at Assessment Conference
June 20, 2016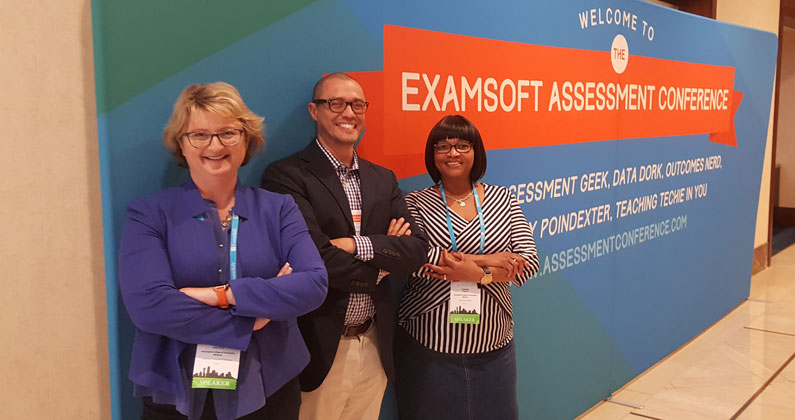 Louise Jones, Doug Koch and Cynthia Coleman presented at the Innovations in Assessment conference recently.
---

Louise Jones, MEd, Academic Development Coordinator at GA-PCOM, presented at the Second Annual ExamSoft Assessment Conference (EAC) which took place recently in Dallas, Texas. The EAC focuses on improving teaching and learning experiences, and preparing students for enhanced success post-graduation through assessment practices.
The theme for this year's EAC was Innovations in Assessment and was created to encourage progress and invention when it comes to engaging faculty in student assessment, reporting and learning analytics, understanding psychometric data, developing and using rubrics, and using technology for the advancement of assessment.
Jones was selected to present a session on "Connecting the Dots: Creating Faculty Development Sessions that Meet the Varied Needs of Faculty Members." Faculty support and development is near to her heart and is the focus of her work and research at GA-PCOM. At the session, Jones was able to share the progress made in several GA-PCOM course enhancement projects and receive essential feedback.
"Other institutions similar to ours are looking for professional development strategies," she explained. "They liked the innovative faculty-centered approach that we use here at GA-PCOM."
Jones teamed up with Philadelphia-based colleagues, Doug Koch, Academic Development Coordinator for the Department of Bio-Medical Sciences and Academic Coordinator Cynthia Coleman, to present "Rising from the Ashes of Chaos - Harmonizing 5 Programs across an Institution," at the conference as well.
Originally from Scotland, Jones has a background in both healthcare and education. She earned her Bachelor of Science in Physiotherapy from The Queen's College in Glasgow, Scotland, before receiving a Master of Education in Educational Leadership from Mercer University in Atlanta, Georgia. Jones is currently working toward her Doctorate in Educational Leadership at Mercer University. Her primary areas of interest include teaching pedagogy, its efficiency and process in adult education, specifically in the professional healthcare sciences offered at PCOM.
About PCOM Georgia
Established in 2005, PCOM Georgia is a private, not-for-profit, accredited institute of higher education dedicated to the healthcare professions. The Suwanee, Georgia, campus is affiliated with Philadelphia College of Osteopathic Medicine which has a storied history as a premier osteopathic medical school. PCOM Georgia offers the doctor of osteopathic medicine degree, the doctor of pharmacy degree, the doctor of physical therapy degree, as well as graduate degrees in biomedical sciences and physician assistant studies. Emphasizing "a whole person approach to care," PCOM Georgia focuses on educational excellence, interprofessional education and service to the wider community. The campus is also home to the Georgia Osteopathic Care Center, an osteopathic manipulative medicine clinic, which is open to the public by appointment. For more information, visit pcom.edu or call 678-225-7500.
For more information, contact:
Barbara Myers
Public Relations Manager
Email: BarbaraMy@pcom.edu
Office: 678-225-7532 | Cell: 770-309-0613
Connect with PCOM Georgia