Margaryta Tolchynska

MS/PA '19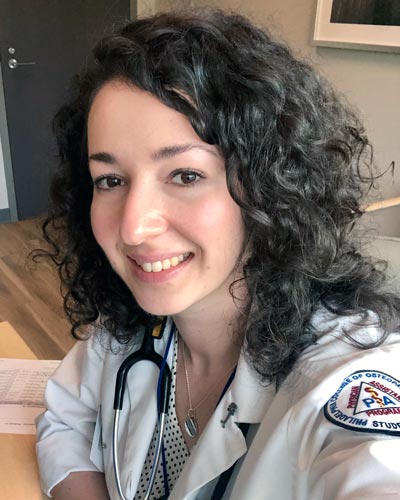 Growing up in a family of medical professionals, it was Margaryta Tolchynska's (MS/PA '19) dream to work in healthcare. As a medical student in her home country of Ukraine, she had visions of caring for those who were most in need and following in the footsteps of family members before her. Her education was cut short, though, when political persecution forced her to flee her home in pursuit of a new life, at just 20 years old.
When Ms. Tolchynska arrived in the United States she was alone—the only member of her immediate family that was approved for a visa. She was nervous about her future but she believed in the endless possibilities of the United States and was determined to get back on track with her medical education.
"When I first arrived to the US, I knew that I had to make my dream of working in medicine come true," says Ms. Tolchynska. While completing an accelerated 3-year program to earn her bachelor's in health sciences from University of the Sciences in Philadelphia, Ms. Tolchynska was mentored by a physician assistant who worked in surgery.
"He was very passionate about his role in the operating room and he showed me the real-world application of being a practicing PA," said Ms. Tolchynska. "Seeing his dedication to helping his patients showed me the impact that a PA has on the lives of the people they interact with. I knew that this was the next step for me."
She chose PCOM because it felt like a home to her.
"I knew from the very beginning that PCOM was committed to the wellbeing of their students," she said. "I remember on my first day of orientation, Dr. Laura Levy (DHSs, PA-C, chair and professor, physician assistant studies) told us, 'We are not here to just teach you, we are here to learn alongside you.' That statement made an impact on me and I feel it accurately reflects my experience here at PCOM."
When she is not studying, Ms. Tolchynska enjoys salsa dancing and traveling. She also makes an annual trip home to her native Ukraine to visit family and friends that still live there. In 2018, Ms. Tolchynska officially became a citizen of the United States.
When asked what advice she would give to someone who is thinking of pursuing medicine, Ms. Tolchynska responded, "If it's your passion, absolutely go for it. Just know, it may be long hours, nights and weekends. You have to pursue it as if it's your life, not just your job."