Katherine DiPastina

DO '19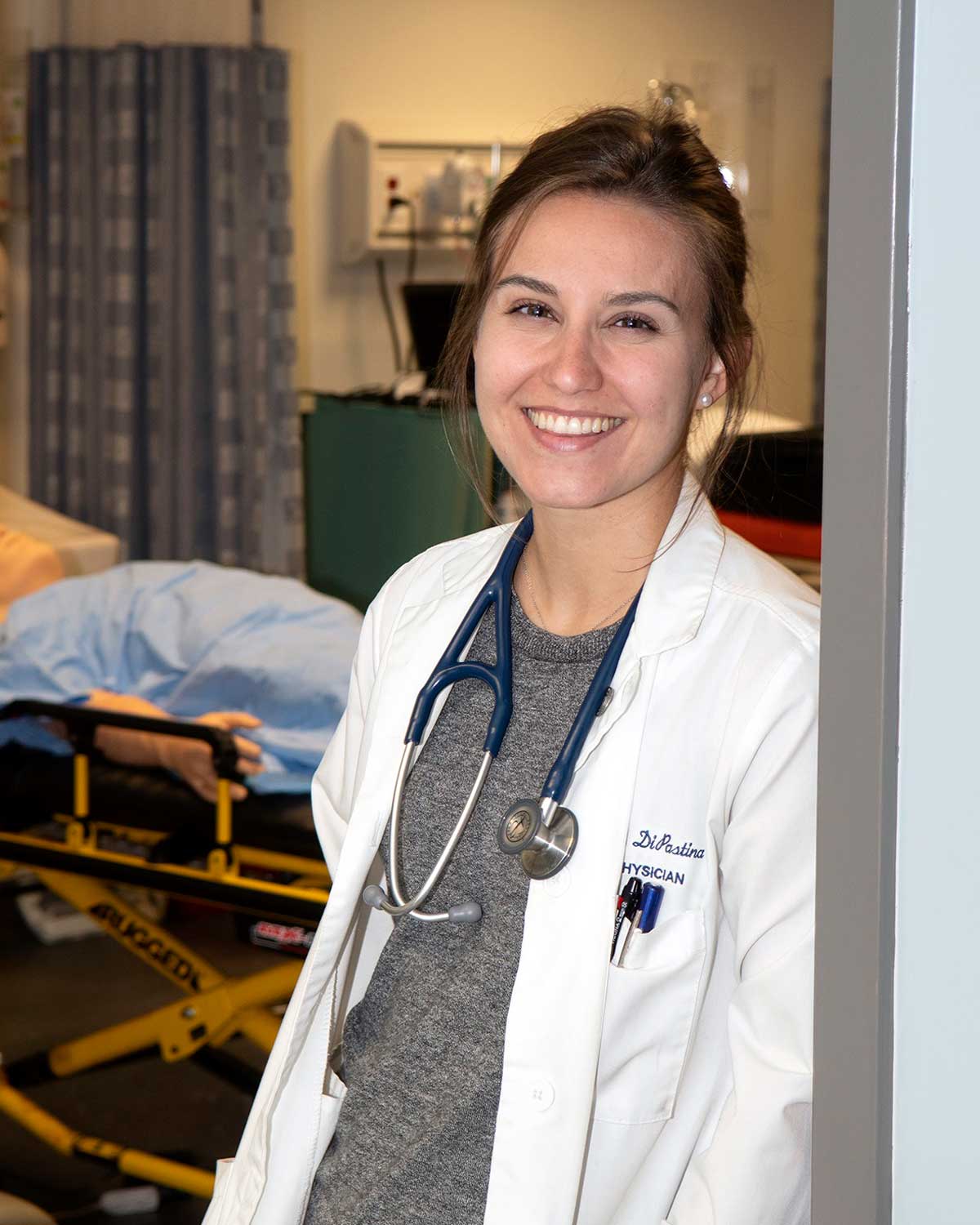 A dinnertime tradition during her childhood helped Katherine DiPastina prepare for her clinical clerkships at PCOM—she just didn't know it at the time.
"My dad (John DiPastina, DO '85) used to read the case presentations in JAMA, which are presented the same way you would present to an attending, and we would sit at dinner and meticulously go through each part of the case," said Ms. DiPastina. "I've been doing those since I was a kid, so now that I'm actually going through it and presenting to attendings myself, I understand it. This is what I was born for," she adds with a laugh.
Ms. DiPastina says she's always had an interest in medicine, and osteopathic medicine specifically, because of her family connection to PCOM (her aunt, Rebecca Kightlinger, DO '86, is also a graduate).
"In first grade, we had [Parent's Night] and we had to show our drawings of what we wanted to be when we grew up, and mine was a picture of a doctor," she says.
But while her father and aunt practice in the primary care fields (family medicine and ob/gyn, respectively), Ms. DiPastina decided that she wanted to focus on critical care.
"My very first rotation of my fourth year was a nephrology rotation, and for the first few weeks I was going to be in the intensive care unit (ICU). I was going through a patient's systems, not just looking at the things pertaining to kidney function but doing a full exam the way we're taught at PCOM," she explained. "The attending physician saw this and asked if I was one of his students. When I said that I was on the nephrology service, he asked me to stay for rounds."
Ms. DiPastina did stay, and when she presented to him, she said it was very similar to what she had learned in the Primary Care Skills class that first-year DO students take. The attending was impressed, and asked her to continue in the ICU. Once her rotation was over, the attending recommended she do another one in the ICU.
"He told me, 'I think you would really like it,'" said Ms. DiPastina. "And I did, I was blown away by how complex it was. In the ICU, you're trying to diagnose someone with a very complex disease, and that requires a lot of detail, to dive in and find out what's the underlying problem."
Ms. DiPastina will begin an internal medicine residency at Reading Hospital in July, and ultimately wants to go into a pulmonary/critical care fellowship. She says she's excited for her future, and that of her classmates.
"There are so many amazing physicians [from PCOM] that are going to be starting in July," she said. "They're all going to be great doctors, and I'm excited to see exactly where everyone goes. They're going to be my colleagues, my professional references and my referrals, and I'm so happy for everyone who matched and will go on to do amazing things. They're going to completely blow people away."