Justine Parks Rose

MS/ODL '19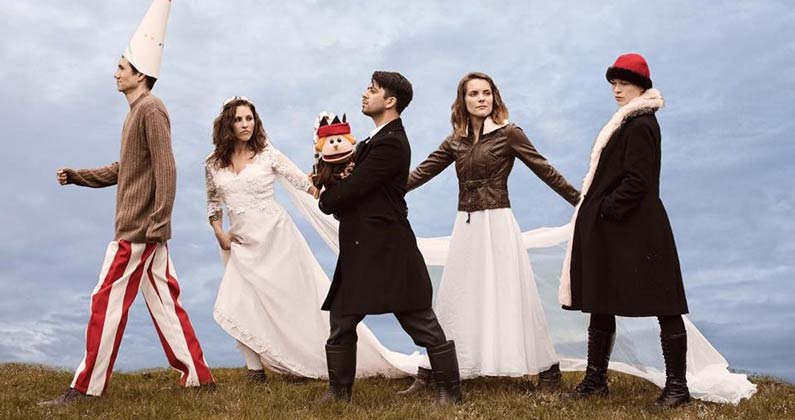 Justine Parks Rose (MS/ODL '19, second from left) studied interprofessionalism and communication in PCOM's ODL program to help run her theatrical arts company in Collingswood, New Jersey.
---
For some, theatricality and storytelling may not lend themselves to professional development. For Justine Parks Rose, it's all in a day's work. As a human resources professional with a background in gymnastics, acrobatics, theater and storytelling, Ms. Rose strives to bring all of those elements together to teach individuals how to harness their leadership, management and interpersonal skills.
"I've always been interested in creative ways to tell stories, particularly through movement," says Ms. Rose, co-founder of the Ethos Physical Theatre Company in Collingswood, New Jersey and alumna of the Philadelphia School of Circus Arts. "Movement is relational in how we interact with each other, and how we interact with the world. That goes along with what I've learned in the Organizational Development and Leadership program at PCOM—what did you take away from an interaction and how did you connect with that person.
Ms. Rose said she came to PCOM after her boss at her former employer, Bancroft, connected her with a graduate of the ODL program.
"She told me the program examined interprofessionalism from a human issues perspective," says Ms. Rose. "The way she described it was almost like a religious experience! I couldn't pass up an opportunity to explore that for myself. The program really allowed me to see the world as larger than myself; that I could take the skills I learned and apply them to how I communicate with the wider world."
For Ms. Rose, that communication is first and foremost through the arts. Ms. Rose founded Ethos 2015 with her husband, Aaron, also an ODL professional. They imbue performance with aerials, acrobatics, narrative and puppetry. Ms. Rose calls it "integrative arts"—figuring out which type of performance would best convey the story they're trying to tell. Additionally, she has performed movement-forward pieces at the Philadelphia and Orlando fringe festivals and has performed in Philly First Person Arts story slams.
Ms. Rose is also partnering with the Nutty Duchess Tea Room in October for an Alice in Wonderland- themed event during the Collingswood Book Festival in Collingswood, New Jersey. During the day, the shop will be transformed into an interactive wonderland designed to teach children about emotions and in the evening will host a "Mad Pride Tea Party" to end stigma.
In addition, Ethos has a literary contract with author Ben Loory to adapt some selections from his book Stories for the Nighttime and Some for the Day, into a series of shows slated for 2020. "It was one of the first books my husband shared with me, so it's very special," she says.
As a facilitator, she aims to integrate her theatricality into her ODL work. She said she once ran a retreat on process improvement and change for managers, and assigned everyone to run a hot chocolate shop. Each team had to make hot chocolate but throughout the process, they would find an essential item missing, and so had to improvise.
"Acting something out like that helps people see how they can interact and better communicate with each other to adapt to change and work better as a team," she said.