Hunter Dennard Richman

MS/PA '19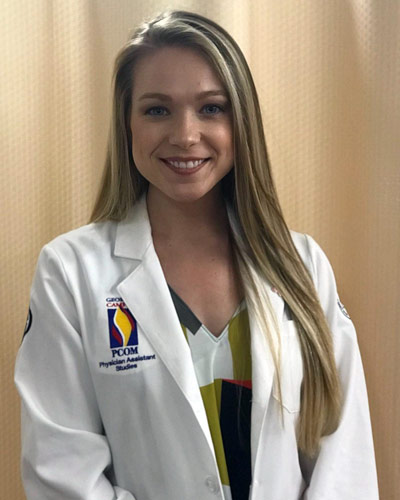 Returning to Southeast Georgia as a Physician Assistant (PA) is a goal of new graduate Hunter Dennard Richman.
"I know firsthand what it's like living in a medically underserved area. I hope to be part of a healthcare team that offers quality healthcare to the community that helped raise and support me," she said.
Born into a family of pharmacists, Richman "grew up behind the pharmacy counter" at her local drugstore, developing an interest in the medical field along the way.
"I am passionate about serving people and find joy in being able to make a difference in someone's life," she said.
Richman chose to become a PA because she wants to be an integral part of a healthcare team.
"I love the idea of being able to collaborate and having the support of my supervising physician," she said.
"I feel that with this team approach, patients are able to experience a higher level of care, especially in rural and underserved areas where there are physician shortages."
Richman is inspired by her family.
"I have been incredibly blessed to be raised by and around people who are dedicated to their career, passionate about helping others, genuine in their support, and unwavering in their love for family," she said.
"My mother and father worked extremely hard early in their lives to make sure I had everything I needed to obtain any dream I had."
Richman said attending PCOM Georgia was "an easy choice for me."
"As PCOM has now expanded with PCOM South Georgia in Moultrie, it is clear that this educational institution and its leaders are dedicated to helping develop quality healthcare professionals to serve our communities."
"PCOM Georgia offered everything I needed as a student in training and I really felt it was my perfect match," she said.
In the future, Richman said she wants to play a role in advocating for rural communities and to be involved in healthcare leadership that is bringing quality care to these areas. "I look forward to investing my time in ways that will lift up communities in need," she said.
In addition, Richman hopes to inspire young people who are interested in healthcare careers "and help them obtain those dreams despite any obstacles that may come in their path."
Most importantly, she said, "I want to be the best PA I can be for my patients, caring for them through illnesses, tribulations, joys and sorrows that life will bring."
In her free time, Richman enjoys spending time with her husband, Jason, whom she met while a student at Georgia Southern University in Statesboro, and their Labrador retriever, Brooklyn. She and her husband recently settled into their first home in her hometown of Soperton. "It has been and will continue to be a fun season of change in our lives," she said.