Daniel Horuzsko

MS/Biomed '19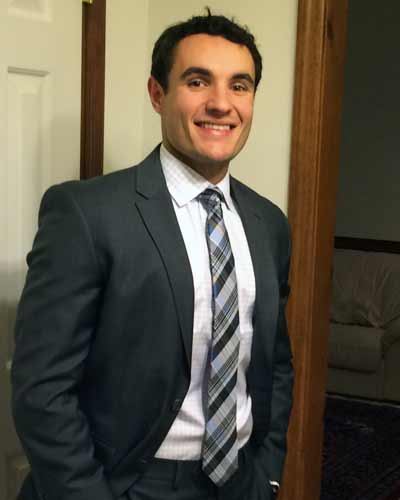 "The best way to predict the future is to create it." Abraham Lincoln.
Daniel Horuzsko, who will graduate with a master's degree in biomedical sciences, is well on his way to creating the future he has dreamed of since childhood. His interest in research and health care was sparked at a young age.
His father, a Georgia Cancer Center scientist, often welcomed him into his lab during his growing up years. The elder Horuzsko believed that being in the lab was an amazing experience. "You get to incorporate all your learned knowledge and contribute that into something physical and rewarding for future generations," he told his son.
Horuzsko's mother, recently retired, practiced obstetrics/gynecology.
With the influences of his mom and dad, Horuzsko pondered his career choices.
"Imagine being able to harness the ability of how a mother does not reject her fetus throughout the course of her pregnancy," he said, "and being able to translate that to various facets of medicine such as transplantation."
"As soon as I experienced interacting with a young boy needing a kidney transplant, I instantly knew my calling was to become a physician," he said.
And when a family friend and mentor, a physician, fought her battle with ovarian cancer, his vocation was solidified.
"It was unspeakable to watch a physician, who taught me so much in life outside of medicine, turning into a terminal patient of her own. Her desire to practice until the final days of her life demonstrated to me that same passion I want to give to my future patients," he said.
To fortify him along this path, Horuzsko decided to earn a master's degree in biomedical sciences to enhance his knowledge of the sciences and to gain hands-on experience "where I could share, interact, collaborate and create."
He chose PCOM Georgia after being referred by a physician in her residency program, a former graduate.
"The program incorporates rigorous training in both the classroom and lab setting with professors who are experts in their fields," he said.
He said that he knew PCOM Georgia was home for him from the moment he stepped onto campus.
"I vividly remember attending my first open house and speaking with students, professors and staff about classes, research opportunities, and campus activities and feeling a sense of family," he said.
"The institution has instilled an excellent sense of camaraderie among everyone and that has translated into an atmosphere where you are able to learn difficult topics with the help and support of your peers, professors and staff."
At the same time he graduates with his degree from PCOM Georgia, he will finish his master's degree in public health with a concentration in healthcare administration and policy from Augusta University. This summer, he will participate in the university's scholar's program and will conduct research alongside professors and medical students on current issues affecting Georgia's population.
Horuzsko is no stranger to hard work. During the same timeframe that he has earned two master's degrees, he has worked a full time job as a territory manager for a respiratory therapy company.
His parents inspire him.
"Both of them have come a long way and achieved so much as parents, physicians and scientists," he said.
"Moving halfway across the world from Budapest, Hungary to Evans, Georgia, in 1995 was done for the sole purpose of attaining bright futures for my sister and me."
Just two years old when his family relocated to the United States, Horuzsko is able to speak Russian, Hungarian and Spanish.
He added, "Growing up together, just the four of us, they instilled strong family values within me and taught me to work hard towards my dreams and aspirations."
Horuzsko aspires to become a role model as a brother, father, citizen and physician.
"I want to apply compassionate care by being able to recognize the unique nature of each individual with their array of lifestyle choices, ambitions, uncertainties and background to effectively treat the person as a whole," he said.
He feels that his personal and research experiences along with his educational background have prepared him for a lifelong commitment to learning in the field of medicine.
"I plan to utilize my gained knowledge in areas that address rural healthcare issues and become part of the initiative to curb poor access to health care in these underserved areas," he said.
"In the end, I hope one day I can give patients the tools and confidence to stay healthy in the future."