Akshita Taneja, MS/Biomed '19

MS/Biomed '19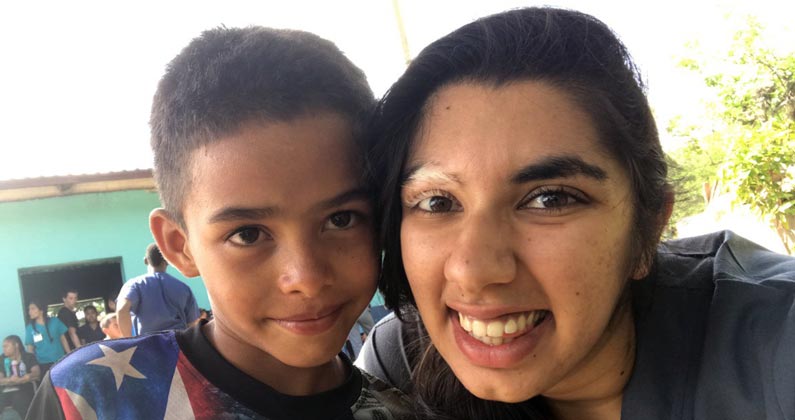 Akshita Taneja (MS/Biomed '19) was inspired to pursue a career in medicine after assisting with medical clinics during a Global Health Initiative trip to Honduras in 2018.
---
Akshita Taneja (MS/Biomed '19) had never really considered the impact of having a fully functioning
restroom in her home—until she helped build one for a family in Honduras.
While on a medical mission there in 2018 as part of the Global Health Initiative, which also included
holding medical clinics for the community, Ms. Taneja said she was "amazed" by the immediacy of the
positive impact her group had.
"I saw the elderly woman who lived in the house slip coming out of her old bathroom," she says. "I saw a man come into our clinic with high blood pressure, and we were all running around trying to figure out how to lower it—but he just sat there with a smile. It gave me great perspective on how much humans can withstand, and how I can be helpful in not just educating patients, but treating them as well."
Ms. Taneja, who dual-majored in human development & physiology and neuroscience at University of California San Diego, said the field of public health had always appealed to her. She came to PCOM's bio-medical sciences program specifically for its concentration in public health.
"Public health is about spreading awareness about how our interactions impact our health," she says. "The social aspect of our lives is just as important as our genetics and our physical environment—it all makes up who we are."
She adds that public health also means advocating for those who are in need. To that end, Ms. Taneja has been involved in many projects at PCOM, including serving as president of the Nutrition and Medicine Club; serving on the Bio-medical Sciences Student Council and in AMPSA; and volunteering for PCOM's first Wellness Fest and open houses.
Ms. Taneja says the holistic approach in public health dovetails with the College's osteopathic philosophy, which is why she will be starting the DO program in August. As a mentor to first- and second-year biomedical sciences students, she offers her guidance and perspective, and hopes to do the same as a healthcare provider.
"The field of primary care is of interest to me; I love the idea of treating people across generations," she says. "I'm also interested in women's health. I want to figure out how to use my voice as both a medical student, and one day as a physician, to advocate for my patients."