Mark D. Cassano

PsyD '17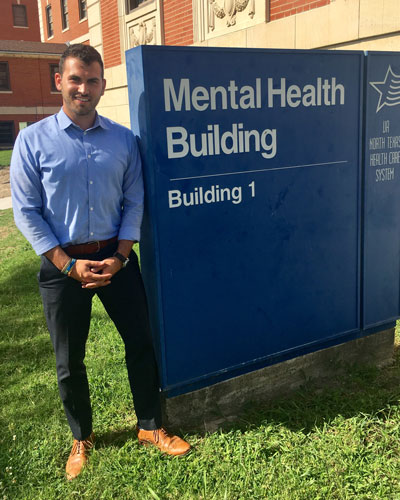 Mark Cassano (PsyD '17)
---
Mark Cassano believes that education is the foundation for a bright future. It has fueled his desire to see PCOM become a fully integrated institution, with students from all academic programs learning alongside each other. As president of the Student Government Association (he was the first non-DO president in the school's history), he worked with several faculty members on a committee to launch PCOM's interprofessional education (IPE) initiatives, and also spearheaded the Integrated Healthcare Conference for the past three years. That event is designed to train attendees from across disciplines to work together to deliver holistic, patient-centered care.
"I feel very fortunate to have had that role and to have worked with incredible and inspiring and amazing students from other programs who shared that same dream for PCOM," he says. "If we could help expose newer generations of learners to IPE, and to their peers across PCOM, when they go out to practice, they're going to be more amenable to team-based approaches to healthcare provision."
Yet Mr. Cassano might never have considered entering the field of psychology if not for a class he didn't want to take in the first place.
"All throughout middle school and high school I had an interest in helping those with special needs, and I ran groups and clubs for special needs individuals, so I thought that was where I was headed," he explains. "But after I begrudgingly took Psych 101 in college, my focus shifted. I opened the textbook, read about what psychology was and I fell in love with it. I changed my major the next day."
He hopes to incorporate his interest in helping those with special needs into a more broad view of mental health and wellness.
"I've always been fascinated with understanding people and helping them work through challenges, and I realized working in the psychology field would permit me to work with a wider range of individuals, including those with special needs in some capacity," he says.
Mr. Cassano came to PCOM in 2010 as a student in the master's program in Counseling and Clinical Health Psychology, and says that program really showed him how to do the work of a mental health provider. "From day one, the program was: 'Here's what it's like, here's how you can help people work through their challenges.' It encompasses the socioeconomic, the cultural and the medical aspects of mental health care, and it showed me that I can extend my services so much further."
He cites several faculty members, including Robert DiTomasso, PhD, professor and chair, psychology; Barbara Golden, PsyD, professor, psychology; Elizabeth Gosch, PhD, professor of psychology and director of the MS Program in Mental Health Counseling; Scott Glassman, PsyD '13, clinical assistant professor, psychology; and David Rubenstein, PsyD, clinical professor, psychology, as sources of constant inspiration and support. "You can have all the great ideas in the world, but if you don't have anyone backing you, you won't get anywhere," he says.
Mr. Cassano is currently finishing his internship at the North Texas VA Health Care System in Dallas, Texas, where he has worked in a range of areas over the past year, including medical/surgery evaluations, primary care clinics, the spinal cord injury unit, and with veterans in the Trauma Clinic who were diagnosed with PTSD or other trauma-related stressor disorders or are dealing with addiction. After graduation, he will return to Philadelphia to start his post-doctoral work at the Beck Community Initiative at the University of Pennsylvania.
"This is my 7th year at PCOM, and I've seen so many changes," he says. "There are so many new courses and programs offered that allow students from the different disciplines to learn together. The level of integration has really grown. That's been exciting to see, and it'll be exciting to see where it goes."
Click here for Mark Cassano's Student Story profile video.