Jakai D. Nolan

DO '16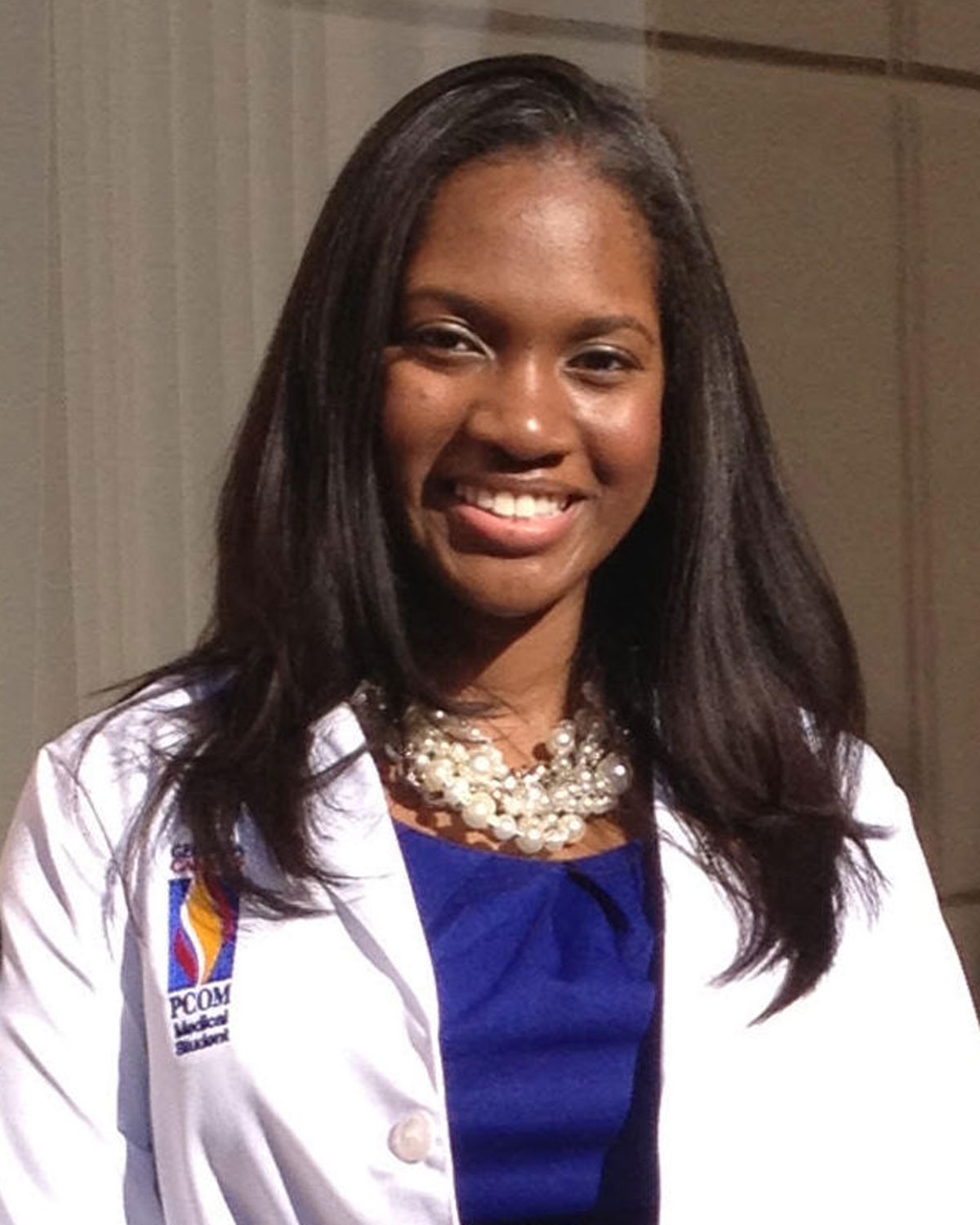 Jakai D. Nolan (DO '16)

Reared in Ellenwood, Georgia, Jakai D. Nolan knew she was interested in a career in medicine early in life. As a child, she recalls being fascinated by her pediatrician, who was a young black female. "I remember telling my parents that I wanted to be like her when I grew up." In addition, Jakai's grandmother lived with the family, and her history of strokes became part of an early introduction to Jakai's eventual interest in neurology.
Jakai graduated from Stockbridge High School before earning a bachelor's degree in neuroscience with a minor in medicine, health and society from Vanderbilt University in Nashville, Tennessee. She then returned to Georgia where she received a Master of Public Health degree from Emory University in Atlanta, and where she interned at the National Multiple Sclerosis Society and the Centers for Disease Control and Prevention (CDC).
Her interest in osteopathic medicine was inspired by challenges she faced with her own health. Taking a holistic approach to her personal health, Jakai realized that she wanted a health profession that would allow hands-on patient interaction, global and community outreach opportunities, and the capability to treat the underserved. "With osteopathic medicine," she said, "I found my niche."
Jakai obtained a Certificate in Biomedical Sciences from GA-PCOM in 2012 and matriculated into the College's osteopathic medicine program that fall. "The missions of osteopathic medicine and of GA-PCOM, the hands-on experience that I received beginning day one of my medical school career, and my family of GA-PCOM students, professors and faculty inspired me daily," she said.
In addition to serving as a Student Ambassador and contributing more than 100 community service hours, she served as President of the Student Interest Group in Neurology, as Vice President of the American Medical Student Association (AMSA), and as National Liaison to the Student National Medical Association.
"I was able to represent GA-PCOM at the AMSA conference in New Orleans, Louisiana, and at the American Academy of Neurology conference in Washington, D.C.," Jakai remembers fondly. "Not only was I given the opportunity for amazing networking connections, but I was also able to bring back valuable information to share with my colleagues."
With specific interests in the intersection of clinical medicine, research and public health, Jakai is specializing in neurology and beginning her training at St. James Hospital in Olympia Fields, Illinois, with hopes of obtaining a fellowship in multiple sclerosis/neuroimmunology after residency. "Going forward," she added, "I would have to say that I most aspire to remain humble, obedient to my faith, and to leave my mark on the world by inspiring, helping and uplifting others, particularly our youth."