Lindsey Roberts

MS/Biomed '15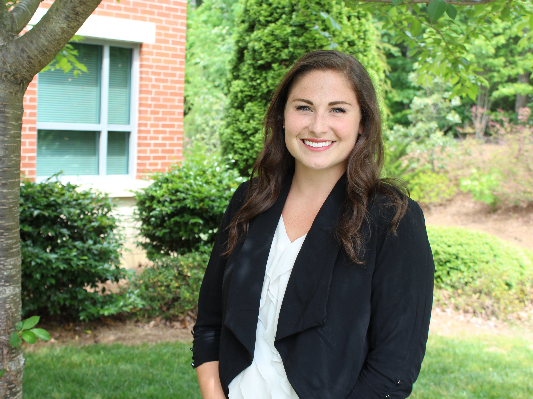 Lindsey Roberts (MS/Biomed '15)
Biomedical Sciences Program Provides Path to Dental School
Drawn to people's smiles, Lindsey Roberts of Dallas, Georgia, knew that she wanted a career that would help others. This desire, combined with her study abroad experience and work as a dental apprentice, attracted her to the field of dentistry. To follow this path, Lindsey earned a bachelor's degree in pre-dentistry and Spanish with a minor in biology from The University of Alabama (UA) in Tuscaloosa, Alabama. She worked as a dental assistant at a private practice in Birmingham, Alabama before enrolling at GA-PCOM in the Biomedical Sciences Program.
While an undergrad at UA, Lindsey participated in a study abroad program in Costa Rica and Panama that opened her eyes to the need for dental care and the importance of outreach endeavors. Not long after, she realized the need for outreach services in her own undergraduate community: Tuscaloosa was hit by a tornado. Lindsey was contacted by the Spanish Department at The University of Alabama to aid rescue teams in finding those who were missing and unable to speak English. This reinforced her belief in the need for Spanish-language services in health care and she realized her potential as a link between the Hispanic population and the world of dentistry.
"It is my strong belief I can contribute greatly to a more culturally diverse community by effectively communicating the need for proper oral health in order to live better, healthier lives," she explained. While working as a dental assistant, she volunteered at Cahaba Valley Health Care in Birmingham and translated for Spanish-speaking patients. She said, "These experiences were humbling and made me realize how important my language skills are to the dental profession in our country."
Lindsey said that she decided to enroll in GA-PCOM's Biomedical Sciences Program as a way to prepare herself for the rigorous coursework of dental school. This preparation has paid off as she will be a student at The University of Alabama at Birmingham School of Dentistry starting in July.
During her time at GA-PCOM, Lindsey served as a student representative on the Graduate Council and as a student mentor. She was active in organizations including Graduates Representing Academic Achievement and Service (GRAADS), the Graduate Website Committee, and Alpha Epsilon Lambda Graduate Students Honors Society. Through the Biomedical Sciences Program, Lindsey has participated in personal research and in individual and group problem solving. She has learned new ways of thinking and applying herself and developed teamwork and verbal presentation skills. She added, "My professional goal is to engage in clinical work across all demographics and to assist Spanish-speaking individuals with their dental health. Utilizing my knowledge and skills, I plan to improve the experience of a more culturally diverse client base undergoing dental healthcare in the U.S. and abroad."