Jessica Joseph and Keisha Moore

DO/MBA '15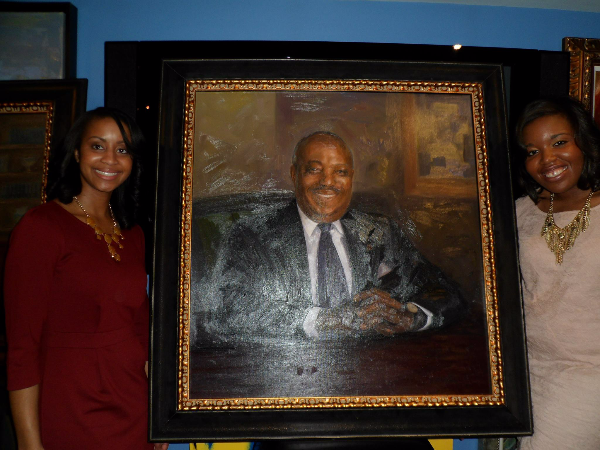 Jessica Joseph (DO/MBA '15) (right) and Keisha Moore (DO/MBA '15) (left) with the portrait they
commissioned of Leonard Johnson, DO '64.


Showing a More Complete Picture
One night during their second year in the DO program, Jessica Joseph (DO/MBA'15) and Keisha Moore (DO/MBA '15) took a break from studying in Evans Hall and decided to take an informal tour through PCOM's history. As they strolled down the quiet halls and studied the portraits of those who have made a significant impact on the College, they noticed that something was missing—the diversity that makes up the institution.
"We found it a little weird, because there has been such a diverse group of graduates from PCOM who have made such an incredible impact in medicine in the local community that we thought, 'Wouldn't it be great if that were represented here also?'" says Ms. Moore.
Ms. Joseph and Ms. Moore approached the College's Office of Alumni Affairs as well as board member J. Stephen Blake, DO '89, to see how funds could be raised for a portrait of Leonard Johnson, DO '64. "Pam Ruoff [interim chief alumni officer], Dr. Blake, and the Student National Medical Association were instrumental in the fundraising effort," Ms. Joseph says. "It was truly a team effort. We could not have raised what we needed without them."
Indeed, in just a year and a half (out of a three-year goal) enough funding was raised to have a portrait commissioned of Dr. Johnson, the 2003 recipient of the OJ Snyder Memorial Award and a former board member. Ms. Joseph and Ms. Moore focused on Dr. Johnson because of his dedication to helping others, from his patients in West Philadelphia to students at PCOM through scholarships and mentoring opportunities at his neighborhood clinic and his church. Dr. Johnson passed away in 2007.
"Dr. Johnson was the first person that I and other minority students were given to aspire to when we started first year," Ms. Moore says. "He represented all of the things that we hope to achieve during our time at PCOM, and the impact that we hope to leave in the communities in which we practice. This was evident through the personal stories and admiration of people at PCOM and the community who knew him and admired his generosity and his greatness. He helped so many people, and we wanted to honor that."
The portrait was completed in December of 2013 and was hung in a ceremony during Alumni Weekend 2014 to commemorate the 50th anniversary of Dr. Johnson's graduation from PCOM.
"There are many amazing students and graduates who are doing phenomenal endeavors, and we just wanted everyone to feel represented," says Ms. Joseph. "I have a feeling that there will be an even more diverse representation on the walls of the growing PCOM community moving forward."