Eric Larsen

DO '15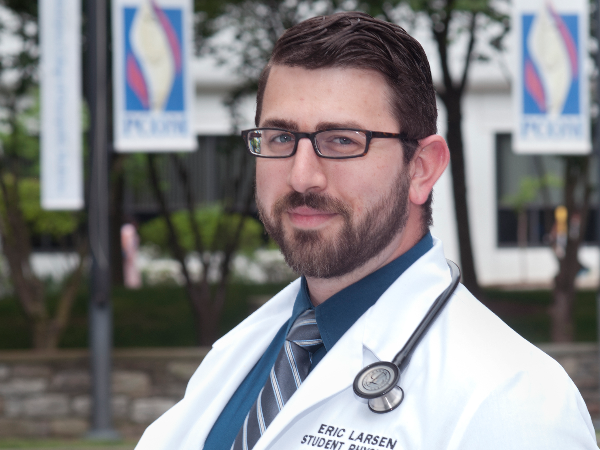 Eric Larsen (DO '15)
Finding a Place in the World
It took a trip halfway around the world for Eric Larsen (DO '15) to discover his passion for osteopathic medicine. After receiving his bachelor's degree in international business management from Villanova University, Mr. Larsen joined the LaFrance Corporation, which manufactures enclosures for electronic products and nameplates, and was sent to Shenzhen, China. There, he handled logistics and managed industrial engineering projects for the company.
"There were good and bad things about living in China," Mr. Larsen says. "I'd see some people being treated very poorly, but I also saw that they view their health in a completely different way [than Americans]. Their health is about more than just medicine; there's a whole other aspect to it."
After his experiences abroad, he says returning to the U.S. to work in an office felt too small. "I needed something more in my life, so I decided I wanted to apply to medical school," says Mr. Larsen, whose father and uncle are both physicians: an MD and a DO, respectively.
Mr. Larsen enrolled in the post-baccalaureate pre-medical program at Villanova to take the required science courses he needed, and also shadowed his father and uncle during their rotations in the emergency room.
"After about a month [of shadowing], it clicked that medicine was truly what I wanted to do," Mr. Larsen says. He chose to come to PCOM because "they were interested in who I was as a person. They looked at my grades but also embraced my unorthodox path to medical school and my life experiences."
He plans to utilize his OMM training when he begins his residency in rehabilitation medicine at Jefferson University Hospital. "The body is a self-regulating machine," he says. "It needs to be set up properly in order to function properly, and rehabilitation and OMM fit together well in that way."