2018 Commencement Speaker

Paul Evans, DO, FACOFP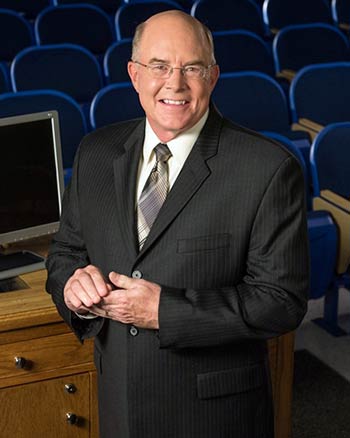 Dr. Paul Evans serves as a senior medical education consultant and president of the Paul and Roxanne Evans Education Foundation. He grew up in Melrose, Massachusetts and graduated from the University of Miami in Coral Gables, Florida.
He earned a DO degree from Philadelphia College of Osteopathic Medicine, completed an internship at Letterman Army Medical Center in San Francisco, California and a residency in family practice at Womack Army Community Hospital in Ft. Bragg, North Carolina.
Dr. Evans has also completed a Faculty Development fellowship in family medicine at the University of North Carolina, Chapel Hill and the Teaching Scholars post-doctoral fellowship at the University of Washington in Seattle. He earned board certification from the American Osteopathic Board of Family Physicians and the American Board of Family Medicine. He was awarded the fellow designation from both the American Academy of Family Physicians and the American College of Osteopathic Family Physicians.
His prior career experience includes positions as a chief resident, residency program director, department chair and director of a large multi-specialty managed care group. He retired from the US Army after serving for 26 years in military medicine. He is the founding dean of Georgia Campus – Philadelphia College of Osteopathic Medicine. He is also the founding dean of Marian University College of Osteopathic Medicine in Indianapolis, Indiana.
He served as the vice dean of the College of Osteopathic Medicine of the Pacific, Northwest and the director of the Bryan Leadership Institute for Physician Development at Western University of Health Sciences in Pomona, California. He has served on the White House Task Force-Joining Forces Committee as chair for the American Association of Colleges of Osteopathic Medicine (AACOM), vice chair of the American Osteopathic Association Bureau of Osteopathic Education and was a founding member of the Graduate Medical Education Board for the state of Indiana. His areas of research are in low back pain, faculty development and medical education and leadership issues.
Dr. Evans has lectured nationally and internationally, and has published extensively in his specialty. His honors include numerous teaching and military service awards to include the Order of St. Barbara, the Order of Military Medical Merit, the Legion of Merit,and the Indiana Osteopathic Association's Kinsinger Award as Physician of the Year. He was named a Master Educator by the AACOM in the Training the Osteopathic Professions Core Educators program. He is married and enjoys birding, mountain biking, nature art collecting and playing bad golf in good places.