PCOM Wellness Fest

Saturday, September 22, 2018
September 22, 2018
10:00 AM - 3:00 PM
Philadelphia College of Osteopathic Medicine
4170 City Avenue, Philadelphia, PA 19131
Thank you to everyone who attended Wellness Fest 2018. Nearly 600 people attended the event from 97 different zip codes. Save the date for next year's Wellness Fest on September 21, 2019!
View Event Photos
Free Healthcare Screenings
Healthcare activities include:
Blood pressure screenings
Flu shots
Glucose screenings/A1C
Height/weight/BMI screenings
Speech screenings
Vision screenings
Hearing screenings
Kids' Activities
The PCOM Wellness Fest will include a number of activities for children including:

The Vetri Community Partnership's Mobile Teaching Kitchen – 10:30 a.m. to 1:00 p.m.
Story Times with The Free Library of Philadelphia – 11:30 a.m. to 12:00 p.m. and 12:30-1:00 p.m.
Balloon artists
Caricatures
Face painting
Bouncy house
Kids' handwashing activity
Fitness Classes
Attendees will have the opportunity to take part in the following fitness class:
10:30-11 a.m. – BeautiFitStrong Bootcamp with Audra Anusionwu

11:15-11:45 a.m. – Maria Rossi Cardio Fitness

12-12:30 p.m. – Maria Rossi Strength Training Fitness

1-2 p.m. – Line Dancing with LadyBug Entertainment

2:30-3 p.m. – Yoga with Christine

Cooking Demonstrations
Presented by CulinArt – 10:30-12:00 p.m. and 1:00-2:30 p.m.
Speakers
10:30-11 a.m. –

Fighting Obesity -

with Peter Bidey, DO, Medical Director of Family Medicine at PCOM

11-11:30 a.m. - Medline Plus Online Health Information

11:30 a.m.-1 p.m. –

Cold and Flu Season

– with Jennifer Caudle, DO, Family Medicine Physician and Guest Speaker

1:15-1:45 p.m. –

Breast Health

- with Monique Gary, DO , Breast Surgical Oncologist, Grand View Health

2-2:30 p.m. –

Colon Cancer

- with J. Steven Blake, DO, Black Gastroenterology Associates

2:30-3 p.m. - Medline Plus Online Health Information

2:30 - 3 p.m. - Osteopathic Manipulative Medicine (OMM) with Alexander King, DO
Food Trucks
Attendees will receive one ticket upon entry to be used for lunch at any of the food trucks.
More Information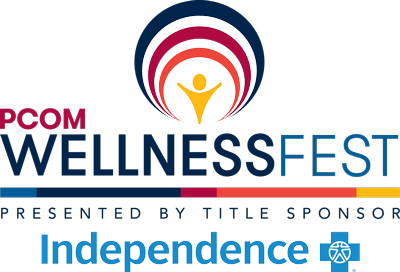 Proceeds raised will benefit the PCOM Healthcare Centers and enable them to provide innovative programs and wellness groups focused on diabetes support, nutrition, medical yoga, exercise, and stress management.
General questions and sponsorship inquiries may be directed to wellnessfest@pcom.edu.
Free parking will be available for attendees in the PCOM parking lot located on Monument Avenue.
Please note: PCOM is a tobacco-free campus and pets are not permitted at this event.