PCOM Launches New Website
October 27, 2015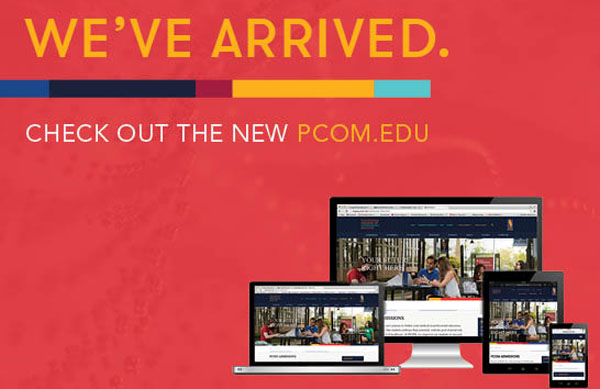 Philadelphia College of Osteopathic Medicine has launched the new PCOM.edu, which offers an updated, easier-to-use navigation for visitors.
More than a year in the making, the new PCOM.edu provides comprehensive information for the public as well as visitors from the College community.
The site is a joint project of PCOM's department of Information Technology Services and department of Marketing and Communications.
In addition to new content on the website, PCOM is also launching a new series of promotional videos, which can be found on the College's YouTube channel.
Anyone with questions about the new website can email webteam@pcom.edu or visit the website support page.
About Philadelphia College of Osteopathic Medicine
Founded in 1899, Philadelphia College of Osteopathic Medicine has trained thousands of highly competent, caring physicians, health practitioners and behavioral scientists who practice a "whole person" approach to care—treating people, not just symptoms. PCOM offers doctorate degrees in educational psychology, osteopathic medicine, pharmacy, physical therapy and psychology, and graduate degrees in aging and long-term care administration, biomedical sciences, forensic medicine, mental health counseling, organizational development and leadership, physician assistant studies and school psychology. Our students learn the importance of health promotion, research, education and service to the community. Through its community-based Healthcare Centers, PCOM provides care to medically underserved populations in inner-city and rural locations. For more information, visit pcom.edu.
For more information, contact:
Renee Cree
Associate Director, News and Media Relations
Office: 215-871-6304 | Cell: 267-449-1360
Connect with PCOM