Artists in the Making
August 4, 2016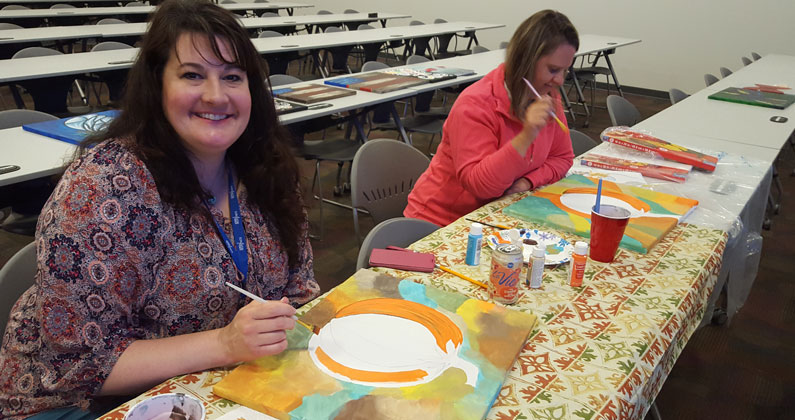 Some GA-PCOM faculty and staff recently participated in art classes as part of the "Work on Wellness" program.
---
Like many centers of learning, life on campus is primarily structured around our programs and our students. As many of our programs took a break during June and July, some faculty and staff members had time to revamp and refresh for the coming year.
Student Affairs' Tamara Scaccia, an artist by training, stepped up to offer art classes as part of the College's "Work on Wellness" program this summer. Many participants experienced the joy of art for the first time.
"This is amazing—my first time to ever paint. Tamara makes it easy," Dr. Regina Fleming said.
"Getting to know your colleagues in a relaxing way, the challenge of stepping out of your comfort zone, I've enjoyed it very much," said Student Affairs' Leanne Henry-Miller.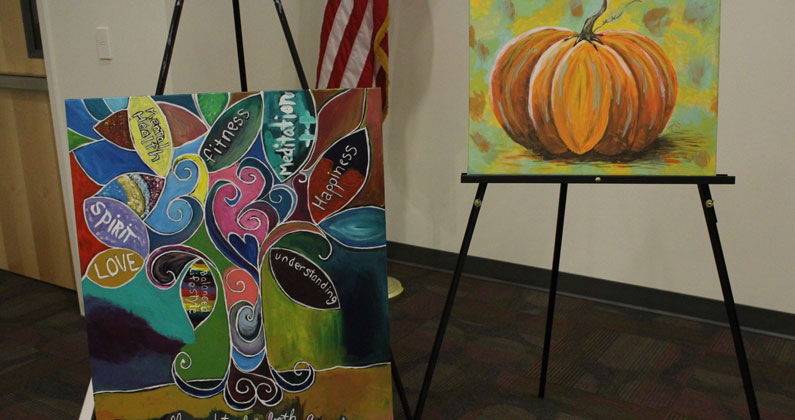 Subjects have included studies on poppies, a tree of life, the American flag and butterflies with more to come.
As "Here Comes the Sun," wafted through the make-shift art studio, Tamara said, "There are no mistakes in art. Everyone comes out with it looking the way you perceived it."
Here's hoping these lessons on life continue!
Visit the GA-PCOM Facebook page to view more photos from the "Work on Wellness" art class.
About PCOM Georgia
Established in 2005, PCOM Georgia is a private, not-for-profit, accredited institute of higher education dedicated to the healthcare professions. The Suwanee, Georgia, campus is affiliated with Philadelphia College of Osteopathic Medicine which has a storied history as a premier osteopathic medical school. PCOM Georgia offers the doctor of osteopathic medicine degree, the doctor of pharmacy degree, the doctor of physical therapy degree, as well as graduate degrees in biomedical sciences and physician assistant studies. Emphasizing "a whole person approach to care," PCOM Georgia focuses on educational excellence, interprofessional education and service to the wider community. The campus is also home to the Georgia Osteopathic Care Center, an osteopathic manipulative medicine clinic, which is open to the public by appointment. For more information, visit pcom.edu or call 678-225-7500.
For more information, contact:
Barbara Myers
Public Relations Manager
Email: BarbaraMy@pcom.edu
Office: 678-225-7532 | Cell: 770-309-0613
Connect with PCOM Georgia