AOA President to Visit GA-PCOM
December 1, 2015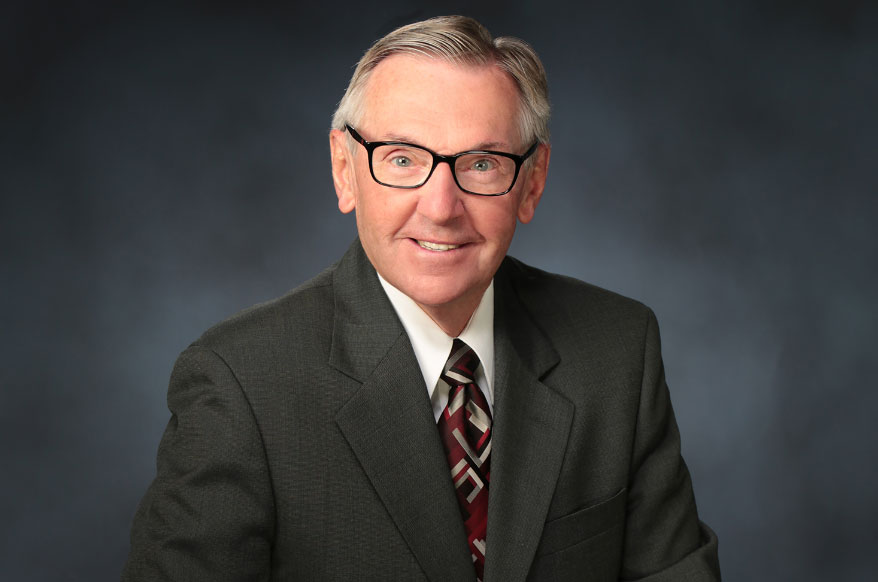 John W. Becher, DO
On Friday, December 4, 2015, Georgia Campus – Philadelphia College of Osteopathic Medicine (GA-PCOM) will welcome John W. Becher, DO, President of the American Osteopathic Association (AOA), to the college. Dr. Becher, who was inaugurated as the 119th president of the AOA in July, will tour the campus and eat breakfast with class officers. He will then update osteopathic medicine students on the AOA's activities and be an honored guest at the college's noontime holiday luncheon for all students, faculty and staff.
The AOA is the primary certifying body for doctors of osteopathic medicine and the accrediting agency for all osteopathic medical schools. While GA-PCOM is no stranger to presidential visits from the AOA – the 118th President of the AOA, Dr. Robert S. Juhasz, visited campus in March – this visit hits a little closer to home as Dr. Becher earned his doctor of osteopathic medicine degree from PCOM's Philadelphia campus in 1970 and remains deeply involved with the college today.
Dr. Becher is an AOA board-certified emergency physician from Newtown Square, Pennsylvania. In addition to his position with the AOA, Dr. Becher serves as chairman of the department of emergency medicine at PCOM. He is also director of osteopathic medical education at AtlantiCare Regional Medical Center in Atlantic City, New Jersey, and an adjunct professor of emergency medicine at Thomas Jefferson University in Philadelphia.
In his AOA inauguration speech, Dr. Becher shared key goals for his presidency. He hopes to increase awareness of osteopathic medicine, pursue funding to support research pilot projects documenting the impact of osteopathic medicine, create new osteopathic-focused residency programs, boost advocacy efforts at the state and federal levels and maintain fiscal responsibility.
A member of the Federation of State Medical Boards' Maintenance of Licensure Committee, Dr. Becher has trained more than 150 emergency physicians as a residency director. During his career, Dr. Becher has held leadership roles within the AOA, including as a member of the editorial board of The Journal of the American Osteopathic Association, and is past president of the Pennsylvania Osteopathic Medical Association.
About PCOM Georgia
Established in 2005, PCOM Georgia is a private, not-for-profit, accredited institute of higher education dedicated to the healthcare professions. The Suwanee, Georgia, campus is affiliated with Philadelphia College of Osteopathic Medicine which has a storied history as a premier osteopathic medical school. PCOM Georgia offers the doctor of osteopathic medicine degree, the doctor of pharmacy degree, the doctor of physical therapy degree, as well as graduate degrees in biomedical sciences and physician assistant studies. Emphasizing "a whole person approach to care," PCOM Georgia focuses on educational excellence, interprofessional education and service to the wider community. The campus is also home to the Georgia Osteopathic Care Center, an osteopathic manipulative medicine clinic, which is open to the public by appointment. For more information, visit pcom.edu or call 678-225-7500.
For more information, contact:
Barbara Myers
Public Relations Manager
Email: BarbaraMy@pcom.edu
Office: 678-225-7532 | Cell: 770-309-0613
Connect with PCOM Georgia