Alumnus profile: Ben Abraham, DO '80
October 22, 2015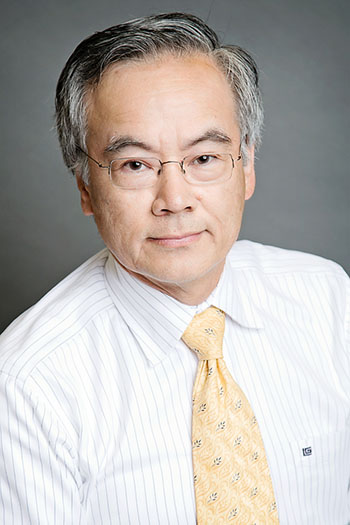 Ben Abraham, DO '80, recently spoke about his career, service work and PCOM experience in an interview with Institutional Advancement.
Question: Tell us about your current business.
Answer: I am in Family Practice with a subspecialty in Geriatrics in Snellville, Georgia. I have one part time associate physician and 3 mid-levels. I am also an attending physician at one of our local nursing homes.
Q: What made you want to get involved in this career/what did you hope to achieve?
A: I knew that I wanted to become a medical missionary when I was 13 years old. I love to take care of the physical needs of people, here and around the world. I wanted to make a difference in the lives of those around me and in my community. I also really felt drawn to working with our geriatric population — they have so many physical and emotional needs that are so often not met. Loving and taking care of others is also a big part of my faith as a Christian.
Q: Tell us about your proudest accomplishments/awards.
A: One of them was just to become a doctor in the first place because of the almost impossible situation I came out of, leaving Indonesia and coming to the United States with very little — a one-way ticket to Texas, no tuition money, and little idea of what all I was getting myself into as a new college student in the United States. I had no way of knowing that I would be accepted into medical school after college, and in fact, was discouraged by my college counselor from even trying. However, I went on to graduate cum laude. There is no way that this could have happened without God's provision in my life. Then, with His providence, I was accepted into PCOM on registration day even though I had no money. I actually drove from Texas to Pennsylvania without an actual acceptance from the school, but upon arriving, discovered that my acceptance letter had gotten lost in the mail and I was indeed accepted into the program. I then received a tuition scholarship from a couple in Texas that provided for my first year.
Recently in 2014, I was awarded with the Gwinnett County Chamber of Commerce's Family Physician of the Year Award, as well as being honored with Eastside Medical Center's Physician of the Year Award for 2015. Both of these were completely unexpected and I am so humbled and honored to have been able to accept those awards.
I am also glad that I have gotten to spend time on the short-term medical mission field, bringing teams, supplies, and medical care to underserved populations all over the globe, including Venezuela, Ecuador, Argentina, Peru, Russia, Senegal, China, Tanzania, and Indonesia. In particular, I feel blessed that I have been able to start the 127 Legacy Foundation to provide for the physical, emotional, and spiritual needs of vulnerable children and orphans in Indonesia, my home country. I am so glad to be able to give back to the country where I was born and raised for the first 20 years of my life.
Q: What do you enjoy most about your profession and what lessons has it taught you?
A: I really love people. I can't imagine retiring because I won't be around these people, my patients and my employees, nearly as much, and I love what I do. I have learned to be kind, loving, compassionate, gracious, and caring, as well as being competent in whatever you do. I want my kids, my students, and those around me to be those kinds of people too.
Q: What is an important characteristic that makes someone a great doctor?
A: You need a balance of competence and compassion. Both are important and necessary to becoming a great doctor.
Q: What are your hobbies outside of work?
A: I love to travel and to do medical mission trips. I love to spend time with my children and grandchildren.
Q: Please tell us about your medical missions.
A: My first medical mission trip was to Irian Jaya (Western Papua New Guinea) when I was a 3rd year medical student, working with a missionary doctor who actually had graduated from PCOM — the late Dr. Jerry Powell. We dealt with a lot of infectious diseases, like malaria, hepatitis, and skin issues, as well as a lot of malnutrition. But it wasn't until the late 1990s that I was able to start leading my own short-term trips overseas. In many of these countries, we spend a lot of time dealing with infections, hypertension, musculoskeletal pain, & malnutrition. We treat them as best we can with the medications & vitamins that we bring, as well as the occasional minor procedure for lacerations, benign lesions, etc. We have worked in association with local churches, schools, orphanages, missions organizations, and even with the local government to provide care in each of these countries. I have been on almost 30 trips since that first one to Irian Jaya, and I hope to continue to take many more.
Q: What was your experience at PCOM like and how did it make an impact on your career and who you are today?
A: It was hard work. It was a very difficult first two years — so much studying and memorizing for the didactic portion. But after those first couple of years, it got better — I learned a lot. During my first year, I had the opportunity to assist in doing research in the summer under Dr. Iralu, a microbiology professor. The Academic Dean, Dr. England, helped to encourage and inspire me by his example. There were a lot of helpful professors who spent time giving me guidance. PCOM gave me the opportunity to become a successful doctor. During the year that I applied to PCOM, it was the only medical school that I applied to. I knew that was where I was supposed to be — my only other recourse was to go back to Indonesia which would have greatly disappointed my parents (who had sacrificed much for me to come to the States). Thankfully, I was accepted, I now have a thriving practice, and I am so grateful to PCOM for giving me the chance to become the doctor and person that I am today.